According to multiple estimates based on mining factors, in approximately 20 days Bitcoin will see its next block reward reduction. With this, the 12.5 coin reward that is minted as each Bitcoin block is mined will drop to 6.25 coins, resulting in a halving in the asset's inflation rate.
Data suggests that the hype around the Bitcoin halving is on the rise, and the crypto market stands to benefit from this trend.
Bitcoin Halving Explodes In Popularity
According to Molly — the former head of Bitcoin Magazine's China operation — the Chinese term for "Bitcoin halving" has recently gone viral on Weibo, also called China's Twitter.
The topic was the sixth-most searched in the past 24 hours, showing real interest in the event, despite China effectively banning the purchase of Bitcoin through yuan.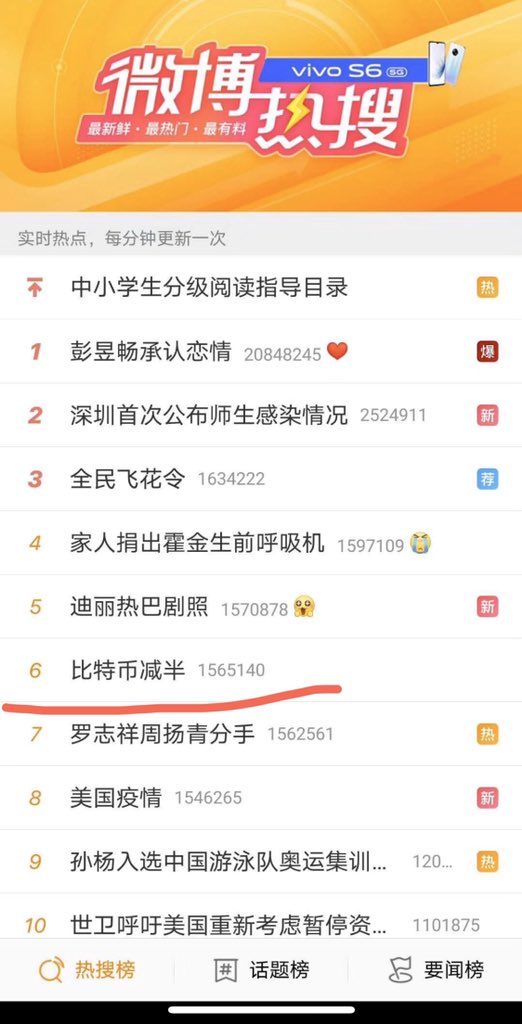 It's a similar sight around the world.
Google Trends data indicates that last month, global Google users searched "Bitcoin halving" more than any month before. The search engine also projects that in April, "Bitcoin halving" will be searched two times more than last month, which was already a new all-time high.
This is bullish because it appears that a primary reason why the cryptocurrency market has been rallying as of late is due to hype around the halving. Indeed, according to Google data, the search terms "buy Bitcoin" and "Bitcoin halving" have trended in tandem since the year began, growing and shrinking in step. The correlation isn't perfect, but it is clear they're affecting each other.
It's Only One Bullish Factor of Many
It's important to note that Bitcoin's impending block reward halving is only one bullish catalyst of many, as pointed out by Kelvin "Spartan Black" Koh — a partner at crypto fund The Spartan Group.
Koh, a former partner at Goldman Sachs, explained that he sees four other fundamental factors that he thinks will drive massive growth in the Bitcoin market moving forward:
Launch of Facebook's crypto, Libra, is moving closer: Revealed last week, Libra is moving one step forward to seeing a launch. To do so, it has had to make changes to its plans for governance and its plans for the rollout. Analysts think this will drive Bitcoin adoption, as there's expected to be some overlap between those that adopt Libra and those that adopt BTC.
China is rolling out its digital asset: As we've heard from local media reports and the People's Bank of China itself, China is finally starting to roll out its national digital currency project after years of development. This will accelerate the move to digital cash systems, Bitcoin included.
Top markets are legalizing Bitcoin: Over the past few months, nations like India, South Korea, and Germany have made rulings and legislation on crypto and blockchain, showing that it supports innovation as long as it is within certain bounds.
Federal Reserve has activated "QE Infinity": Announced last month, the Federal Reserve will purchase any amount of bonds (even if that means an infinite amount) to "support smooth market functioning and effective transmission of monetary policy to broader financial conditions and the economy."
Photo by Ken Lawrence on Unsplash