The price action over the past few days has undoubtedly been positive for Bitcoin. Case in point: the cryptocurrency just this week hit a high of $10,100, rallying past the key $10,000 price point for the first time in weeks.
Prices have since consolidated around $9,700, with BTC finding itself stuck between the resistances of $9,500 and $10,000.
While some have said that this price action is indicative of Bitcoin forming a topping pattern, a variety of analysts are eyeing the $14,000 region as a potential next stop for this bull market.
Bitcoin Is on Its Way to $14,000
As noted by Bitcoin chartist Nunya Bizniz, the cryptocurrency is currently trading in a textbook descending broadening wedge, which break upwards 72% of the time according to technical studies.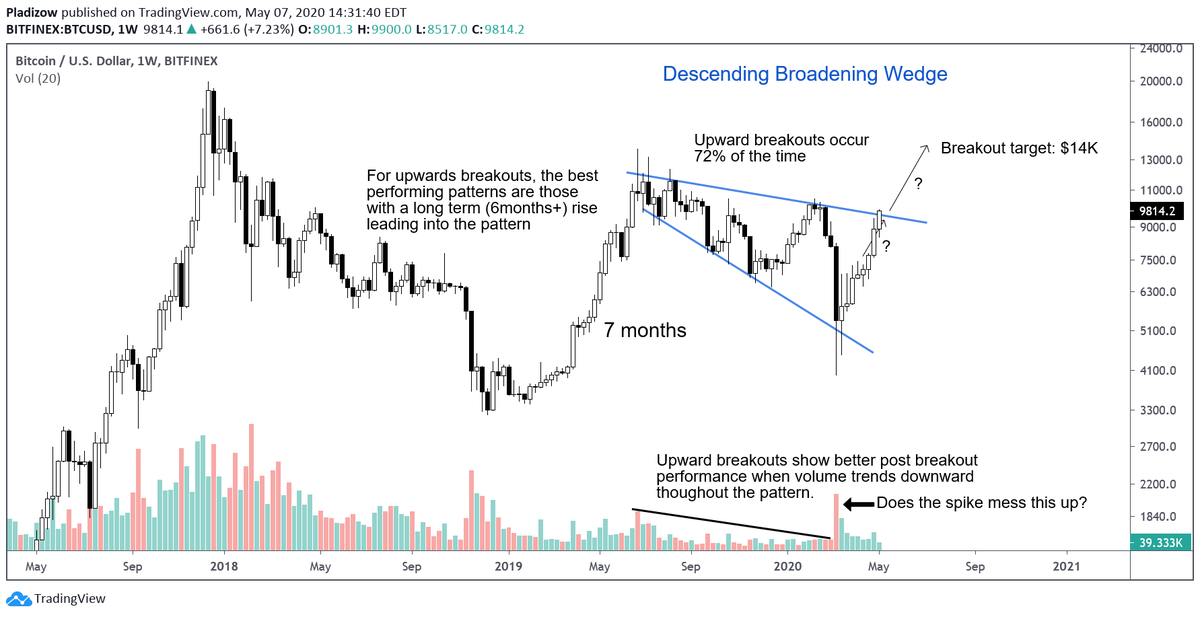 What's important is that tomorrow, if Bitcoin closes the weekly candle above ~$9,600, it will confirm that it has broken out of the textbook wedge. Classic technical analysis supplies a price target of $14,000 should BTC breakout.
It isn't only this pattern predicting Bitcoin is well on its way to $14,000.
Per previous reports from Bitcoinist, a prominent investor eyed this level as a near-term target for the leading crypto asset, but did state that this is somewhat dependent on a clearing of the $10,500 resistance.
"The last barrier between us and my 14k target is this 9.7k-10.5k region. If we break it now, 14k+ will likely come soon after. If we reject it, we will get one last dip before breaking it. Either way, 14k+ is coming imo," he noted in reference to the chart below.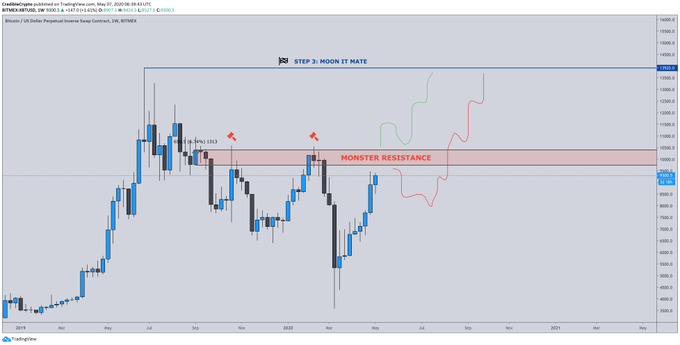 There Are Macro Tailwinds Too
Another analyst or firm expecting $14,000 is Fundstrat Global Advisors, a New York-based market analysis firm that has long had a crypto skew. Finance news outlet MarketWatch indicated that the firm sees the asset hitting $14,350 in the next 12 months.
As to why they have this prediction, firm co-founder and head of research, Tom Lee, weighed in via a Twitter comment by sharing four "solid tailwinds":
Bitcoin is the best-performing "asset class" in 2020, beating U.S. Treasuries and Gold amid a global recession.
BTC was the best-performing asset class of 2019, rallying 92% while the U.S. stock market gained around 20%.
The block reward reduction, known as a "halving," is taking place in three days, estimates suggest.
Paul Tudor Jones, one of the world's biggest macro investors, just announced his fund is taking a stake in Bitcoin futures. Jones believes the cryptocurrency will act as a hedge against inflation.
Photo by Jake Givens on Unsplash