John McAfee has led calls for calm amid the ongoing Bitcoin price slump as analysts predict a bear market lasting at least four more weeks.
---
4 More Weeks Of Downside And Then…
Amid ongoing social media debate, McAfee told followers they should "get a perspective" Sunday as Bitcoin erased short-lived gains of $1500 made Friday.
"If you are a short term investor, you need to get real," he commented, reminding readers Bitcoin is still worth more under current conditions than it was just three months ago.
Please God people – get a perspective about the market! The price of Bitcoin today is still higher than it was just three months ago! In a long term view, Bicoin is still climbing. Forget about these short term ups and downs. If you are a short term investor, you need to get real

— John McAfee (@officialmcafee) February 4, 2018
His optimistic mood capitalizes on the unerring enthusiasm the Bitcoin trading community continues to hold despite prices across cryptocurrency shedding over 50% in weeks.
Altcoin assets have followed Bitcoin more closely than during previous routs, with even Ether (ETH) mimicking performance to drop to multi-month lows of its own.
In his latest analysis, veteran commentator Tone Vays warned of at least four more trading weeks of downside, describing Friday's bounceback over $9000 as "not strong enough."
"[N]ow all signs point to lower lows… Weekly Chart looks very Bearish (with) a 5 of 9 suggesting 4 more bad weeks," he summarized Monday.
Parabolic Moves
A further dip followed by an even more fervent correction is also the focus for famously bullish online analyst known as Parabolic Trav, who describes themselves as a "spirit guide for the journey to $100,000 and beyond."
In a fresh forecast Monday, Trav eyed buy walls and speed of reversal as being key indicators of Bitcoin's overall "health" and the implied potential for upside.
"The goal is to get these big buy walls filled by huge liquidations," he explained. "The walls are there to soak up liquidity. I'm looking for them to be eaten in a capitulation bottom, then hard whipsaw out. How big the whipsaw tells BTC health."
At press time, Bitcoin was in the middle of a new downturn, hitting $7500 on Bitstamp having shed $500 in three hours.
However, the chart (Bitstamp exchange) does show a potential for a reversal following a Doji star and a morning Doji star on the 15 min. chart.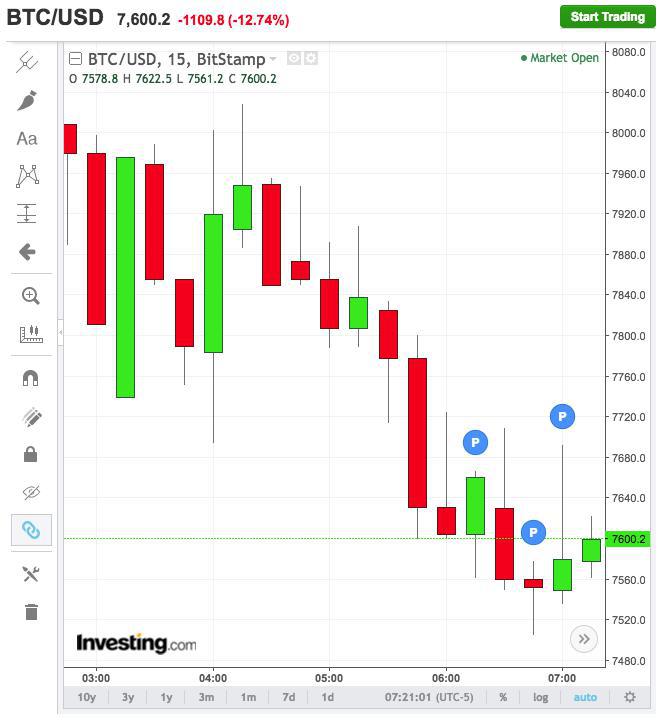 Further clarity is needed, however. The next few days should give us a better signal where the entire crypto market is headed.
What do you think about Bitcoin's price performance and analysts' views on its future? Let us know in the comments below!
---
Images courtesy of Shutterstock, Twitter, Investing.com