This morning, something very important came to pass: Bitcoin's monthly candle for April finally closed. It was an occurrence closely watched by many crypto traders and investors.
At first, many thought the close was decisively bullish; due to the stunning recovery that has transpired over the past few days, April saw Bitcoin entirely negate the losses sustained during March, with the candle closing around $8,700.
According to a quote from a world-renowned technician, the candle that Bitcoin just printed hides a shocking twist. It's a twist that suggests that a move to the downside is imminent.
Bitcoin's April Candle Hides a Shocking Twist 
As mentioned, many investors quickly embraced Bitcoin's April candle. The fact that it had managed to reverse all of March's crash (and then some) in a single candle was pleasing to bulls, to say the least. Indeed, the candle that Bitcoin printed for the month of April was a textbook "bullish engulfing candle."
Per a quote shared by a crypto trader, though, the bullish engulfing candle is actually a big misnomer.
According to studies done by Thomas Bulkowski — a legendary technician — bullish engulfing candles rank 84th on his list of 100 chart patterns, with a strike rate of 63%. Even if the candle is followed by a green candle, the performance can be "dreadful," the trader wrote in reference to Bulkowski's studies.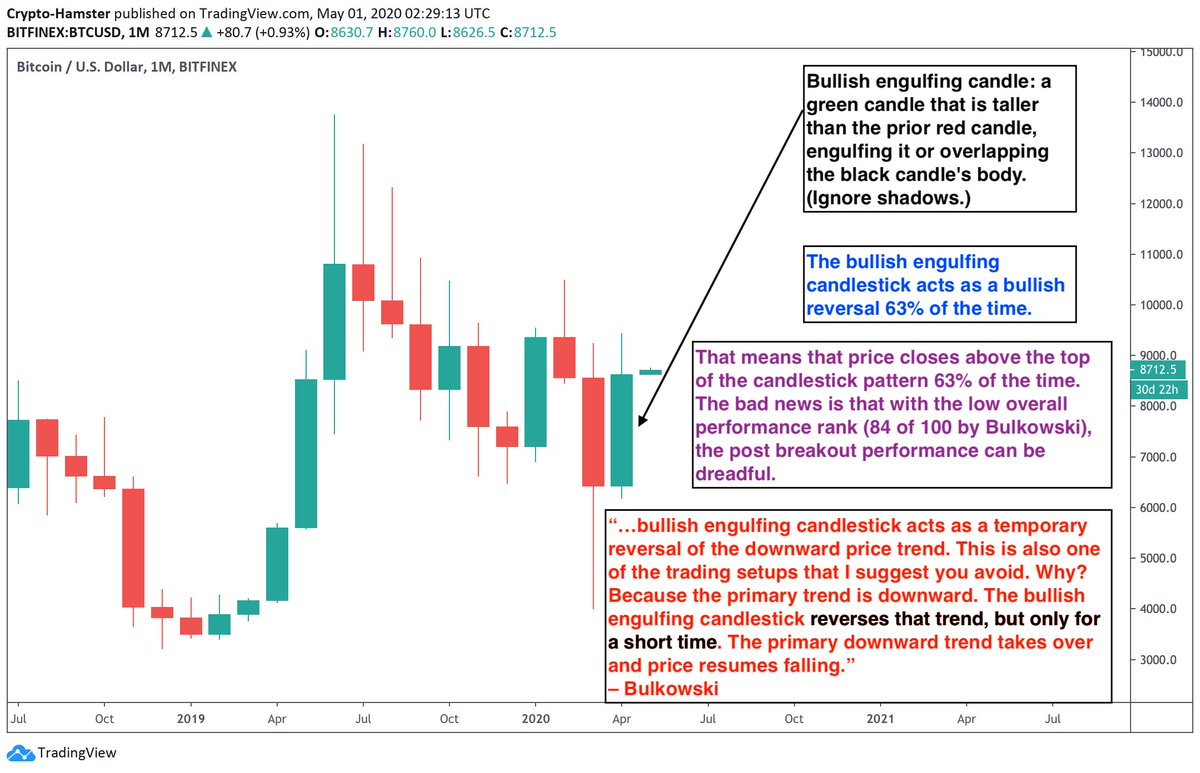 That's not all: Bulkowski wrote himself that bullish engulfing candlesticks are anything but signs of macro reversals:
"[These candles] act as a temporary reversal of a downward price trend. This is also one of the trading setups I suggest you avoid. Why? Because the primary trend is downward. The bullish engulfing candlestick reverse that trend, but only for a short time. The primary downward trend takes over and price resumes falling."
Case in point: Bitcoin printed almost the exact same candle set up in the midst of 2018's bear market, with BTC engulfing a red candle only to fall over 60% to the low-$3,000s in the five months that followed.

The similarities are shocking and suggest that the crypto market is poised to reverse lower once the ongoing rally has passed.
Bulls Still Have Control
It's hard to forget the positive fundamentals that could negate this bearish trend.
Per previous reports from Bitcoinist, a crypto chartist remarked that Bitcoin recently accomplished a very important technical feat: it managed to surmount $6,400 without much resistance, then claim the level as support by bouncing off it.
This is important as $6,400 is the Point of Control — a price level on an asset's chart over a given timeframe where there was the most volume traded and liquidity seen.
Bitcoin managing to recently recapture and confirm $6,400 as support adds credence to the bull case.
Also, on-chain metrics such as the number of active users of the Bitcoin network and the number of new users of BTC, have also begun to rise.
Photo by Jonathan Chng on Unsplash