It has been an important past few weeks for Bitcoin. Due to consistent buying pressure, the cryptocurrency has crossed above key resistance level after key resistance level after March 12th's crash, reaching a high of $7,800 just recently.
This move has shocked traders, with many just weeks ago thinking that BTC was on its way to the $3,000s and maybe even lower, citing the bearish macroeconomic outlook and technical factors. But here we are, weeks later, over 100% higher than the $3,700 March lows.
While some have been convinced that this is just a passing relief rally, predicated on FOMO and short-term speculators, a key technical occurrence just played out that adds to the growing bull case for Bitcoin.
Bitcoin Bull Case Grows Stronger With Key Level Taken
According to one "Inmortal Technique," a prominent crypto chartist, Bitcoin has recently accomplished a very positive technical feat: it managed to surmount $6,400 without much resistance, then claim the level as support by bouncing off it.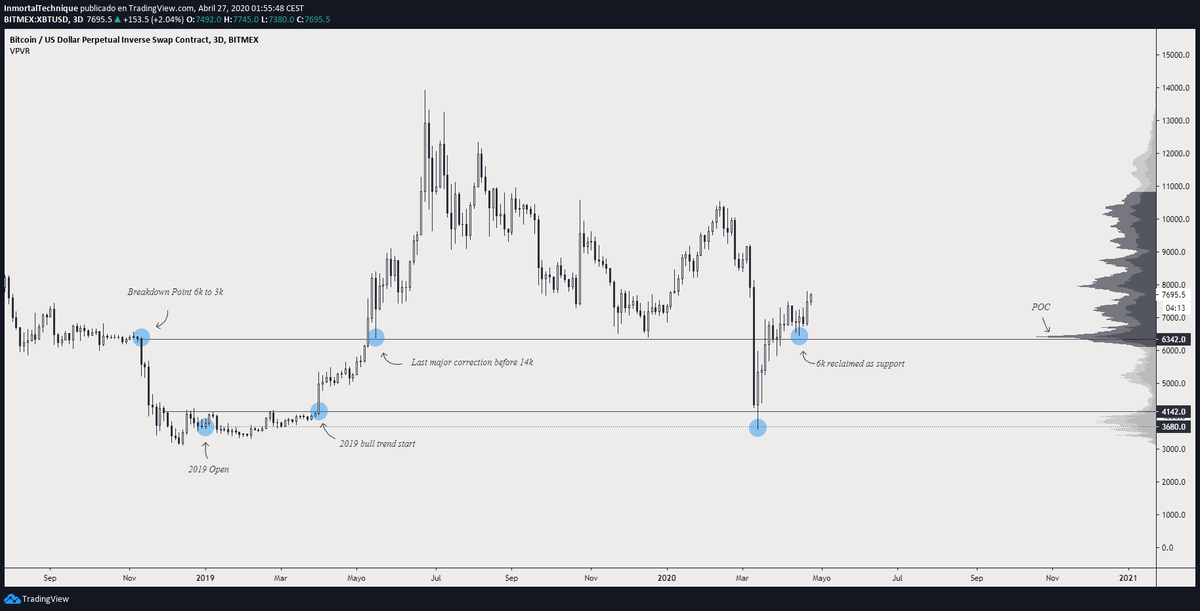 As mundane as this may sound, it's important: as the analyst's chart depicts, $6,400 has been key to BTC for the past 18 months, acting as a turning point for this market on many occasions.
At the end of 2018, Bitcoin moving below $6,400 marked the start of a 50% correction to $3,150 over the span of five weeks. During 2019's rally, the cryptocurrency retested $6,400, then bounced off it to rally 140% to $14,000 in the two months after that. And at the end of 2019, $6,400 decisively marked the bottom of that year's bear market.
$6,400 is also the Point of Control — a price level on an asset's chart over a given timeframe where there was the most volume traded and liquidity seen — only corroborating its importance to Bitcoin's price narrative.
Bitcoin managing to recently recapture and confirm $6,400 as support adds credence to the bull case.
Far From the Only Factor
It's far from the only factor that has Bitcoin investors, let's say, over the moon.
Per previous reports from Bitcoinist, according to Glassnode, Bitcoin's hash rate has recovered 64% from the lowest day in March, which came a few days after the crash to $3,700 took place. Then, the hash rate was at 82 exahashes per second; now, the same metric is just under 130 exahashes per second, not too far shy of the all-time high closer to 140 exahashes.
It's a strong sign that shows a Bitcoin bull rally is brewing, with this trend acting as a clear sign that miners are anticipating price upside in the coming future. Importantly, the strength exudes by miners comes ahead of the BTC block reward halving.
Photo by Johannes Plenio on Unsplash