After showing signs of weakness early this week, Bitcoin managed to mount a comeback on Wednesday, rallying 6% to $7,150 within the space of a few hours. It was a rally that liquidated over $10 million worth of short positions, with bulls retaking the ever-important $7,000 level with force.
Fortunately, a confluence of fundamental and technical factors indicates that BTC is preparing to embark on yet another leg higher. There isn't a consensus as to where that leg will end, but many are eyeing a Bitcoin price of $9,000-10,000, all within the next few weeks.
On-Chain Metrics: Bitcoin Rally is Brewing
According to an April 16th report from crypto and blockchain analytics startup Glassnode, Bitcoin's hash rate has recovered 64% from the lowest day in March, which came a few days after the crash to $3,700 took place.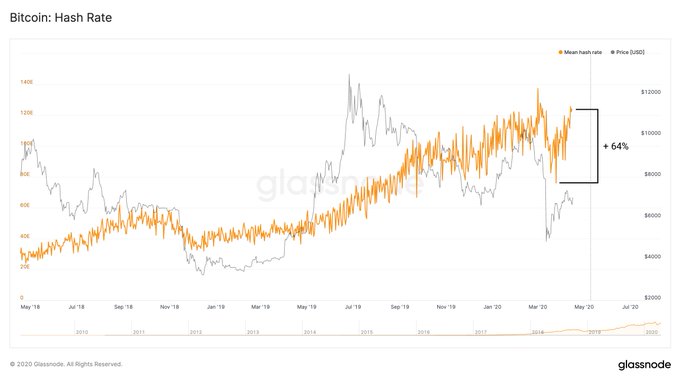 Then, the hash rate was at 82 exahashes per second; now, the same metric is just under 130 exahashes per second, not too far shy of the all-time high closer to 140 exahashes. This trend was slightly eased by a late-March difficulty adjustment of -17% for Bitcoin, which has made it easier for miners to find blocks, hence the increase in hash rate.
It's a strong sign that shows a Bitcoin bull rally is brewing, with this trend acting as a clear sign that miners are anticipating price upside.
Senate Passes Another Stimulus Bill, and Crypto Could Benefit
On April 21st, the U.S. Senate approved a supplemental stimulus package of $484 billion, adding to the $2 trillion stimuli it had already approved in March. The package is expected to have a focus on hospitals, disease testing, and small businesses, with the small business loan program included in the original Act having been exhausted.
While it is not yet law, like with the previous package, it's expected to be supported by all sides of the Hill in the coming days.
Bitcoin stands to benefit from this fundamental factor because of its correlation with the S&P 500. The stock market bottomed around the time the $2 trillion bill became law, then rallied by 30% in the weeks that followed.
A similar trend will see the stock market continue to rally higher as it benefits from the latest round of stimulus. Bitcoin, which has a positive correlation with the S&P 500 even in periods of "stress," the Federal Reserve of Kansas City says, will most likely follow equities higher.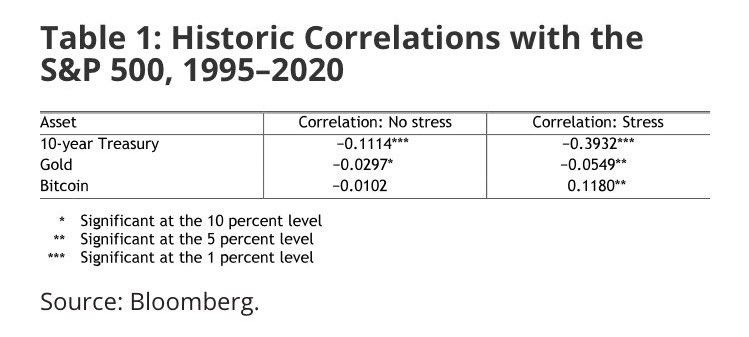 Furthermore, Bitcoin bulls say these stimulus bills have an added benefit of boosting the value proposition of scarce and decentralized cryptocurrencies, as these bills show how easy money can be printed out of thin air.
Bitcoin In Midst of Textbook Bottom Pattern
To add a technical component to this bullish confluence, analyst Nunya Bizniz recently shared that Bitcoin's chart from the February highs to now has formed a "classic BARR" bottom, marked by three textbook phases of a Lead-in, a Bump, then a Run.
As it stands, Bitcoin is in the third phase of the formation —technician Thomas Bulkowski's "best performer" out of 56 chart patterns — suggesting Bitcoin will trade as high as $10,000 by the start of May, just prior to the block reward halving.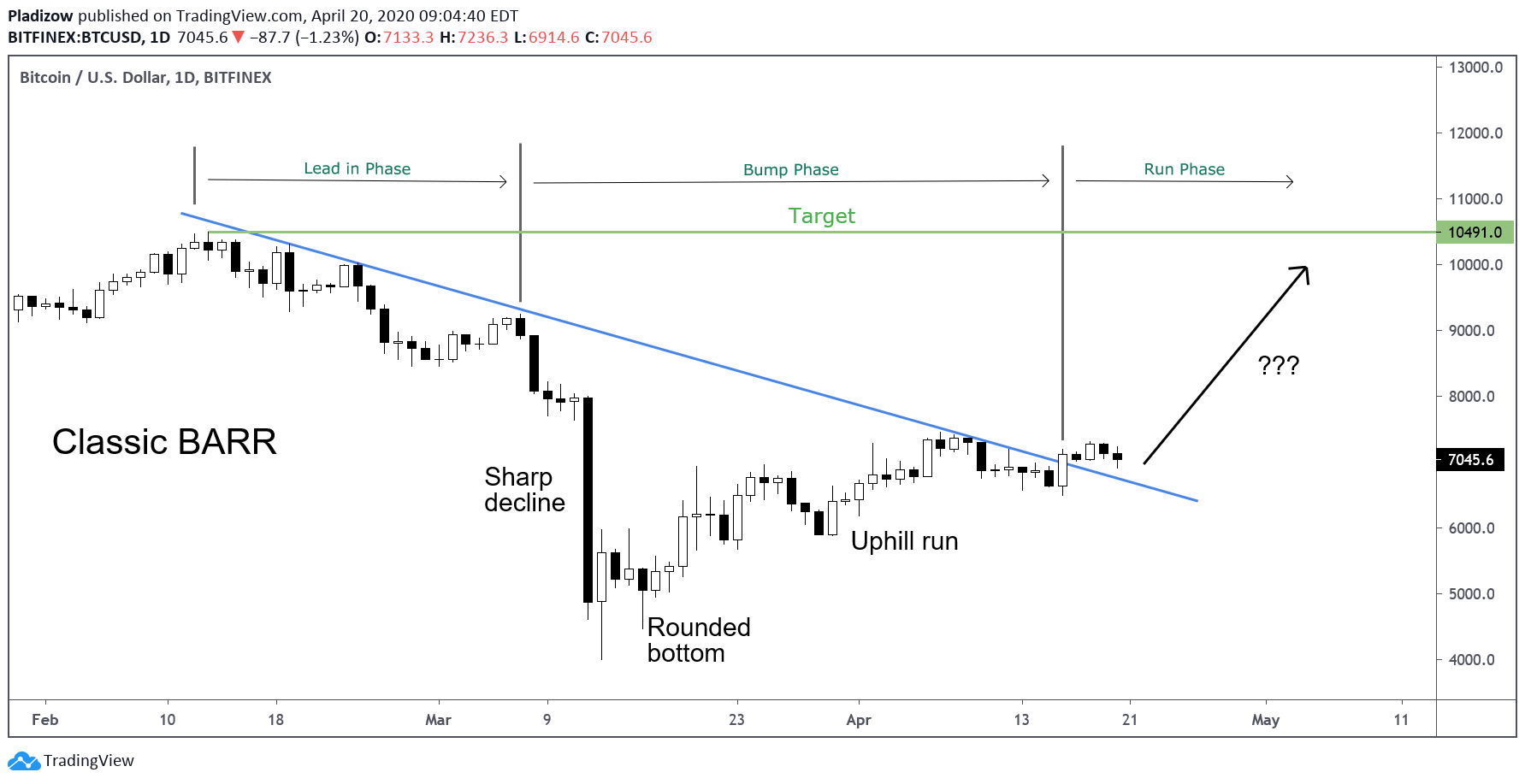 What's especially notable about this pattern is that it's the same technical formation that marked the bottom at the end of 2018 and the start of 2019. This historical precedent bodes well for the bull case.
Photo by chuttersnap on Unsplash