Looking at the crypto charts today reveals one altcoin surging into the top ten as it doubles in price over a few hours. This is a highly unnatural movement for a high cap crypto asset, but then again most things associated with Bitcoin SV are pretty unnatural.
---
Bitcoin SV [coin_price coin=bitcoin-sv] has powered into the top ten flipping Tether, Stellar, Cardano, Tron and Monero in one big movement. With a new market capitalization of $4 billion the Bitcoin Cash offshoot is now at eighth position just behind Binance Coin.
BSV hit a new all-time high just below $240 a few hours ago during early Asian trading. This time yesterday it was priced at around $116 so the epic move has seen the coin double in price. At the time of writing Bitcoin SV was trading at $223, according to Tradingview.com.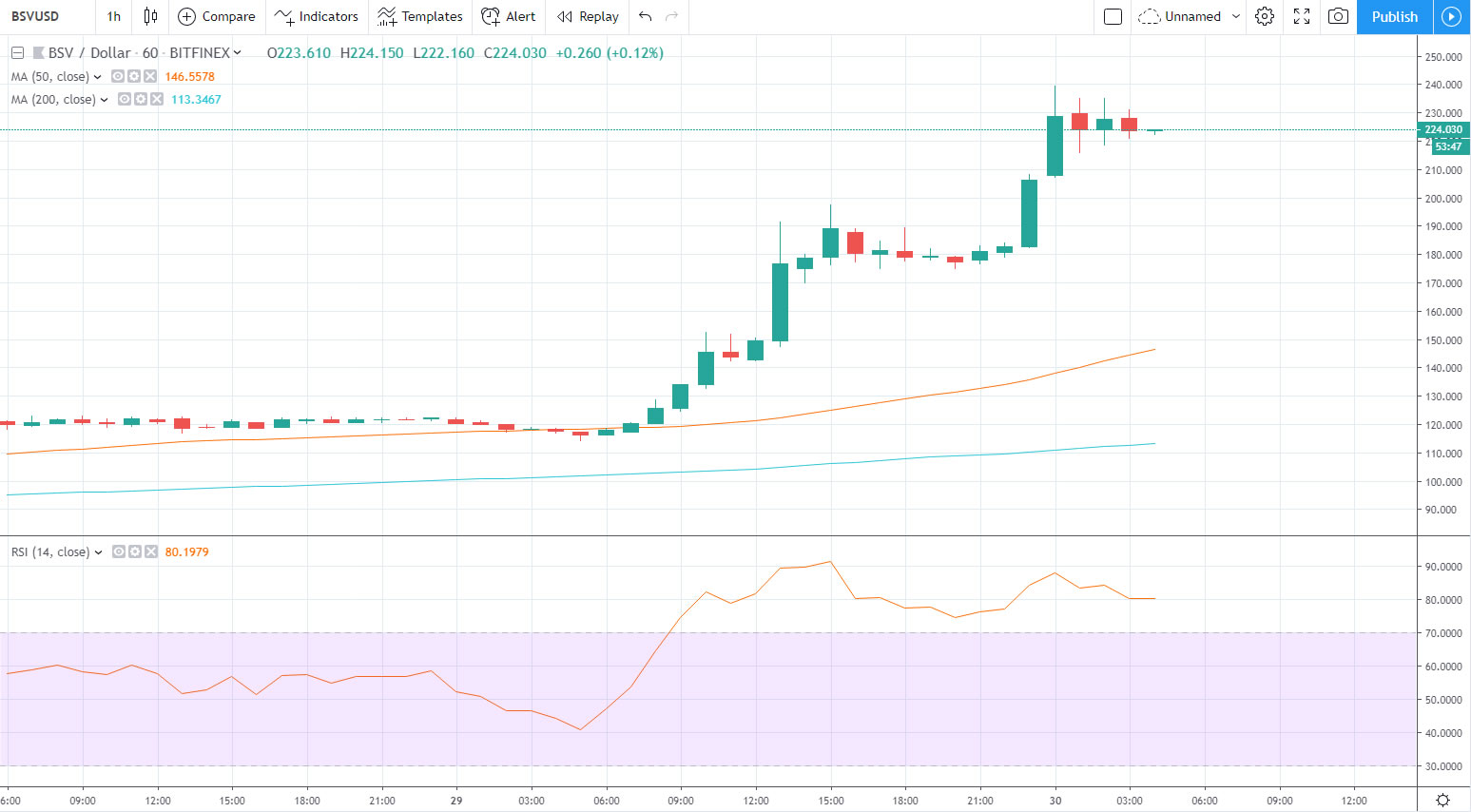 Daily volume has surged from $300 million to almost $2 billion as a wave of fomo propels it higher. Asian traders, particularly South Koreans, are jumping on the crypto train today as the majority of that volume is going through Upbit, OKEx and Huobi. Almost 20 percent of the total volume is being traded in KRW at the moment.
Bitcoin SV Fake News FOMO
Reports have emerged that scammers posing as a Chinese crypto news outlet called Coinbull posted a fake alert claiming that BSV founder Craig Wright had transferred Bitcoin from the Satoshi wallets to prove his identity as the father of BTC. The spurious message read,
CSW transferred 50k BTC from the biggest BTC wallet to Binance, which confirmed he is the real Satoshi. As such CZ will re-list BSV and make an official apology on Twitter.
These pump and dump schemes are still quite common on Chinese social media which remains heavily censored. Primitive Ventures founding partner, Dovey Wan, told Coindesk;
The trick is easy and constantly used by many scams – all Chinese crypto media circulate the breaking news via picture as above in WeChat instead of a news link. So anybody can just use the same theme template and photoshop one.
Coinbull made a real announcement on WeChat stating;
Recently, we have received feedback from users that certain people had maliciously sent out photoshopped Coinbull news alert to spread rumors about Binance and CSW which had bad consequences. We remind our users again not to trust any rumors and not to spread any rumors.
There has been no response from Binance boss Changpeng Zhao on his usually very busy twitter feed.
This latest scam highlights that China's despotic attitude towards crypto is more damaging to its citizens than allowing them to make better informed trading decisions with a free and fair access to industry related media.
Will Bitcoin SV dump as quickly as it pumped? Add your thoughts below.
---
Images via Shutterstock