The crypto exchange ecosystem is becoming increasingly cutthroat as major players fight to win the largest share of the market. Bittrex is one exchange right now that appears to be losing the fight. 
---
US crypto exchange, Bittrex, has been losing significant ground to rivals over the past couple of years. So much so that even a series of recent airdrops, promotions, and fee discounts have had little effect on its diminishing market share.
In partnership with CryptoQuant, Bitcoinist has been delving into the data to bring you this exclusive report on the current situation on the 2013 founded, Seattle headquartered exchange.
Dwindling Market Share
By the end of 2017, Bittrex was one of the world's top crypto exchanges with almost 40% of the total exchange inflow market share. Since then, things turned south during the 2018 bear market and the platform never really recovered from it.
According to the CryptoQuant team,
Since 2017, Bittrex has been one of the exchanges that has struggled the most to maintain its market share during the bear market. Its BTC inflow share fell from a high of 88 percent at one point to now being down around 2%.
Binance exchange, lead by Changpeng Zhao, started to gather momentum in 2018 despite the icy climes of crypto winter, and has since grown to consume almost 50% of the entire market share.
This has had a devastating effect on the likes of Bittrex, Poloniex and Bitfinex, which have lost out big time to the yellow beast.
Kraken has made a minor comeback in recent times, and BitMEX has gained some ground too, but the scene today is largely dominated by one player. Unless radical measures are taken to woo clients back from Binance, it's possible that we could start seeing major platform closures in the near future.
Bittrex Incentives Abound
The company has made several attempts to do this through incentives such as reduction in trading fees, customer reward programs, and further discounts. These, however, have had very little effect on boosting trading volumes, which continue to slide.
Following the mid-year rally, Bittrex announced a reduction in trading fees for USD markets. It stated that customers were able to take advantage of lower trading fees all the way down to 0% maker and 0.15% taker (reduced by 100% and 40% respectively).
However, this discount was only applicable to accounts with $30,000 or more in trading volume. According to Crypto Quant data, the incentive had negligible effects on exchange inflows. If anything, inflows showed a marked decrease after the incentive was announced.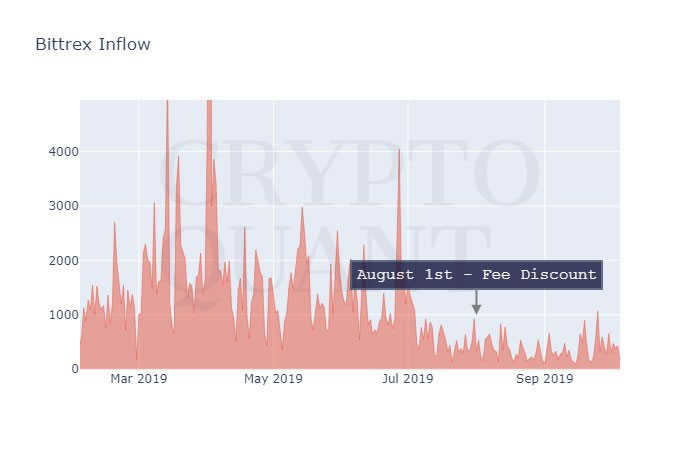 The second of these incentives was announced in September 2019, when Bittrex revealed a new fee structure offering discounts for even higher volume accounts. This was generally targeting the deeper pocketed investors and not the average crypto day trader or hodler.
Qualifying accounts that have generated more than $200,000 USD in trading volume over the previous 30 days across all markets will have its trading fees reduced.
Again, there was very little reaction to this, presumably since the whales would not really be bothered by saving a few bucks on a trade when they're dealing with such large volumes.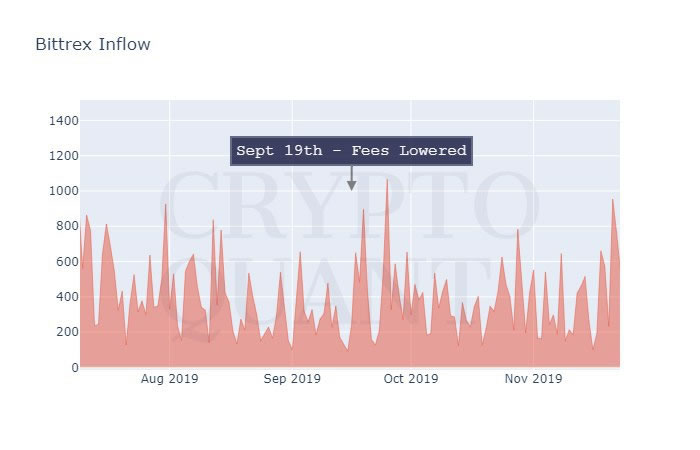 The following month Bittrex announced a credit incentive for clients on its new International platform.
Thanks to everyone who participated in our Bittrex Credits beta test!

? to the customers who received free trades! Over 116,000 unique free trades were completed with Bittrex Credits! pic.twitter.com/WpJ00MHLiK

— Bittrex International (@BittrexIntl) October 24, 2019
Again, the rewards program, just like the trading fee structure change, had very little impact on overall volume on the exchange.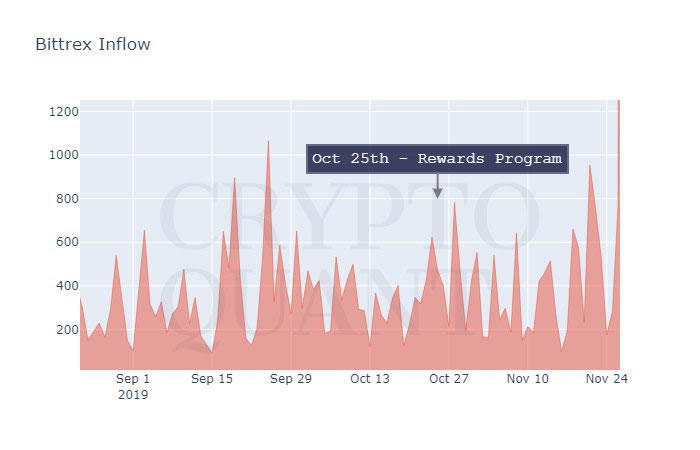 Due to regulatory pressure in the US, many exchanges launched a second global platform to serve international customers.
Clients from a list of 31 countries were also told that they could no longer use the platform and had to withdraw their crypto assets.
All trading and account access for these impacted customers will be halted on Tuesday, October 29 date at 19:00 UTC/21:00 CEST. Please remove your coins and tokens as soon as possible.
So, effectively Bittrex has tried to keep its whale traders with trading fee reductions and offered very little to its regular traders, while alienating 16% of the world's countries.
Judging by some of the comments on the company's twitter feed, customer support has been an issue too, with many complaints about blocked access to assets and restricted countries.
It also appears that Bittrex International was closed in November last year and re-branded as Bittrex Global, though this too has had very little impact on exchange volumes and market share.
The incentives have continued into 2020 with the launch of a new edition of its credits customer reward program, Bittrex Credits 2.0. According to the press release, this is essentially a $15 airdrop to new customers to be used on the exchange within 30 days.
Welcome Bittrex Credits 2.0. Tune in for the Airdrop promotion now! New signups will be airdropped $15 in credits, existing active users will be airdropped $10 in credits. See the details for a 30-day promo period, and learn how to earn extra credits here: https://t.co/yBgAtcKGbN pic.twitter.com/SDRdpioth7

— BittrexGlobal (@BittrexGlobal) January 13, 2020
Embattled Exchange
Bittrex has attempted to incentivize traders back to its platform over the past year or so but to little avail.
Binance meanwhile continues to consume the exchange and digital asset service industry like a 'crypto google', gobbling up all in its path.
Do you think Bittrex will be able to recover from its recent decline? Add your thoughts below!

---
Images via Shutterstock, Charts by CryptoQuant, Twitter @BittrexIntl @BittrexGlobal