One of the biggest innovations of the new technology known as "blockchain" is the ability to transfer and verify ownership over the internet.
---
So, it's no wonder that the first ever all-blockchain public auction was recently held in New York. The event featured a total of 10 works including the original of this painting, known as the Fail Whale…
It's quite fitting that this piece is included in this symbolic event as it has been used widely throughout the internet, including as the error page on Twitter, and seen by millions of people, without ever crediting or paying the artist.
Of course, the real draw was this device called Celestial Cyber Dimension, which houses a real 'live' CryptoKitty.
The celestial device ended up selling for an outstanding $140,000 to Wall Street's biggest crypto enthusiast, Mike Novogratz. It may sound like a lot of money to spend on the world's most elaborate Tamagotchi, but anyways, all proceeds went to charity.
Today's Highlights
Night at the Opera
Oil Peaked?
Crypto Stable :)
Please note: All data, figures & graphs are valid as of May 28th. All trading carries risks. Only risk capital you can afford to lose.
Traditional Markets
If Giuseppe Verdi was alive today no doubt he'd be able to take a lot of inspiration directly from what's happening in the Italian Parliament right now.
Just when everything finally seemed to be on track, the entire coalition between the Five Star Movement and the right-wing League seems to have imploded.
It started with the proposed appointment of an anti-Euro Finance Minister, who the President refused to confirm. As a result, it seems that the Prime Minister in waiting has withdrawn his bid to lead the country. For now, chaos ensues.
Italian Bond Yields are climbing higher today, presumably due to the uncertainty of what will happen next.
As well, the stock market in Italy is taking a bit of a tumble…
Such a shame too, after such a nice day in Asia, to see this weighing down on European markets. I mean, the CAC and the DAX are still green, but not as much as they might otherwise have been.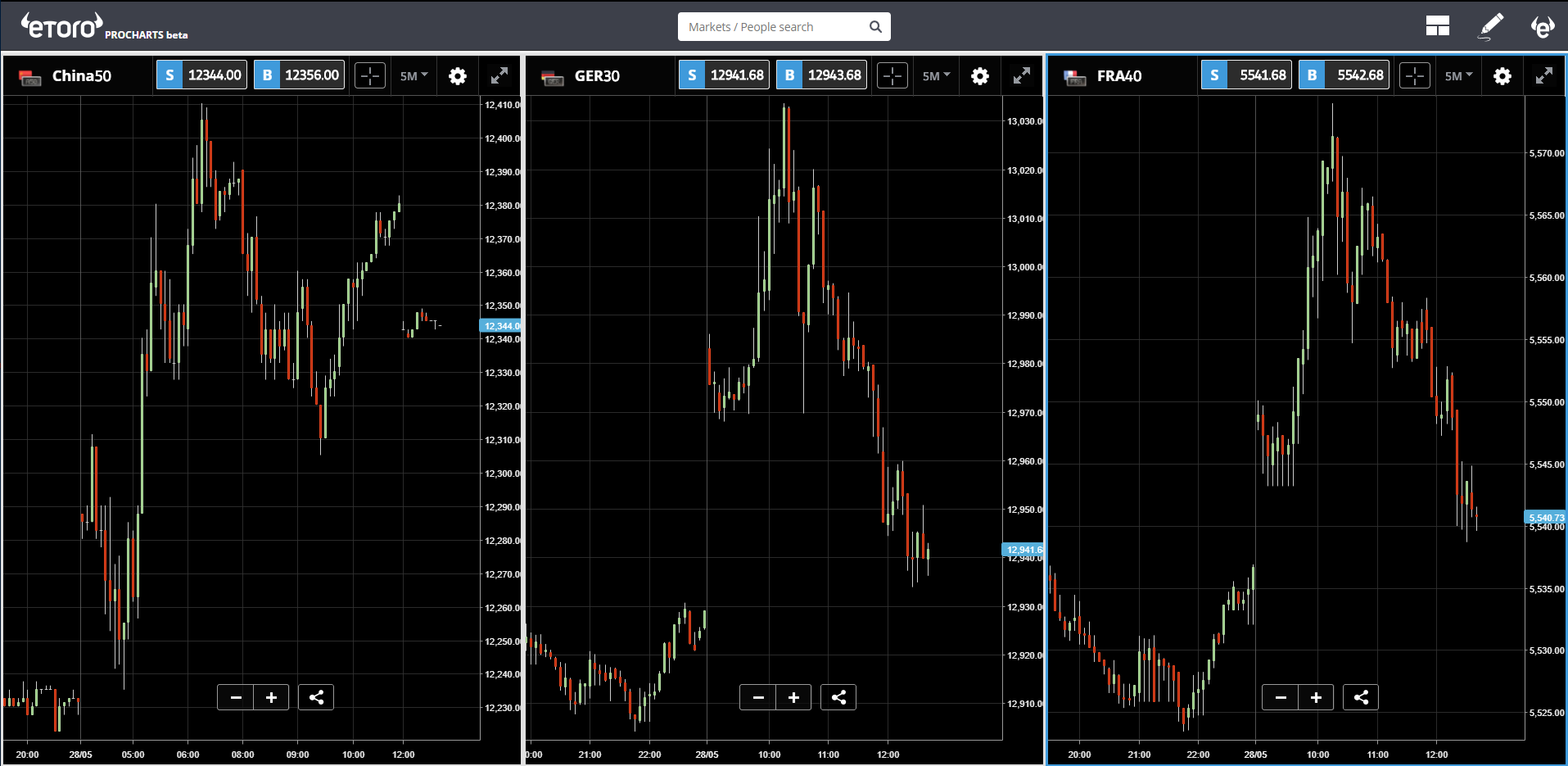 Oil off the Top
Crude Oil saw a sizable pullback on Friday, which seems to have continued this week while Saudi Arabia and Russia consider boosting output.
A week ago, Oil was one of 2018's best performing assets, but now it seems the volatility has spread. As you can see, after briefly breaching $72.50, the price has crashed all the way back to the $65 handle before bouncing a bit, just above the long-term trendline that we've been watching.
For those who are bullish, now might be a good time to get in. However, as the Saudis and the Russians seem to be mulling their positions, we probably should as well.
The above trendline (yellow) will probably not break easily, but should it break, there's a lot of empty space before we hit the 200 Day Moving Average (blue line).
Crypto-Assets
Bitcoin and the rest are currently testing their lows. After modest declines over the weekend, bitcoin is now sitting just above the key support level that we've been watching around $7,100.
At this point, there are several more support levels below. For example, $7,000 even is a notable psychological level, but unfortunately, we may need to now be looking at the recent low from February 6th, just under $6,000.
The dotted red line should be seen as critical support, but that's still 19% below where we are at the moment. So, even if it does break the yellow, we have a strong backup, which is well below the current price.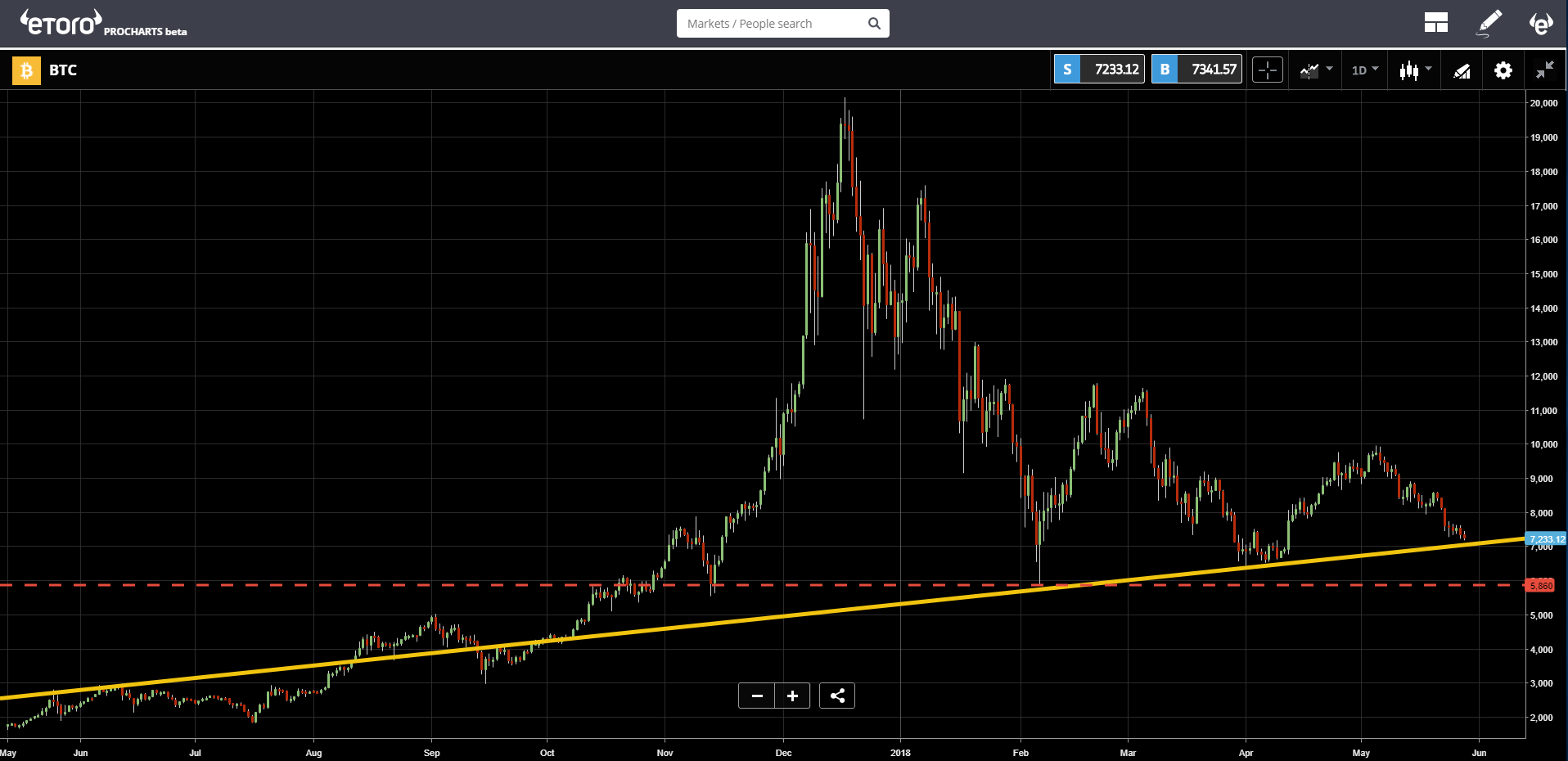 Reminder
Just a friendly reminder that today is a holiday in the UK, in some parts of Europe, and in the United States. So even though we need to be on the lookout for geopolitical updates, liquidity will be rather thin.
Have an awesome day!
This content is provided for information and educational purposes only and should not be considered to be investment advice or recommendation. 
The outlook presented is a personal opinion of the analyst and does not represent an official position of eToro.
Past performance is not an indication of future results. All trading involves risk; only risk capital you are prepared to lose.
Cryptocurrencies can widely fluctuate in prices and are not appropriate for all investors. Trading cryptocurrencies is not supervised by any EU regulatory framework.
---
Images courtesy of eToro, Shutterstock