Chainlink suffered a strong correction after approaching $20 last week.
The asset fell from those highs to a low of around $14 after a flash crash and subsequent selling pressure.
LINK was also pushed lower by Dave Portnoy, the founder of Barstool Sports, selling his stake in the cryptocurrency.
The asset has bounced after reaching those lows yesterday, following Bitcoin and Ethereum higher.
Chainlink may return lower, though, with there being certain signs that more consolidation is needed.
LINK is up 16% in the past 24 hours, outpacing Bitcoin's 1% loss or Ethereum's 3% loss.
Chainlink Is Primed to Reverse After Bounce?
Chainlink could soon drop back towards the $14 local lows as the ongoing bounce loses momentum.
A trader shared the chart below, noting that there's an opportunity for the asset to reverse around 13% to $14, before potentially bouncing back towards the range highs.
Chart of LINK's price action since the start of August with analysis by crypto trader "Stackin Bits". Chart from TradingView.com
While the analyst above is expecting a retracement, then a bounce, some think LINK is forming a medium-term downtrend.
One analyst that goes by "Steve" says that a pullback for Chainlink to $13 will likely soon arrive:
"This is a very unbiased & non-marine opinion on LINK. I have no business FUDing the project nor do I need to support it in a culty way. Facts are that we had a HUGE run-up and are now pulling back, which is good. I do see more blood coming though. Simple TA shows that we have no supports tested on the daily. Our first "bigger support" is around $8.50 (0.618 Fib Level). The minimum pull-back I am expecting is to $13.00 We also broke the daily trend for Chainlink."
Also, as reported by Bitcoinist previously, one trader noted that LINK is forming a lower high and lower low against BTC. This suggests it is in a downtrend:
"This is the first lower low and potentially lower high that LINK has made in a long time… It will be interesting to see if LINK have the momentum to reclaim this level Fair play to @Pentosh1 on his short call. I'm not that brave and would rather buy dips in this market."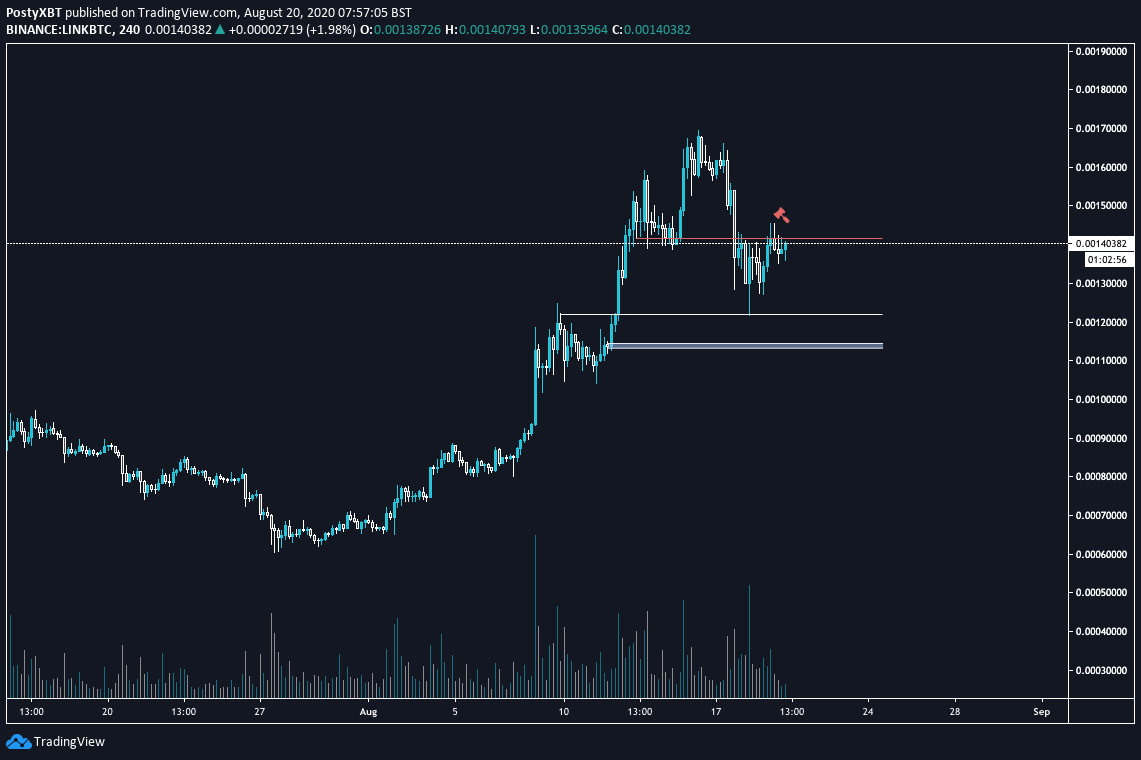 Chart of LINK's recent price action with analysis by trader Posty (@PostyXBT on Twitter).
Chart from TradingView.com
What Do the On-Chain Fundamentals Say?
The on-chain fundamentals for the asset remain strong despite the weakness in the price.
Blockchain analytics firm IntoTheBlock reports that Chainlink is currently "mostly bullish," with the net network growth, smart price concentration, and futures market momentum indicators printing "bullish" readings.
There seem to be more sell orders than buy orders for LINK at the moment, though.
Featured Image from Shutterstock
Price tags: linkusd, linkbtc
Charts from TradingView.com
Chainlink (LINK) Could Soon Reverse to $14 Despite 20% Price Bounce