Ethereum has seen weak price action over the past few days despite strength in the Bitcoin price, which has managed to hold above the low-$13,000s for an extended period of time.
Ethereum currently trades for $383, down nearly 3% in the past 24 hours. This makes it one of the worst-performing crypto assets in the top 20 by market capitalization. Despite this price action, analysts remain optimistic about the leading cryptocurrency.
The below chart was shared below just recently, showing that Ethereum's price action over the past few weeks.
Ethereum Could Surge Toward $430: Analyst
The key analysis in the chart is that Ethereum's price action over the past week looks eerily similar to that seen in the middle of October, during a period of consolidation around $370.
This simple fractal analysis indicates that the cryptocurrency could move toward $430 and beyond in the coming days.
Both periods highlighted in the chart have extremely similar price action, suggesting that a similar trend will play out once again.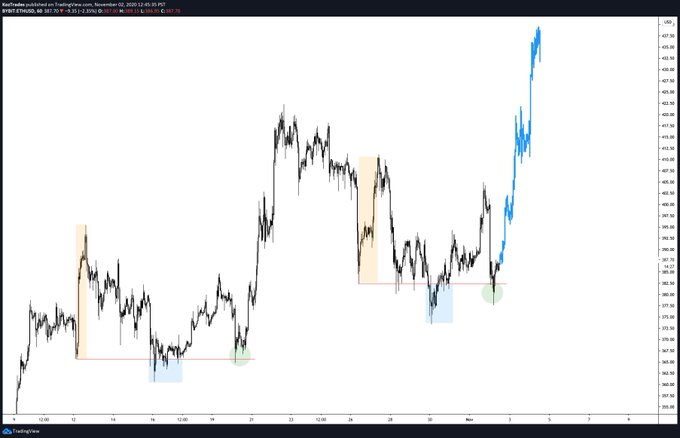 Chart of ETH's price action over the past few weeks with technical analysis by crypto trader Trader Koz (TraderKoz on Twitter).
Source: ETHUSD from TradingView.com
Reserve Bank of Australia Mention & Other Fundamentals
Ethereum has fundamental trends implying further growth is on the horizon, at least on a longer-term basis.
Australia's central bank, the Reserve Bank of Australia, just announced a new partnership for central bank digital currencies. This will involve ConsenSys, the Ethereum-focused development studio, and an Ethereum-based technology:
"The Reserve Bank today announced that it is partnering with Commonwealth Bank, National Australia Bank, Perpetual and ConsenSys Software, a blockchain technology company, on a collaborative project to explore the potential use and implications of a wholesale form of central bank digital currency (CBDC) using distributed ledger technology (DLT)… The project will involve the development of a proof-of-concept (POC) for the issuance of a tokenised form of CBDC that can be used by wholesale market participants for the funding, settlement and repayment of a tokenised syndicated loan on an Ethereum-based DLT platform."
The Reserve Bank of Australia's interest in the technology of Ethereum has been echoed by other entities, both corporate and governmental.
For one, Santander Bank, a prominent Spanish bank, settled a small bond on Ethereum.
Many see the blockchain as an important step forward in the efficiency and transparency of financial applications. That's probably why the Ethereum decentralized finance space has seen such a rapid increase over the past few months.
Featured Image from Shutterstock
Price tags: ethusd, ethbtc
Charts from TradingView.com
Crucial Ethereum Price Fractal Predicts Surge Toward $430