You may have seen them, heard about them, read about them, or even played with a toy version. But, the reality is, very soon DRONES will be everywhere!
---
DEEP AERO's UTM Autonomous Drone Traffic Management Platform
Until recently, drones have been used largely for military applications. But, with the skyrocketing growth of the world's population and the rapid urbanization patterns that we are experiencing, where large concentrations of people continue to settle in the popular metropolitan areas across the planet, we are running out of land – fast.
And, our major road and rail transport infrastructure and systems are barely coping currently, trying to move people & cargo to their destinations on a 24/7 basis. Furthermore, this problem is set to only increase from here, as the populace grows.
While millions of productive hours are already being wasted by highly frustrated commuters who are continuously stuck in road congestion and traffic jams, the economy suffers even further because the deliveries of materials, goods & products are also slowed down by the failing logistics.
So, mankind began looking to the skies for a solution. And, in steps the new and exciting era of drones to fix the world's transport challenges.
Please continue reading to understand how the use of drones is busy becoming part of our everyday lives and what the major challenge for the fast-emerging drone-era entails.
Also, how DEEP AERO, the pioneer of drone solutions, has arrived to answer the call in a state-of-the-art and modern way, by means of Blockchain and Artificial Intelligence (AI) technologies.
And, how you can become part of the exciting & lucrative DEEP AERO opportunity as a DRONE crypto token owner. 
The Urgent Need for a Safe & Effective Drone Infrastructure
Outside of military use, in recent years, there has been a growing interest and increased use of drones, more formally referred to as "unmanned aerial vehicles", in the commercial & civilian world.
While, to date, they have largely been applied for utility purposes, such as wildlife conservation, aerial photography and the maintenance of high-rise structures, drones will soon become part of our normal, everyday lives.
For instance, Amazon, the global consumer dropship platform, is already in the advanced stages of commencing deliveries to customers by means of its Amazon Prime Air drone delivery solution. In addition, several air taxi services around the globe are also about to start transporting passengers across our city skylines very soon.
According to the U.S. Federal Aviation Administration (FAA), there are currently 42,000 commercial drones in the country. But, that number is expected to show unprecedented and explosive growth in the years to come. In the US alone, it's expected to multiply tenfold to around 400,000 in just the next 3 years.
Mr. Gurmeet Singh, CEO of DEEP AERO, explains:
The use of unmanned aerial vehicles is increasing exponentially. […] We're heading towards a future in which millions of drones will fly billions of flights. At some point in the not-too-distant future, fleets of commercial drones are expected to swarm across the skies.
"But how will these drones be controlled safely and effectively?" is the immediate question that jumps to mind. And, exactly that, is the major problem currently.
Mr. Singh notes:
Current airspace management and air traffic flow management systems don't have the capabilities to handle the type of operations relevant to drones. In addition, the anticipated traffic density of drones is far beyond the capabilities of current air traffic management systems.
DEEP AERO's UTM Autonomous Drone Traffic Management Platform Provides the Perfect Drone Infrastructure Solution
Residing on a global, blockchain network, The DEEP AERO Unmanned Aircraft System Traffic Management (UTM) Platform is a decentralized, intelligent, self-aware, autonomous drone traffic management system, serving the entire world.
Drones, which are unmanned aircraft, are not suited to the traditional ways in which piloted aircraft are being controlled in our skies currently, i.e. to a large extent by human air traffic controllers who communicate with pilots by means of voice-operated radio transmissions.
And, because drones fly closer to the ground & much lower than manned aircraft, the use of radar is not effective. Also, because traditional airborne collision avoidance systems are not ideal for denser air traffic, such as when countless drones are swarming through the skies, there is an increased risk of drones colliding with other aircraft & obstacles, resulting in injury to persons and damage to property.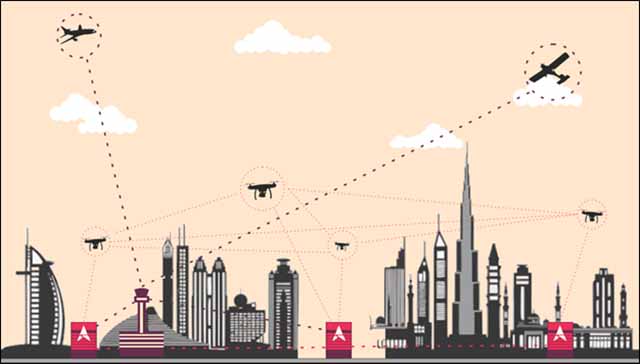 Unlike regular airplanes, there is currently no system to control drone traffic. Because they operate at low levels and in extremely dense environments, drones need constant information & data to map and understand the changing environment which they operate in. This enables them to co-exist in harmony with all other aircraft in the sky, also to avoid colliding with people & obstacles on the ground; and, high-rise structures, such as buildings, power lines, and towers.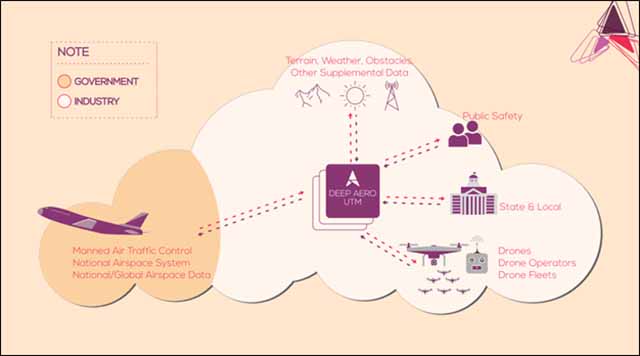 The DEEP AERO's DRONE-UTM platform provides the precise infrastructure required by drones to operate safely & effectively around our airspaces. While, traditional, government air traffic control authorities will continue to regulate & control normal, piloted aircraft in the skies; DEEP AERO's UTM will co-exist therewith, but focus on the safe and effective operation of unmanned aircraft, i.e. drones.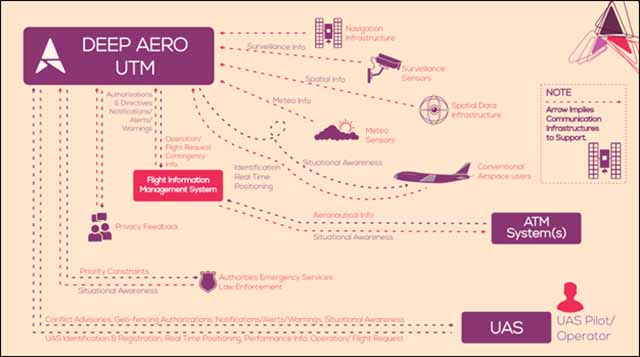 DEEP AERO's DRONE-UTM solution is highly automated and regulated largely by means of Artificial Intelligence (AI) components to conduct operations during the normal course of business. Highly capable human managers will focus on incident control and the overall & strategic success of the enterprise.
The key objectives of the DEEP AERO's DRONE-UTM platform are:
Compliance – all drone flight-plans will meet regulatory & rules-based, enterprise-friendly requirements.
Efficiency – drone flights are adaptable to changing airspace conditions, e.g. wind, visibility & temperature.
Safety – drone flights are to be conducted at levels of maximum, situational awareness at all times; by means of real-time, nearby traffic notifications, which are aided by authorized flight plans & live telemetry.
And, to reach its objectives, DEEP AERO's UTM blockchain & AI platform incorporates eight, key components, as outlined below.
Registration System
All drones, pilots, and operators register on the platform to receive a unique, UTM blockchain identity.
Identity System
The UTM platform only provides services to drones, pilots, and operators that are verified by the identity system.
Information System 
The UTM information system provides real-time updates to the drone, such as its current position & situational awareness information, to guide its journey safely and effectively.
Flight Planner System 
UTM's cloud-based flight planner system allows drone operators to submit or delete their intended flight plans and have them authorized prior to flight.
Flight Authorization System 
With reference to the existing drone traffic currently in the skies at any given time, the AI-based flight authorization system approves or rejects new flight plans to avoid aircraft conflicts before the UTM system allows additional drones to enter the airspace.
Geo-fencing System
UTM provides real-time geo-fencing information to drones, thereby keeping their flight paths from entering restricted airspace.
Notification System
To improve the awareness of the drone and its operator, the AI-powered, cloud-based notification system continuously provides real-time updates, such as weather alerts.
Conflict Management System
The AI-powered conflicts management system alerts human managers when their intervention is required, e.g. during incidents, emergencies or with regards to manned aircraft conflicts.
Please refer to DEEP AERO's whitepaper for more information on the Unmanned Aircraft System Traffic Management (UTM) Platform. 
The DRONE Token & Initial Coin Offering (ICO)
The official currency of DEEP AERO's global, decentralized blockchain network is the DRONE crypto token.
The DRONE token is required for all exchanges of value between participants during transactions that are conducted on the DEEP AERO platform. Examples include the registration of drones and operators, as well as flight bookings.
The DEEP AERO ICO is currently underway and you may BUY DRONE TOKENS online. Because, there is a limited supply of the DRONE token available, its value is expected to rise as demand grows over time.
Further information on the ICO summary, token distribution, utilization of funds and the token sale agreement is available in the Token Sale Document; also, in the DEEP AERO whitepaper and on its website.
And, why not Sign Up for the DEEP AERO Drone ICO Contest. Great prizes are up for grabs, including the grand prize of your own passenger drone, worth $450,000!
Management, Milestones & Roadmap
DEEP AERO is under the capable leadership of Mr. Gurmeet Singh, CEO; and, the Executive Team. Please meet them online, also the Technology Team and Board of Advisors.
The exciting journey of DEEP AERO started in 2017. While several milestones have already been achieved to date, many more are in the pipeline for the years & decades to come.
Please view the detailed, DEEP AERO Roadmap for more information, as displayed in the whitepaper and on the website. To follow DEEP AERO's exciting and ongoing journey, please refer to the Blog or join the team in Telegram.
What will DEEP AERO's greatest contributions to the coming drone economy be? Let us know in the comments below.
---
Images courtesy of DEEP AERO