Bitcoin has undergone a strong rejection over recent weeks. The coin, after peaking at $12,500 in August, dropped as low as $9,800 earlier this month. The coin now trades at $10,400 — still over $2,000 below the year-to-date highs.
While this was a steep drop, not everyone thinks that this is it for Bitcoin's bull trend.
Bitcoin Holds Crucial Macro Level
One crypto trader recently shared the chart below on September 22nd, noting that Bitcoin is actually holding a crucial macro trend level, even after the plunge. As the chart below shows, Bitcoin held the blue cloud indicator multiple times during 2017's bull market and previous uptrends.
BTC doing so now suggests that the prevailing macro trend is still bullish.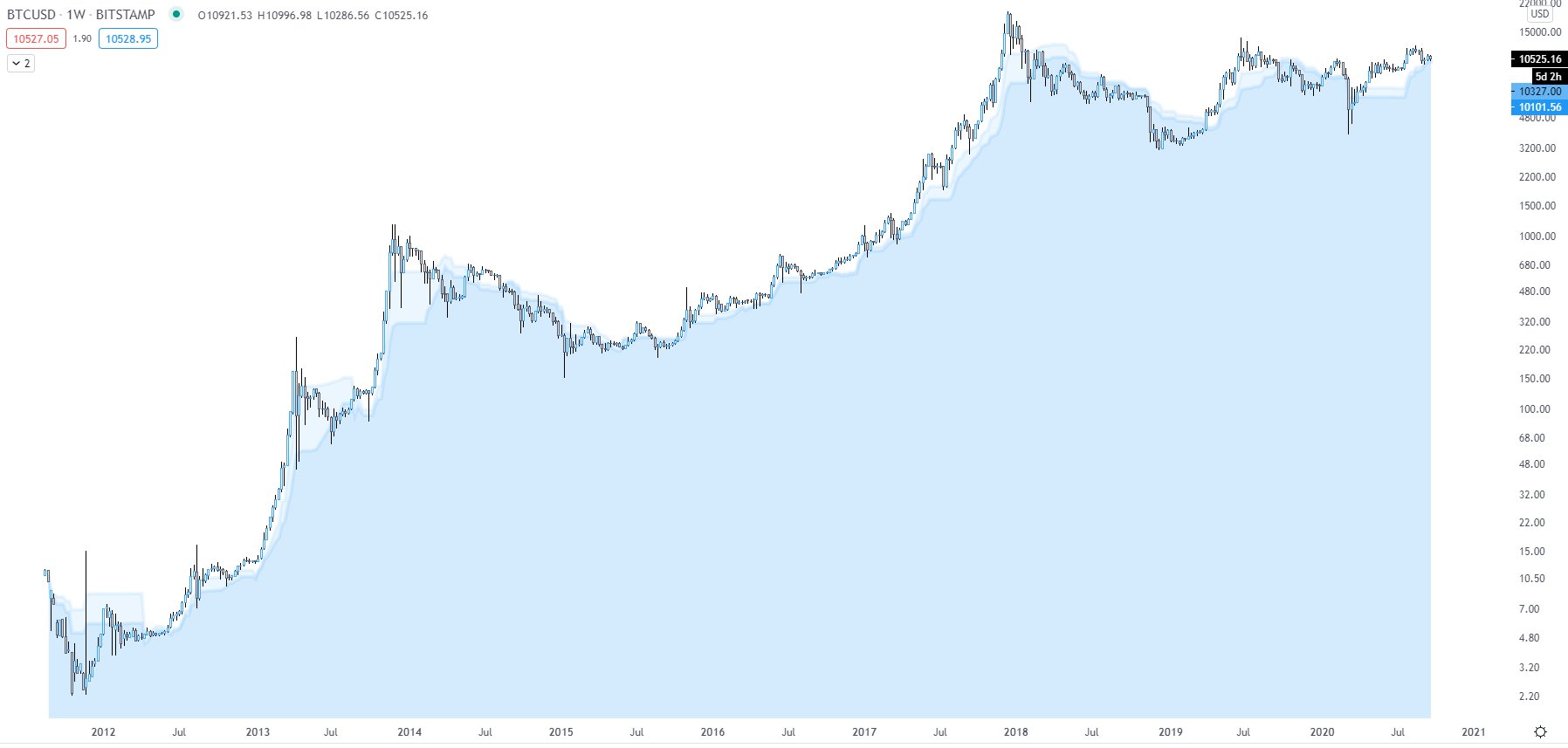 Chart of BTC's price action over its lifespan with an analysis by crypto chartist Bitcoin Jack (@BTC_JackSparrow on Twitter). 
Chart from TradingView.com
Another trader also identified that Bitcoin has held a pivotal macro level despite the drop. This individual shared the chart below after the weekly chart, which shows that BTC printed two wicks at the middle Bollinger Band — a pivotal trend for bulls.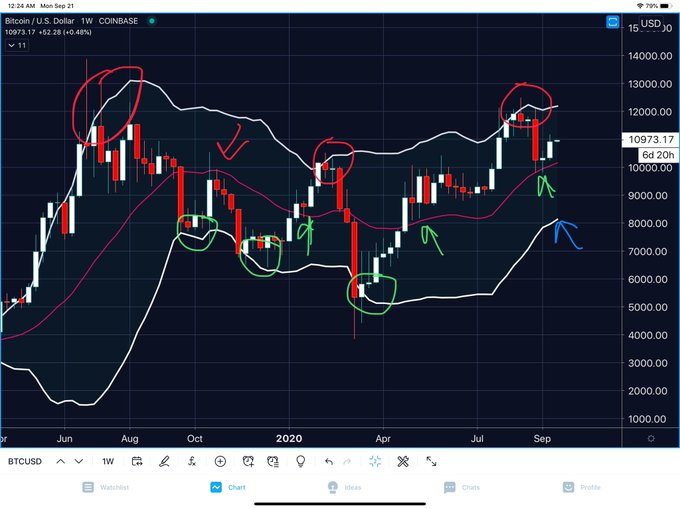 Chart of BTC's price action over the past year or so with a Bollinger Bands analysis by crypto trader Big Chonis Trading (@BigChonis on Twitter). 
Chart from TradingView.com
The trader that shared the first-mentioned chart is one that has been historically accurate.
When Bitcoin dropped to the low-$3,000s in March, there was one trader that said that the cryptocurrency was poised to undergo a V-shaped reversal to $10,000 by May or June. The cryptocurrency did just that when it surged to $10,000 in May, satisfying the prediction.
Legacy Markets Could Push BTC Below Crucial Levels
While Bitcoin is holding key technical levels, weakness in the legacy markets could push the cryptocurrency even lower.
Both Bitcoin, the stock market, and gold topped around the same time a number of weeks ago. It seems to be that the price action of legacy markets, namely the dollar, is dictating the overall directionality of BTC and cryptocurrencies.
This means that if the stock market continues to correct, so should the cryptocurrency.
Willy Woo, an on-chain anlayst, though, thinks that this correlation could eventually break.
"SPX looking very weak, if that plummets, I'll go out on a limb as say BTC will decouple in coming months. Post halvening and reduced derivative trading volumes fundamentally reduce BTC's sell pressure against bullish fundamentals of an anti-inflationary hedge."
When Bitcoin does this, though, if at all, remains to be seen.
Photo by Steven Roussel on Unsplash
Price tags: xbtusd, btcusd, btcusdt
Charts from TradingView.com
Despite $2,000 Drop, Bitcoin Is Holding a Critical Macro Level