Ampleforth (AMPL) has been one of the top-performing cryptocurrencies over the past month. The asset, whose long-term price performance is measured by its market capitalization rather than its nominal price, gained ~5,000% in July.
The asset has seen a steep correction over the past week as the focus of crypto investors has been on Bitcoin and Ethereum.
After a recovery, AMPL is dropping once again.
This drop comes in spite of positive on-chain and social media signs, according to blockchain analytics firm Santiment.
Ampleforth Drops 20% Despite On-Chain Data Indicating Accumulation
According to TradingView data, Ampleforth (AMPL) has dropped 20% in the past 24 hours as it has also been impacted by the flash crash in Bitcoin.
Ampleforth is an algorithmic stable coin that attempts to stabilize its price on the U.S. dollar in the long term. It responds to supply and demand by daily "rebasements," which means that long-term holders of the token will have their balance change each day to try and center the price around a dollar. This latest price drop may be a byproduct of Bitcoin's flash crash, coupled with an increase in the supply of AMPL.
Chart of Ampleforth's price action over the past few days from TradingView.com. Depicted is the price action of the Ethereum-based coin on FTX.
Price action may differ from exchange-to-exchange due to inefficiencies in this new(er) market and price action on futures vs. the actual coin.
This price drop in the price of AMPL comes in spite of positive on-chain and social trends, according to Santiment.
The blockchain analytics firm shared the chart below on July 31st. It shows that the weighted social media sentiment of messages regarding Ampleforth has hit a level above 3; a social media sentiment at such a positive reading suggests an extreme number of bulls as opposed to bears.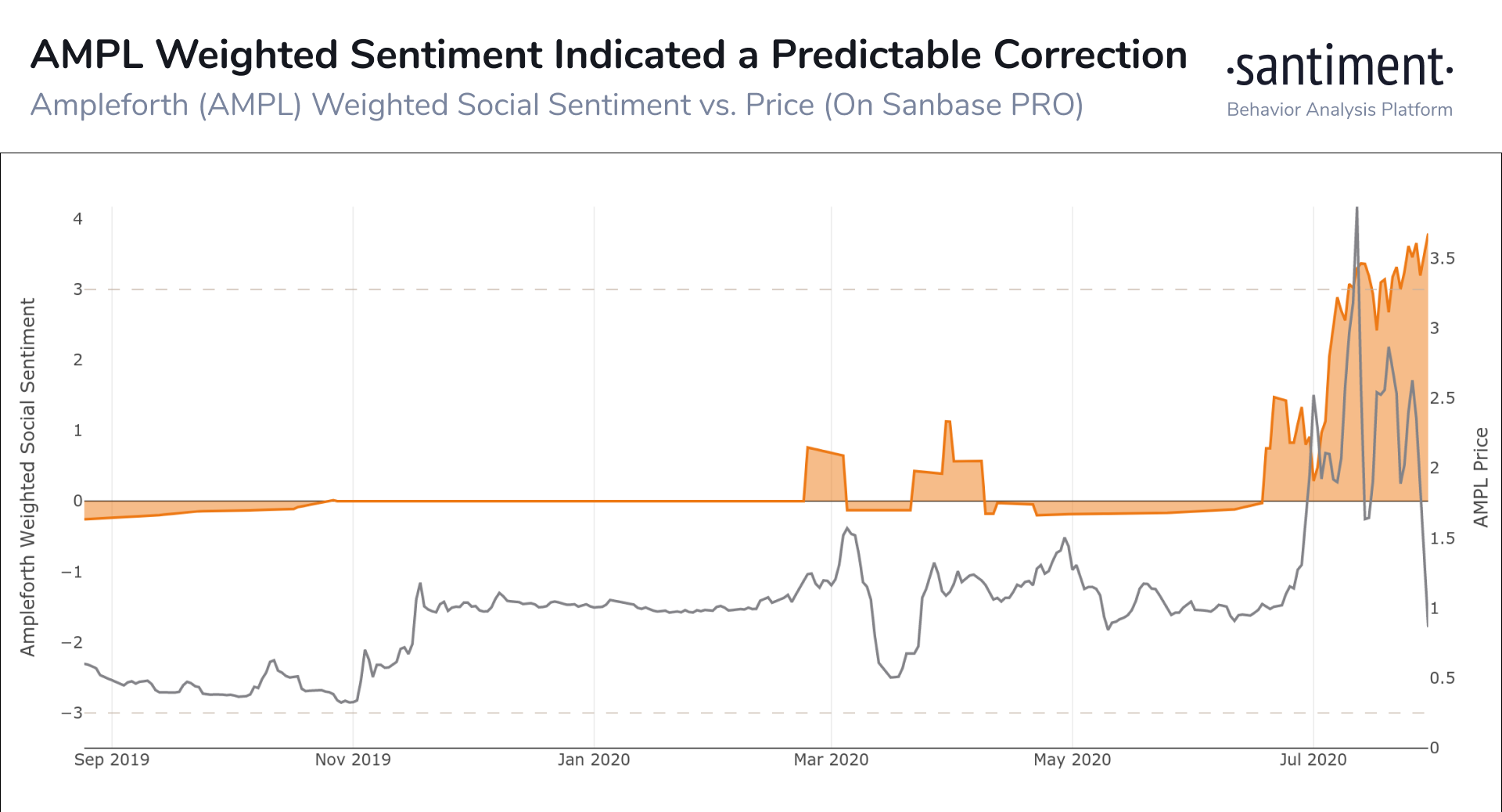 Santiment added that per their data, "whales are accumulating" AMPL. Though, seeing the recent price action, it isn't clear if they are having a big enough effect on the Ethereum-based token's market.
How AMPL Succeeding Could Boost Ethereum
The recent price action has neither confirmed nor denied Ampleforth's long-term goals to be a unique form of money. Thus, analysts have commented on what long-term effect this experiment could have Ethereum and the broader cryptocurrency space.
Ryan Sean Adams, the founder of Mythos Capital, says that he thinks Ampleforth succeeding will be "unbelievably bullish for" ETH.
This is because Amples becoming widely adopted as money will drive record demand for Ethereum transactions, forcing up the price of ETH. Ampleforth's success will also trigger other innovations in money and other facets of society on the network, further driving demand for ETH.
"BCH, ZEC, XMR, BTC, ETH, DOGE, AMPL. Base monies. M0s all competing w/ each other. AMPL is the only one w/o its own chain. It settles on Ethereum. If the AmpleForth experiment is successful, we'll see a rush of M0 monies competing on Ethereum."
BCH, ZEC, XMR, BTC, ETH, DOGE, AMPL

Base monies. M0s all competing w/ each other.

AMPL is the only one w/o its own chain. It settles on Ethereum.

If the AmpleForth experiment is successful, we'll see a rush of M0 monies competing on Ethereum.

This is unbelievably bullish ETH.

— Ryan Sean Adams – rsa.eth ? (@RyanSAdams) July 28, 2020
Adams notably did not comment on whether or not he thinks Ampleforth will succeed or fail as a project. He did, though, call it an "experiment."
Featured Image from Shutterstock
Price tags: ethusd, ethbtc, amplusd
Charts from TradingView.com
Ethereum DeFi's Ampleforth (AMPL) Drops 20% Despite "Whale" Accumulation