If you zoom in and look at Ethereum's price action since the March lows, it would be easy to say that ETH is doing great. But if you step back and looking at the macro view, you realize how bad things have become.
Against the dollar, the leading altcoin has collapsed by around 85%. And against Bitcoin, the cryptocurrency has fallen by a similar amount.
That's to say, the cryptocurrency still seems to be caught in a macro downtrend despite the recent surge.
A key bull indicator just flashed, boosting the hopes of bulls. But not all investors are convinced that Ethereum is poised to rally or if it is even a good investment.
Ethereum Flashes MACD Crossover But Not Everyone Is Convinced
Right now, many altcoins are trading in step with Bitcoin. If the leading crypto rallies by 5%, many altcoins do the same.
While there may be this near-term correlation, the longer-term perspective shows a different trend.
There was once a time when analysts thought Ethereum was going to flip Bitcoin in market cap when ETH/BTC hit ~0.12. Yet now, one ETH will only buy you 0.025 BTC, a fall from grace accentuating Bitcoin's dominance.
According to a trader, the pair's prospects are poised to change dramatically from a technical perspective: "ETHBTC monthly MACD turning green while breaking-out long term resistance/accumulation. This is where it all starts."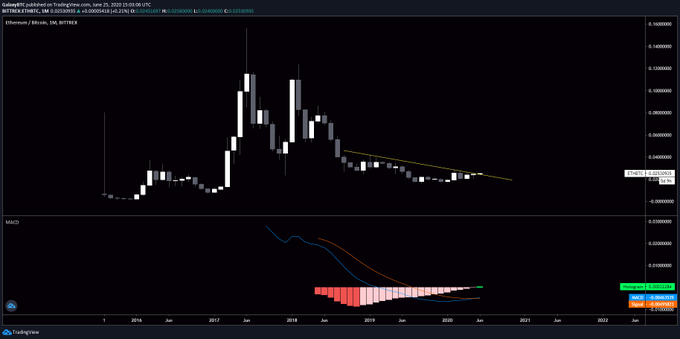 Far from everyone is convinced of this technical bull signal, though.
As reported by Bitcoinist, history shows that Ethereum has experienced rallies during the first half of the year and strong corrections in the second.
"If ETH follows its cycle this time then high of the year could be in & we've 6 month correction," the analyst who shared the chart below wrote.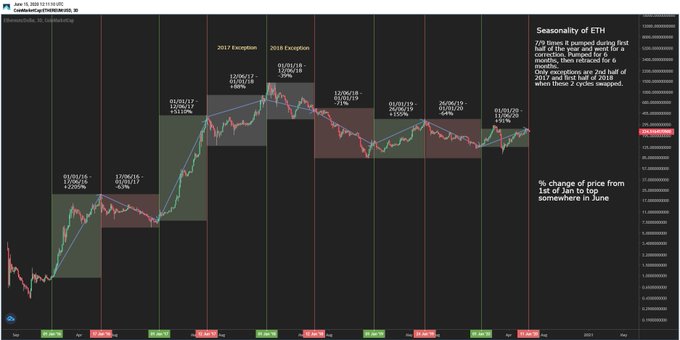 This precedent suggests a strong correction in coming months.
There's also Max Keiser, who said that he thinks 99% of the crypto market call will soon be derived from Bitcoin:
"Alt-coin and hard fork supporters are fact-resistant. I just let the market do my talking for me #Bitcoin's market cap, hash rate, and volume all heading to 99% of 'crypto' market," Keiser explained.
Is It Even a Good Investment?
Some commentators have even gone as far as to say that along with potentially being a poor trade, Ethereum isn't a good investment.
Exponential Investments' Steven McClurg and Leah Wald said that Ethereum's high gas costs are preventing adoption, which should drop ETH:
"The issues inherent in gas costs have created congestion, which is a negative network externality. Congestion on Ethereum has led to poor user experience, especially for traders in this highly volatile environment, as their leveraged positions may be liquidated before they can act."
Featured Image from Shutterstock
Price tags: ethusd, ethbtc
Charts from TradingView.com
Ethereum Just Printed a Macro Buy Signal Yet Not Everyone Is Convinced