Ethereum has undergone a strong rejection at the daily highs due to fundamental news pertaining to BitMEX.
On Thursday morning, the CFTC of the U.S. announced that it is charging BitMEX for derivatives and anti-money laundering violations.
Bitcoin dropped in response to the news, falling from $10,900 to $10,450 in the span of an hour or two.
Ethereum and other altcoins also plunged as well, leading to the ongoing correction.
While this was notable for Bitcoin, the drop was also notable for Ethereum because that meant it once again formed a rejection at a crucial level.
Of course, the move was not triggered by technicals but it does show that ETH is still trading below a crucial technical level.
Ethereum Is Reaching a Do or Die Level—and It Just Rejected
Ethereum's drop on Thursday came at a critical level for the cryptocurrency. One trader shared the chart below right before the move lower, showing that ETH was once again rubbing up against a level of technical importance.
ETH's inability to pass the level may suggest that the medium-term trend is now bearish. This is due to the level's importance to Ethereum's price action over the past year: October 2019's rally peaked at $365, where ETH just topped. Furthermore, during August's price action, two bearish reversals ended at that level.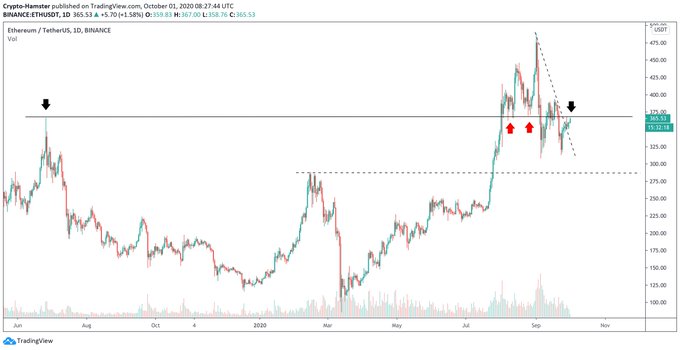 Chart of ETH's price action over the past few months with an analysis by crypto trader CryptoHamster (@CryptoHamsterIO on Twitter). 
Chart from TradingView.com
The trader who shared the chart above is far from the first to have pointed to the importance of Ethereum's price action as it dabbles in the $365-375 region.
As reported by Bitcoinist previously, Michael Van De Poppe, trader at the Amsterdam Stock Exchange who follows the crypto space closely, recently wrote in regards to the chart below:
"All right, this one is moving upwards and that's good. However, the crucial hurdle is around $366-375 to break. If that breaks, $ETH is ready for $415. If not, I assume $280 as a likely possibility for further corrective movements in Q4."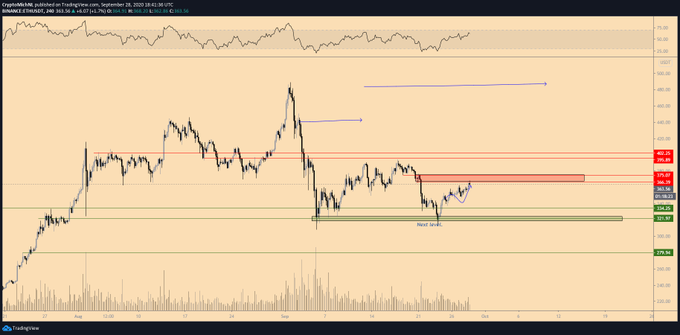 Chart of ETH's price action over the past few months with analysis by crypto analyst Michael Van De Poppe. Chart from TradingView.com
ETH2 Testnet Fails
Despite strength in the decentralized finance space, one of Ethereum's key fundamental drivers, the launch of ETH2, recently suffered a blow.
Spadina, a final testnet for the launch of ETH2's first phase ("phase zero"), recently failed due to some bugs in the code. This, some fear, may set back the launch of Ethereum's critical upgrade, giving bears a reason to sell off the cryptocurrency.
Featured Image from Shutterstock 
Price tags: ethusd, ethusdt, ethbtc
Charts from TradingView.com
Ethereum Is Running Up Against a Do or Die Resistance