Last night, the Twitter accounts of major celebrities, influential figures, and politicians were hacked to promote a Bitcoin scam. Due to how many followers these high-profile accounts have, news and rumors spread like wildfire.
But what exactly went down that led to accounts like Joe Biden, Kanye West, Bill Gates, Apple, Bitcoin, and several others to be hacked? Here's everything we know so far about the hack and the hackers behind the brazen cryptocurrency scheme.
Twitter Accounts Of Bill Gates, Kim and Kanye, Elon Musk, Joe Biden And More: HACKED
In the late hours of the evening last night, several Twitter users thought they had found an opportunity of a lifetime. The likes of Elon Musk, Jeff Bezos, Kim Kardashian West, and countless other celebs offered a sum of Bitcoin as a way to "give back" to the community due to the pandemic.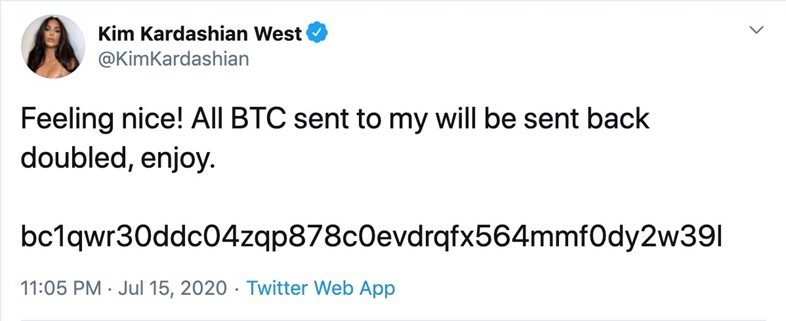 All Twitter users had to do was send a sum of Bitcoin to a BTC wallet, and they'd receive double the amount back. If this sounds too good to be true, that's because it is. You also may have heard of this type of scam before.
RELATED READING | WHY THE HOT NEW TREND IN CRYPTO IS THE TWITTER HASHTAG EMOJI
Twitter scams of this kind aren't uncommon and often use major celebrities' likenesses to do so. However, this is among the first times ever recorded where actual verified accounts were involved, and never before has this happened at such scale.
Over 300 million followers are said to exist across the accounts compromised, but that number is climbing as more details come in.
Twitter caught wind of the situation and put a stop to it quickly, leaving the scammers with just over 12 BTC to show for their scandalous efforts. But how did this happen in the first place?
How Did The Bold Bitcoin Scam Begin And End?
According to information from Y Combinator alum and security expert Haseeb Awan, the hackers were able to obtain access to a hidden Twitter dashboard. They received the login in exchange for $2,000 after meeting the Twitter employee in a Discord gaming channel.
The hacker then replaced the email addresses associated with each major account and removed two-factor authentication from the account settings. This gave the hacker full control over the accounts.
What they did next was post three unique BTC donation addresses. A fourth, XRP address was also given.
The main address raked in over $120,000 over 375 transactions, according to data from Chainalysis. The second and third accounts raised $6,700 combined across 100 transactions. No funds were sent to the known XRP address at this time, and the blockchain analytics firm is requesting information on any additional accounts that may be tied to the scam.
Chainalysis says that Twitter has since blocked the ability to post BTC addresses on the social media platform. Chainalsys is working closely with its customers to track down the funds.
RELATED READING | DIRTY MONEY: WHAT'S LIVING ON CASH THAT CAN'T ON BITCOIN?
Several cryptocurrency exchanges are also taking steps to block any funds from being sent to the wallets, protecting users who haven't yet realized its a scam.
Something isn't adding up, however. Either the hacker failed miserably to monetize their complex and risky scheme, or the reason for the scheme wasn't financially motivated at all.
Twitter and cryptocurrencies like Bitcoin have come under fire from the Trump administration. Conspiracy theories suggest that the move was ideological, aimed at taking down Bitcoin or Twitter and prompting recourse from the United States.
We may never find out the true motivation behind the massive scam, but we do at least have some sense of what happened in the first place.
The news has also harmed BTCUSD, which began falling from its tight trading range just below resistance. Trump and the White House responding to the news could cause a further selloff, so crypto investors should be ready for anything to happen this week.
Bitcoin BTCUSD Twitter Hack Impact |Source: TradingView

Featured image from Shutterstock.