Bitcoin has mounted a steep recovery over the past five weeks. Since the $3,700 bottom that was seen on March 12th, the cryptocurrency market has mounted a steep comeback, with BTC reaching as high as $7,470.
The past few days, however, have seen the reversal taper off in tandem with the stock market; once again, there are analysts fearful of a return to the lows, or maybe even something worse.
Despite this, a growing confluence of signs is showing that Bitcoin is nearing a point at which it may bottom. Yesterday, an unexpected sign was added to that list.
Grayscale's Bitcoin Trust Indicates the Bottom Is In
Due to how it is structure, the Grayscale Bitcoin Trust, the flagship product of crypto-fund provider Grayscale, often trades at a premium to the spot price. That's to say, buying the equivalent of one BTC through Grayscale would cost more than it would be on Coinbase, for instance.
What's important about the premium is that it oscillates, determined by the whims of the free market. As a result, it acts somewhat of an indicator of investor mentality.
Crypto analyst "Bitcoin Jack" suggested that accumulating Bitcoin the last five times the Grayscale premium was this low has historically "been profitable," with each drop in premium lining up with bottoms in the BTC price.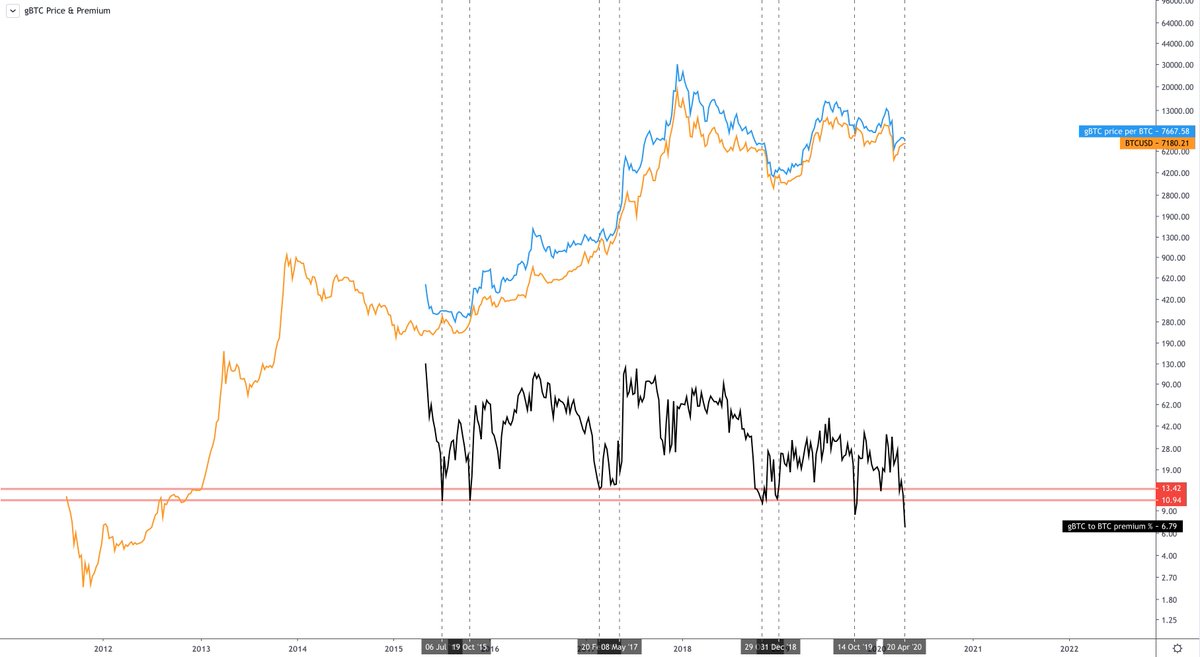 This precedent suggests that should history rhyme, Bitcoin is unlikely to fall much lower than $3,700.
This latest sign of a bottom came shortly after trader Nunya Bizniz suggested that the rapid spike in volumes Bitcoin saw after the March 2020 crash is indicative of a bottom, noting that previous exponential increases in volume coincide with "turning points in price."
Not to mention, Glassnode observed that one of its proprietary indicators, which tracks the profitability of BTC holders, is on the verge of entering a territory that has historically coincided with the end of bear trends and the start of full-blown bull markets.
NUPL is approaching the "optimism" zone as $BTC passes the $7k mark.

We saw a similar pattern in April 2019 – a breakout into this zone usually signifies increased investor confidence and can lead to further price gains.https://t.co/5vT1ZohJua pic.twitter.com/jTJxYjEaJB

— glassnode (@glassnode) April 20, 2020
Price Could Fall From Here, Though
Despite the abovementioned trends showing that Bitcoin is likely to fall more from a macro perspective, it's entirely feasible that the cryptocurrency starts to fall off in the near term, but maintains its $3,700 bottom.
Avi Felman — a trader and analyst at crypto-asset fund BlockTower — observed two signs that a bearish reversal is possible:
The Tom Demark Sequential just printed a "9" candle on the three-day chart for BTC. Previous "9" candles on this chart marked the mid-March bottom and the December 2019 bottom, but front-ran the $10,500 top seen earlier this year.
Bitcoin has failed to break its three-day 50 and 200 simple moving average.
Also, as reported by Bitcoinist previously, an analyst observed that Bitcoin is currently failing to surmount the average miner cash flow indicator, which predicted the 2018 and 2019 bottoms down to a few percentage points.
It's a striking observation suggesting bears have the potential to take prices lower in the days and weeks ahead.
Photo by Harley-Davidson on Unsplash