XRP hasn't gone too well over the past few years. Ever since the cryptocurrency topped at approximately $3.30 (depending on what exchange you check), it has been on a precipitous drop lower, punctuated by March's crash, which brought the asset to $0.11, more than 96% lower than the all-time high.
Even still, a recent observation from a cryptocurrency trader shows that as long as you bought long enough ago, you would still be well in the profit on your XRP investment.
XRP Has Appreciated 67x in the Past 78 Months
Crypto trader Credible Crypto recently remarked that despite XRP's poor performance from its all-time high, it is still dramatically outperforming Bitcoin from a long-term point of view.
Credible's chart seen below illustrated this point: since the crypto market found its last macro bottom in 2014, just under six years ago, XRP has appreciated by 67,000% while Bitcoin has appreciated by 40,000%.
That meant that if you bought $1,000 worth of XRP at the very bottom in 2014, that same sum would now be worth $67,000 — making it one of the best investments into multi-billion-dollar assets over that same time period.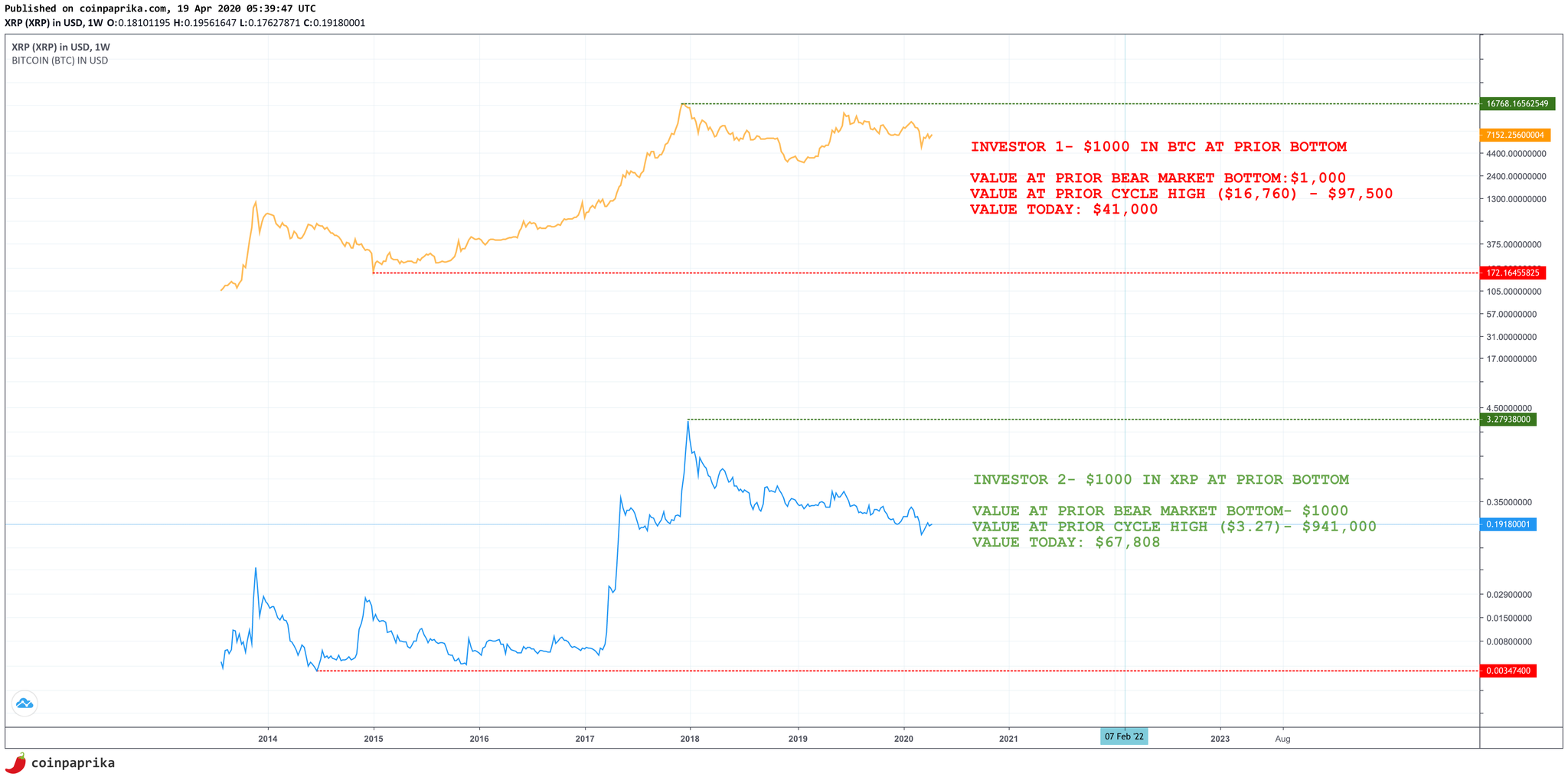 Notably, it isn't all sunshine and rainbows per se. The chart also indicated that if you, the theoretical holder of $1,000 worth of XRP at the bottom, sold at the bull market peak, you could have made $941,000, just a smidgen shy of seven digits.
Whatever the case, Credible took this as a time to remind his followers that despite the sentiment, XRP is still a proper investment, even when put in comparison with Bitcoin.
Room to Fall. Lots of Room, Analysts Say
Unfortunately, analysts expect for XRP to retrace a majority of its gains, or at least more gains that it has already given back since the all-time high.
Per previous reports from Bitcoinist, a popular crypto technician recently shared that the asset's long-term technical structure is anything but bullish, but rather extremely grim.
This fear has been echoed by Peter Brandt, a long-time commodities trader.
When the altcoin was in the midst of crashing during last month's debacle, Brandt pointed out in an analysis that he thinks XRP has but "white space" beneath itself on the chart, indicating there is little support if the rubber was to eventually meet the road, so to say. He added:
"I said I would never again post a chart of XRP. But, I thought you all might be interested in what it means to have … 'White space below'"
Photo by Sharon McCutcheon on Unsplash