Since the peak of the crypto market in 2018, XRP has been a shell of its former self from a charting perspective.
The cryptocurrency, despite numerous technical developments, is currently trading more than 90% below its all-time high of $3.30 — a far cry from the 67% that Bitcoin has lost from its all-time high. Put simply, relative to BTC, XRP is dramatically oversold and has been for months.
The third-largest cryptocurrency by market capitalization could be subject to more losses, unfortunately, as analysts show that the altcoin's technical outlook remains grim.
XRP's Long-Term Outlook Is Rather Grim: Analysts
While XRP has recovered 70% from the lows around $0.11, the cryptocurrency's technical structure remains anything but bullish, analysts have said. One popular crypto technician made this sentiment clear when he shared the chart seen below on April 13th, accentuating that XRP is in a bad spot from a macro perspective.
Pointing to the "double rejection" at key horizontal support regions and the fact that XRP is currently entering a region where there is little historical liquidity, both depicted in the chart, the trader went as far as to say:
"This is probably one of the scariest charts I've ever seen. I wouldn't want to be bagholding this."
The trader isn't alone in sharing his sentiment that XRP's long-term chart shows effectively zero technical supports below the current price.
Previously, Peter Brandt — a veteran commodities trader — showed that all that exists for XRP is "white space below," suggesting it's easier to make a case for downside than upside.
Not All Bad News
It isn't all bad news for the cryptocurrency, however. Namely, it has seen less selling pressure and XRP continues to see use in institutional fintech products, which could boost its adoption and therefore its price.
Data for Q1 of 2020 is not yet available, but fintech company Ripple — which uses XRP in its institutional products to act as a means of settlement — claims to have been selling less and less of the cryptocurrency, which it holds billions of dollars worth of.
The below chart from crypto data provider Messari paints the picture of this trend well, which shows a steep drop in the amount of the coins Ripple is selling from Q2 of 2019 to Q3 and Q4 of that same year.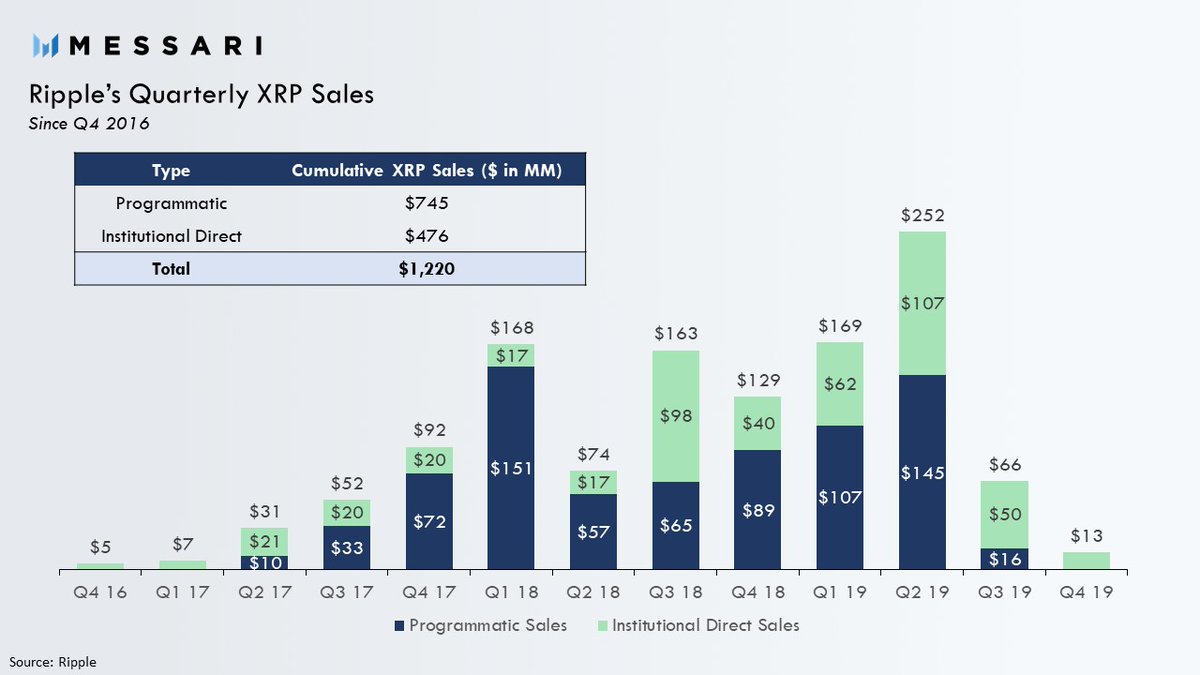 Furthermore, Ripple continues to use XRP in its flagship product, On-Demand Liquidity, which uses the cryptocurrency as a bridge of sorts to connect global foreign exchange markets in between banks. The product benefits from the speed of the ledger backing the coin, which offers relatively fast and cheap transaction times when compared when traditional payment means.
Unfortunately for XRP holders, it isn't clear if the decreased market supply and increased demand will be enough to offset the selling the cryptocurrency has been affected by over the past few years.
Photo by Nik Shuliahin on Unsplash