In a country that has seen an estimated 99% devaluation of their currency over the last year, even $1 is seen as a lot of money.
These images that recently surfaced on Reddit are reportedly showing a donation of just $230 that has been channeled into Venezuela through a cryptocurrency called Nano.
Of course, it's incredibly difficult to verify the authenticity of such photographs, but having the username and subreddit written on paper in some of the shots helps things.
As we've stated before, the real world adoption of cryptocurrencies is happening now on the ground in places where it's needed most, and Venezuela is arguably one of those places. The success story highlighted above is hardly an isolated incident. The group Eat BCH has been doing this since last year.
A quick look at the Local Bitcoins volume there shows another spike in peer to peer transactions over the past week. Notice how volumes peaked in April of 2017, then died down during the peak of the bitcoin hype in November/December but are now rising again steadily.
The last bar on the chart shows a total of 590 BTC, which at today's prices is $3.8 million, which may not seem like much but in the current economy of  Venezuela is actually huge.
@MatiGreenspan
eToro, Senior Market Analyst
Today's Highlights
Trump Meets Putin
China Growing Slowly
Quiet Crypto
Please note: All data, figures & graphs are valid as of July 16th. All trading carries risk. Only risk capital you can afford to lose.
Traditional Markets
All eyes on Helsinki this morning as President Trump prepares for his closed-door meeting with Vladimir Putin.
Putin is still beaming after hosting a very successful World Cup and President Trump is coming from a rather controversial European tour. The fact that they're even having this one on one meeting is emboldening critics who say that the two are in collusion.
One of the things to watch out for is crude oil. Trump has been rather critical of OPEC's efforts, urging them to do more to push down the price. The price of gas in the United States has been rising lately and it is putting pressure on his base.
Russia has so far maintained that the surge in pricing is due to Trump's new sanctions on Iran, which have reduced supply in the market.
Last Wednesday, oil slid 4.8% (purple circle) from the top of its massive bull run that has been playing out over the last year.
China Slowly
Markets in Japan are closed today in observance of Marine Day. Perhaps it's for the best as Asian stocks are taking a hit.
For a change, the narrative isn't necessarily about the trade war either, at least not on the surface. China's GDP growth figures announced early this morning highlighted the lackluster economy. Here we can see GDP growth rate since 2003. What's clear from this graph is that a reading of 6.7% is really on the low end.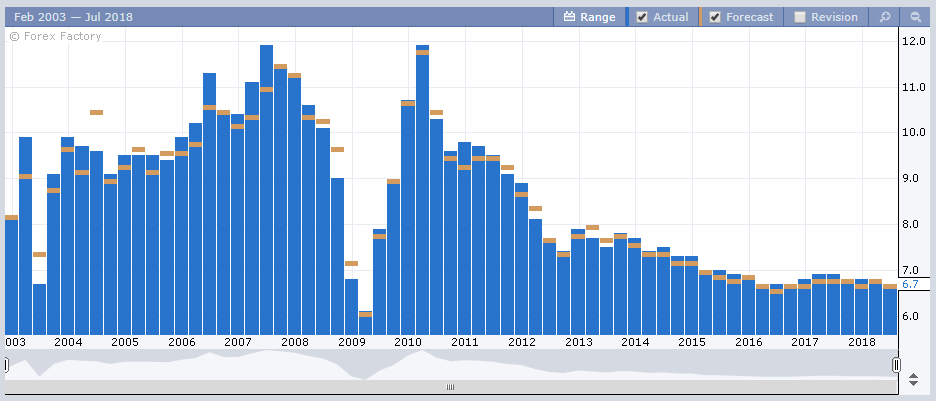 However, even though low, the numbers weren't unexpected. As indicated by the brown bar in the above chart, the numbers were exactly as forecasted. The China50 index is currently 24% off of its peak from January 24th, so today's action isn't that much of a hit in the grand scheme of things.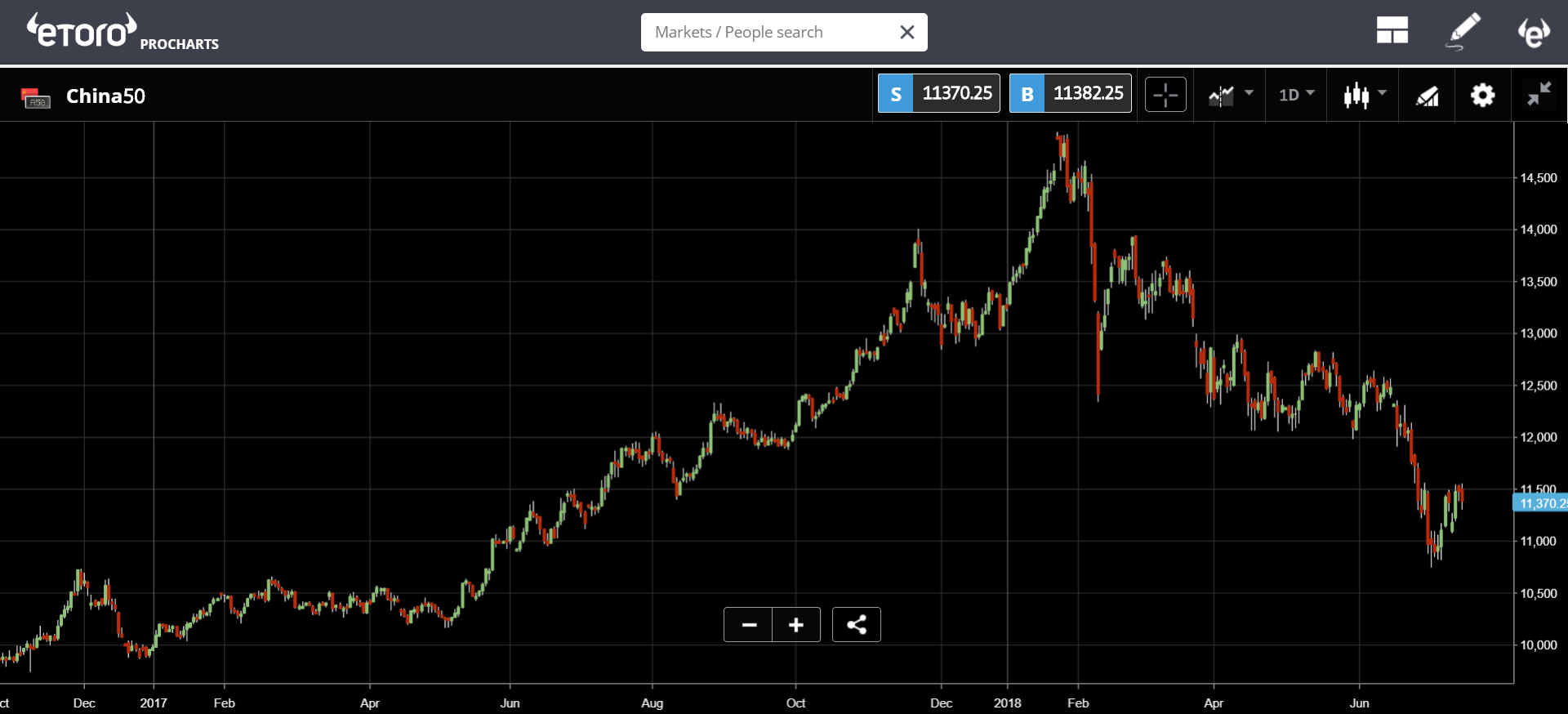 The Nasdaq, on the other hand, hit another new all-time high on Friday, while the precious metals resumed their decent.
Quiet Crypto
Prices in the crypto market have remained stable over the weekend. In fact, the price of bitcoin hasn't moved much at all since early June.
As we've stated before, slow-moving prices are a good thing for cryptocurrencies. The more you can count on a stable exchange rate, the more likely people are to use the asset as a store of value.
The downward sentiment on Bitcoin is also showing signs of abating. As we can see in the graph below, the strongest trendline from this pullback (dotted blue line) was broken in early April, and the second strongest (yellow line) has been broken at the start of July.
Some chartists theorize that we could be in for another leg down towards $5,000 a coin, which wouldn't surprise me if it does happen but could also be done in a calm manner that would not indicate any further downward pressure.
As always, please feel free to contact me directly with any questions, comments, feedback, or additional insight.
Wishing you an amazing weekend!
This content is provided for information and educational purposes only and should not be considered to be investment advice or recommendation.
The outlook presented is a personal opinion of the analyst and does not represent an official position of eToro.
Past performance is not an indication of future results. All trading involves risk; only risk capital you are prepared to lose.
Cryptocurrencies can widely fluctuate in prices and are not appropriate for all investors. Trading cryptocurrencies is not supervised by any EU regulatory framework.
Best regards,
Mati Greenspan
Senior Market Analyst
Connect with me on…
eToro: http://etoro.tw/Mati
Twitter: https://twitter.com/matigreenspan
LinkedIn: https://www.linkedin.com/in/matisyahu/
Telegram: https://t.me/MatiGreenspan
---
Images courtesy of eToro, Shutterstock