A skirmish on the border between Syria and Israel kicked up concerns over the stability of the Middle East.
---
@MatiGreenspan
eToro, Senior Market Analyst
In the dead of night, Iranian Quds Force in Syria lobbed 20 missiles at military targets in the Golan Heights. 16 of them missed their mark entirely and the other 4 were intercepted by Israel's Iron Dome missile defense system.
The Israeli retaliation was swift and elaborate with the IAF reportedly destroying dozens of targets by this morning.
Everything from gold to currencies, and of course crude oil, has responded to the retaliation as we'll see below.
Today's Highlights
Volatility Notably Light
Super Thursday
Crypto Securities
Please note: All data, figures & graphs are valid as of May 10th. All trading carries risk. Only risk capital you can afford to lose.
Traditional Markets
Two steps forward, one step back. We hope that the escalation mentioned above is resolved quickly and peacefully. Indeed, according to IDF spokespeople, it will take the Quds months to recover from this. These images of three US prisoners coming home from North Korea is very reassuring indeed.
Speaking yesterday, President Trump announced that a time and place for his meeting with Kim Jong Un have been confirmed and will be announced shortly.
As promised, here are a few charts with the approximate time of the skirmish circled in purple.
Most notable is Oil, which etched out a fresh high…
An arguably larger move was made by gold. However, since the move is well within the current trading range, it is not as significant as the oil move.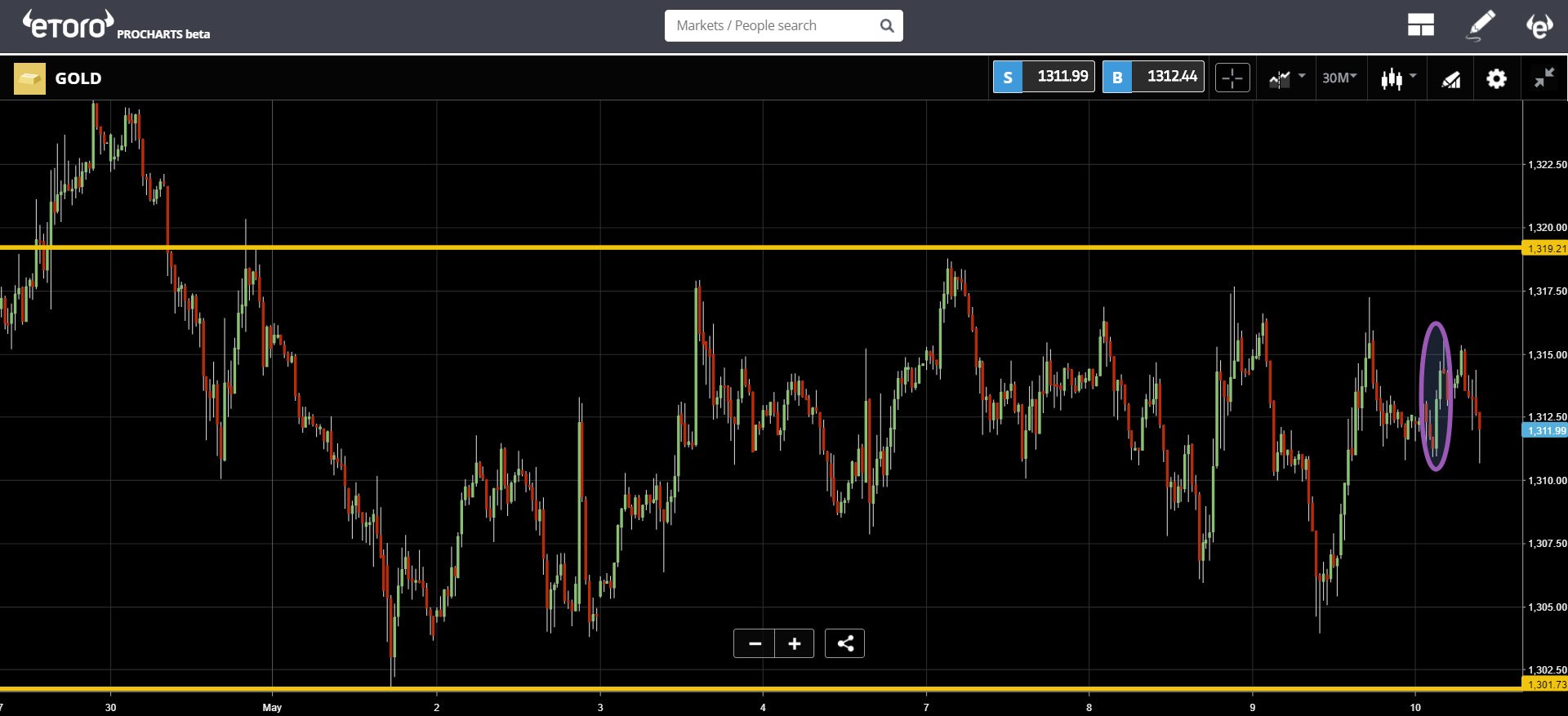 The US Dollar pulled back slightly and is now testing its upward trend line.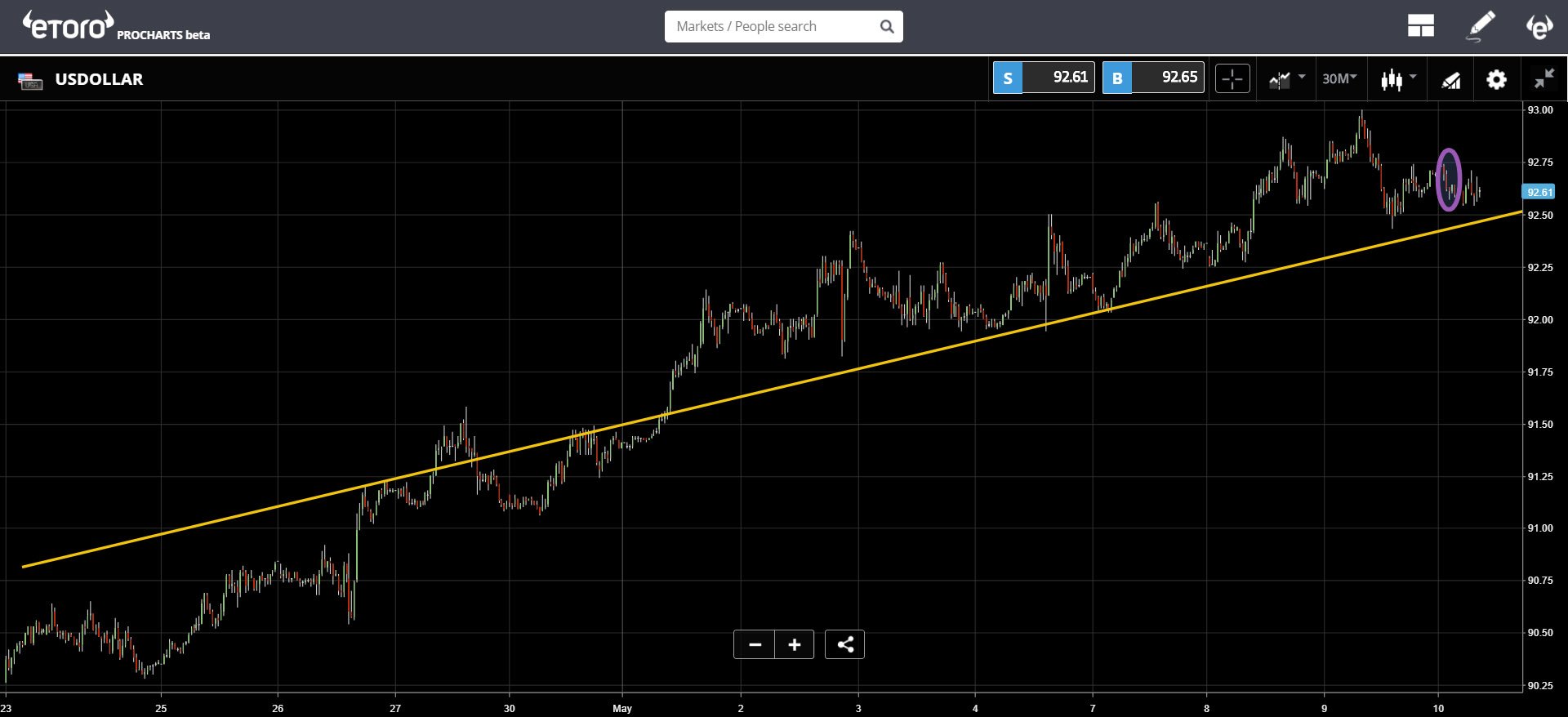 The Bond markets were closed when all this happened but it should be noted that the 10 Year Yield has been rising over the last week and is again flirting with the significant 3% mark.
With all this going on, you'd think that some of the risk would be coming off the table, but to the contrary, stock indices have been rising like it's 2017 and stock market volatility is at it's lowest levels since the beginning of February.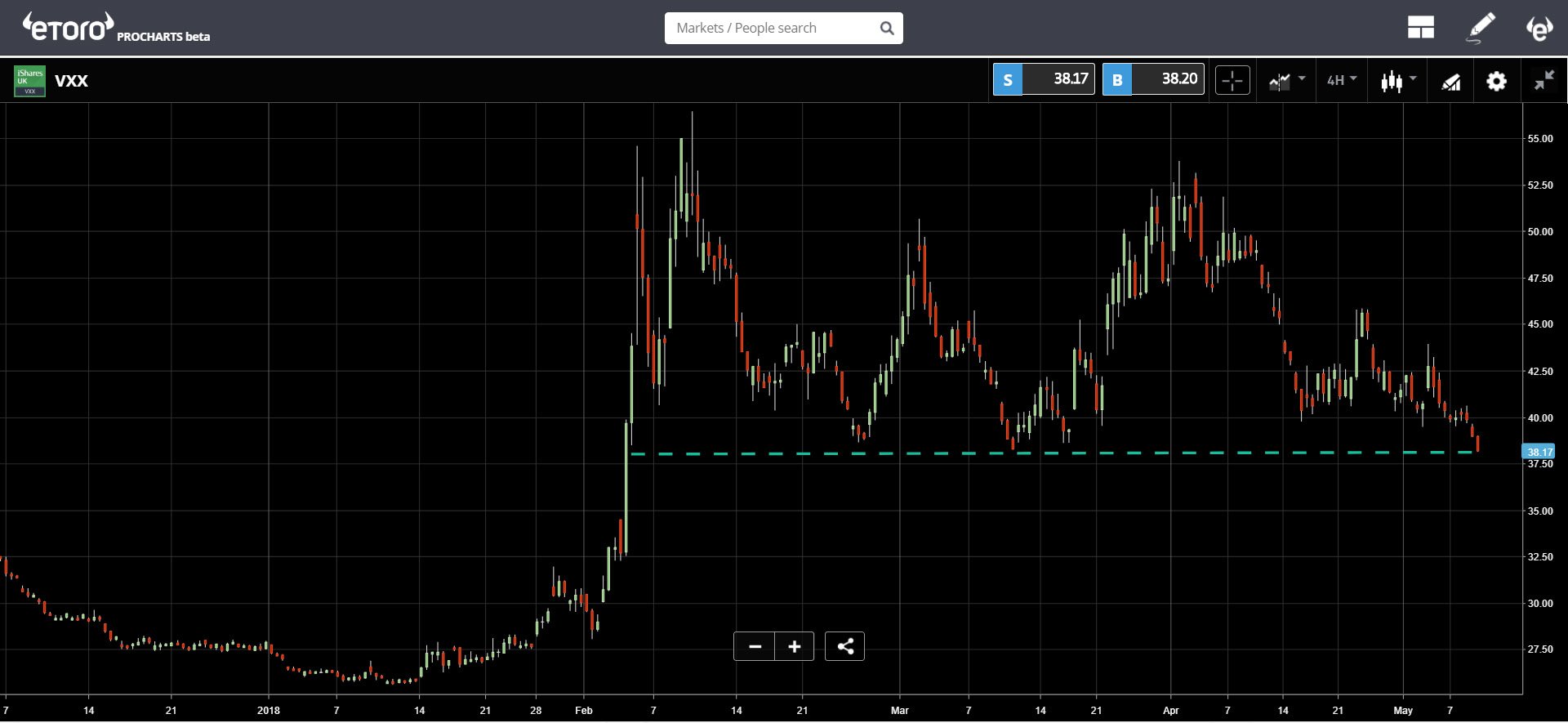 Super Thursday
Although the Bank of England is not expected to raise their interest rate today, their meeting will be anything but boring.
The term Super Thursday in the UK usually refers to a day when several critical elections converge. More recently, it seems the definition has also grown to cover when the Bank of England releases several concurrent announcements. And why not, it's a catchy title and today's updates have certainly been well anticipated.
At high noon in London, a slew of reports will hit the markets like a ton of bricks and we hope the Sterling doesn't suffer as a result.
As we said, the Official Bank Rate is likely to remain at 0.50%. However, this is a relatively recent expectation. Last month, the expectation of a rate hike from the BoE was as high as 90%, but after some weak inflation data, Mark Carney was forced to walk those expectations back and this morning it's down to 12%.
Of course, if Carney does decide to surprise the markets, he has a great chance to send the Pound to the moon. As we can see, the GBPUSD has been rather resilient in the last few months and recently has been giving a good test to the 1.3500 level.
If it holds there, especially in face of the strengthening Dollar, it would be a very bullish sign indeed. A more clear shot for some of the veteran traders may be the GBPJPY cross.
The Dollar has been rather unpredictable lately because of Trump. The Yen, on the other hand, has a central bank which is desperately trying to devalue it and has clearly stated their mission to do so.
Here we can see the Pound strengthening nicely over the last month and now testing that trend line.
Crypto Securities
Is Bitcoin/Ethereum/Ripple considered a Security?
This hot button question keeps coming at me on social media and from clients in the Email so I'd like to present my opinion here in this open forum.
If something is classified as a security then it has to be subject to the usual laws and regulations regarding traditional financial assets. Meaning, it needs to be registered with the authorities according to the laws already set in place and be taxable as such.
For example, any new ETF like the one that the Winklevoss twins have just secured a patent for will be classified a security.
Cryptocurrencies, on the other hand, are a different ball of wax. We're talking about a brand new asset class here and the coins themselves will likely require new sets of rules that are more versatile and designed to encompass this new technology.
Because we live in a moderately diversified world, the laws could end up being different in every country. The Swiss have actually set an excellent precedent in their ICO guidelines, which we discussed in our Daily Market Update on February 19th (entitled: Morning in Europe, Noon in Japan).
As a refresher, the Swiss classify cryptocurrencies in three different categories:
Bitcoin would certainly fall under the first category as it can be used as a means of payment and store of value.
Ethereum and Ripple's XRP are classic examples of Utility Tokens. They were designed to interact with their respective blockchains in order to provide access/payment to an application or service within the network.
Asset Tokens, or Securities, implies that the token holder will be entitled to partial ownership in the company or foundation. This can manifest itself as a share of the company's profits or voting rights within the company.
Though the Ethereum network often holds votes using ETH tokens, the act of holding the token itself does not give the holder the right to influence the network's actions. Ripple's XRP is managed by a private company called Ripple Labs and XRP holders are not entitled to any piece of that company.
The original DAO tokens in 2016, for those of you who remember that experiment, were considered Securities as confirmed by the SEC.
Anyway, hope that helps. The crypto market is up today and we hope for a speedy break of $10K. :)
As always, feel free to contact me directly with any follow-up questions or if you have any further feedback.
This content is provided for information and educational purposes only and should not be considered to be investment advice or recommendation. The outlook presented is a personal opinion of the analyst and does not represent an official position of eToro. Past performance is not an indication of future results. All trading involves risk; only risk capital you are prepared to lose.
Cryptocurrencies can widely fluctuate in prices and are not appropriate for all investors. Trading cryptocurrencies is not supervised by any EU regulatory framework.
---
Images courtesy of eToro, Shutterstock