One of the best performing cryptocurrencies of the past few weeks is Tezos (XTZ).
In the past 24 hours, the asset is down by 4.5% against the dollar, but it is still up massively on the week.
XTZ is the native governance token of the Tezos protocol, which is a smart contract-focused network that somewhat rivals Ethereum.
The rally in this altcoin may be over, though, as a textbook sell signal has appeared on its chart.
This comes in spite of widespread assertions by technical analysts that XTZ is poised to enter a period of parabolic growth.
Tezos Just Formed a Textbook Sell Signal After Massive Rally: TD Sequential
Tezos has been in a steep uptrend over recent days. According to coinmarketcap.comthe asset has surged 27.2% against the dollar in the past week and around the same against Bitcoin. As of this article's writing, XTZ trades for $4.10.
The cryptocurrency may soon see a rejection and bearish reversal, according to the Tom Demark Sequential. The Tom Demark Sequential is a time-based indicator that prints "9" and "13" candles at reversal points in the trend of an asset.
According to a Telegram channel tracking instances of this signal, XTZ has just formed a "Sell C-13" candle against Bitcoin. This signal suggests that the cryptocurrency will reverse lower in the days ahead.
The indicator has had accuracy in calling XTZ's price action against Bitcoin. The two previous "Buy A-13" candles marked two local bottoms in the past month while "sell 9" candles have marked recent highs.
Chart of Tezos's price action against Bitcoin over the past few months with Tom Demark Sequential candles and levels from a Telegram channel
tracking the indicator. Chart from TradingView.com
This signal comes as analysts have expected for Tezos to continue to surge.
Josh Olszewicz, analyst at Brave New Coin, shared the chart seen below earlier this week. It shows that XTZ is primed to move towards $4.50 and beyond.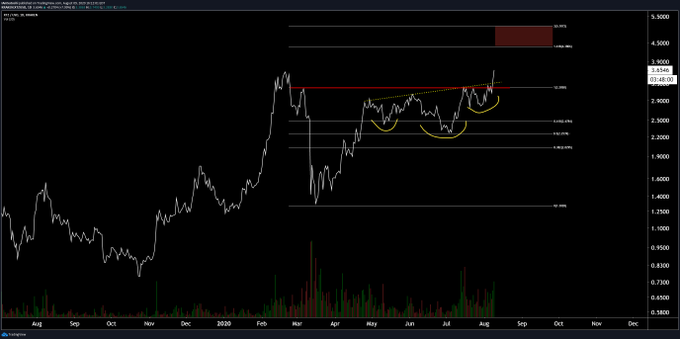 Chart of Tezos' price action over the past year with analysis by trader Josh Olszewicz of Brave New Coin. Chart from TradingView.com
The optimism was echoed by other market participants, who noted that the cryptocurrency is in a bullish state as it is establishing a new all-time high. This move should trigger a "price discovery" rally where there are no historical resistances to suppress an asset.
The Need for Alternatives to Ethereum
What may boost Tezos in the longer run, though, is the ongoing scaling narrative placing out in the Ethereum ecosystem.
Ethereum has been seeing record transaction fees over recent days due to an influx of transaction demand, leading to unsustainable fees for many.
If Tezos can attract developers, users, and assets, it may begin to take some market share from ETH.
Featured Image from Shutterstock
Price tags: xtzusd, xtzbtc
Charts from TradingView.com
Tezos (XTZ) Just Formed a Textbook Sell Signal After Explosive Surge