The first day of the consensus event has indeed been extremely entertaining but the best is yet to come. Leaving the Lambo parade and fake banker protest aside, the panelists in the main hall have jumped right into the core issues.
---
On stage with Ethereum co-founder Joseph Lubin, Bitcoin core advocate Jimmy Song was notably upset over the over-blockchainization of the crypto space at the moment, particularly by corporations who, as Jimmy put it, are centralized by nature and therefore have no need to decentralize any aspect of their business.
If as Jimmy says, many of the presenters are "playing buzzword bingo," than the central word of the day was "interoperability."
The idea that blockchains will be able to interact with other blockchains in a giant side-chain connected mesh seems to be one that many are taking a liking to.
eToro CEO Yoni Assia is taking the stage today at Consensus, which is sure to be exciting. So be sure to tune in.
Today's Highlights
TRY try Again
Forking BCH
New Price of Ethereum
Please note: All data, figures & graphs are valid as of May 15th. All trading carries risk. Only risk capital you can afford to lose.
Traditional Markets
The state of geopolitics has been agitated for so long that many market participants seem to have grown comfortable with it. Things are far from normal but nobody seems to be panicking anymore. We hope that all of the global drama dies down but of course need to be prepared if things do ramp up.
Trump surprised the world by making a U-turn on the Chinese telecom company ZTE and went from trying to make things as hard as possible for them to now showing support. Though it's still unclear where this is going, this does seem to be a positive progression.
The stock market in the US made its own kind of U-turn going from early gains and a morning ramp, to end the day lower.
Asian stocks followed the US lower and European indices have been struggling to hold their slim gains this morning.
Try Again
Today the president of Turkey is visiting the UK and turning more than a few heads there. Yesterday he spoke with Bloomberg's Guy Johnson in an interview covering topics from monetary policy to the latest Iran sanctions.
Turkish elections will be on June 24th. Recep Tayyip Erdogan is crushing it in the polls and indeed has very little in the way of serious opposition. In the wake of the Turkish Coup of 2016, Erdogan has managed to brush aside most of his serious political rivals.
Speaking on the Economy and monetary policy, the president advocated further intervention and would like to lower Turkey's interest rates drastically should he obtain victory in the elections next month.
The market didn't seem to like this very much and the Turkish Lira sold off substantially during the interview, quickly reaching a new all-time low, and is now trading at 4.42 Lira to the Dollar.
As we can see on this graph, the Turkish Lira has lost two-thirds of its value since 2010.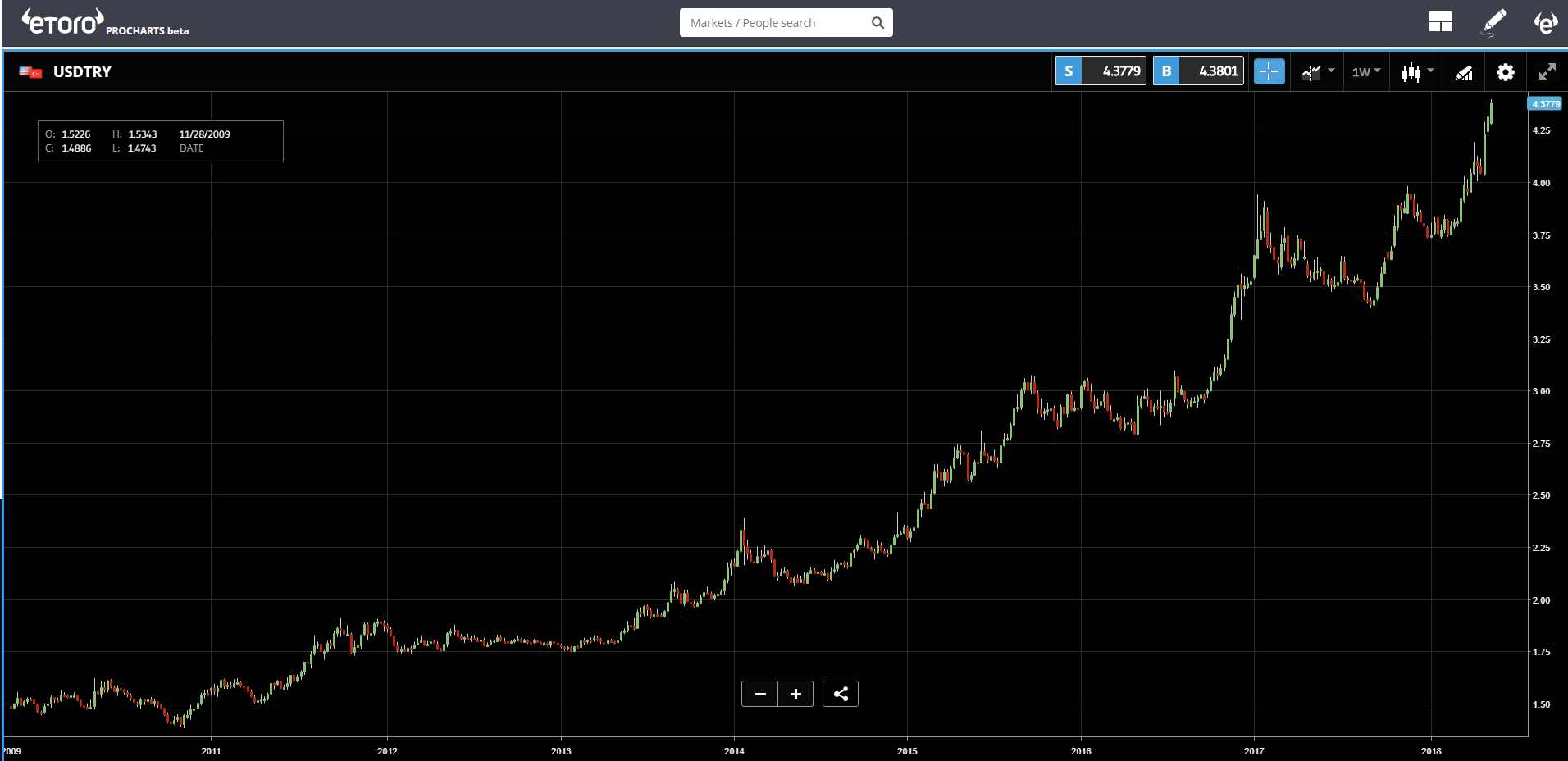 The UK tour continues today, with the President meeting both Prime Minister May and the Queen.
Hard Fork
A kind reminder that Bitcoin Cash is scheduled to fork today. This is not as exciting as other forks we have seen, as it's just an upgrade of the network and no new coin will be created.
A hard fork is considered the most efficient way to upgrade a blockchain and if all goes well, the new coin that is created as a result of the fork will completely replace the old coin and all of the value will be transferred.
For clients in eToro, there is no need to take any action, all of your BCH positions will be seamlessly upgraded to the new protocol without the need for any action on your part.
As far as price is concerned, we did see some exuberance leading to this upgrade, especially when all the cryptos were rallying in mid-April, Bitcoin Cash significantly outperformed the market. Of course, the market is a bit more tepid at the moment and that reflects on all the cryptos.
Ethereum Pricing
With all the excitement about bitcoin taking significant steps into the mainstream trading world, it's nice to see her little sister crypto now making her own strides into this wide world.
Yesterday, the CME Group announced a new reference rate for ETHUSD. They posted it on their website along with a nice explanatory video of what Ethereum is and how it works.
This is yet another concrete pillar that will support the bridge that Wall Street is currently building into the crypto market.
Bonus Video
Here's one more thing that I wanted to share with you today. This is a short video that I made with our German Senior Analyst at the Frankfurt Stock Exchange on my trip there last month.
Humble apologies for the delay in getting this to you and for the sound quality. Better late than never. :)
Have an amazing day ahead!
This content is provided for information and educational purposes only and should not be considered to be investment advice or recommendation. The outlook presented is a personal opinion of the analyst and does not represent an official position of eToro. Past performance is not an indication of future results. All trading involves risk; only risk capital you are prepared to lose.
Cryptocurrencies can widely fluctuate in prices and are not appropriate for all investors. Trading cryptocurrencies is not supervised by any EU regulatory framework.
---
Images courtesy of eToro, Wikimedia Commons