Bitcoin and crypto haven't been spared the recent crash in global markets. From its February peak of $10,500, the price of BTC is down around 33% as of April 18th, falling in tandem with global equities and commodities. 
And yet, multiple sets of data and other signs indicate that the crypto industry is anything but dead, and that yet another full-blown bull run is on the horizon.
A Bitcoin Bull Rally Is Brewing: Metrics
As observed by crypto exchange ShakePay, despite "the most significant economic collapse of the 21st century," Bitcoin hasn't been fazed. In fact, the firm noted that per Coin Metrics, the number of active addresses on the network is reaching a multi-month high, recently surmounting the sum of 840,000 addresses.

This is notable as it's a metric that has historically grown to mark the start of Bitcoin price rallies, then remained consistently high to cement bull trends. 
The resilience of the Bitcoin network has only been accentuated by other metrics.
For instance, according to an April 16th report from crypto and blockchain analytics startup Glassnode, Bitcoin's hash rate has recovered 64% from the lowest day in March, which came a few days after the crash to $3,700 took place.
Then, the hash rate was at 82 exahashes per second; now, the same metric is just under 130 exahashes per second, not too far shy of the all-time high closer to 140 exahashes. This trend was slightly eased by a late-March difficulty adjustment of -17% for Bitcoin, which has made it easier for miners to find blocks, hence the increase in hash rate.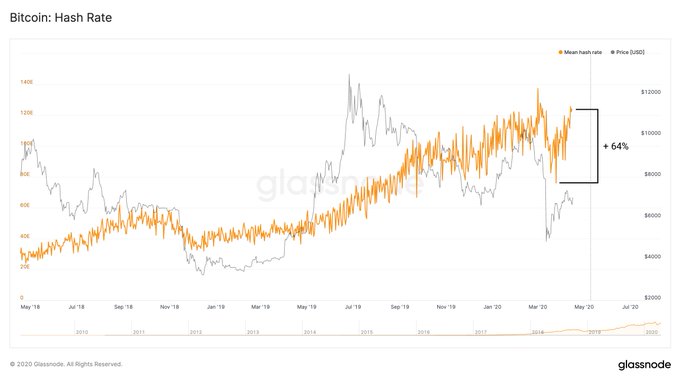 Money Is Flooding Into Industry
To add to this, capital has started to rush into the crypto market at a rapid clip, cementing the strength of the space.
Speaking to The Block's Frank Chaparro, a spokesperson for Fidelity Digital Assets — the cryptocurrency branch of multi-trillion-dollar asset manager Fidelity Investments — said:
"From a trading perspective, we continue to onboard new clients every month and are seeing significant pipeline growth. And in recent weeks, we've seen more momentum across our business." 
Fidelity Digital Assets specifically cited pensions, family offices, and macro hedge funds as the subset of institutional players it is now servicing amid the crisis.
On the retail side of things, a spokesperson for Bitcoin exchange Kraken told Decrypt that the company has recorded an 83% rise in sign-ups, and a "further 300% increase in intermediate verifications," allowing accounts to deposit fiat instantly. OKEx, Bitfinex, Paxful, and Luno also confirmed to the outlet that they've seen a notable increase in sign-ups and volume.
This all comes as the Bitcoin halving, which will see the number of coins issued per block fall by 50%, is now a mere 25 days out, estimates suggest. 
Photo by Chris Henry on Unsplash