Crypto figures were urging caution June 1 after the first token to trade on both Binance and Binance DEX saw suspiciously high trade volume.
---
Harmony Outperforms BNB Crypto Token
Harmony (ONE), which constitutes Binance's latest initial exchange offering (IEO), saw over $600 million in volume in the 24 hours to press time, according to data from CoinMarketCap.
The token is the first to debut on both Binance's regular platform and its newly-launched decentralized exchange, Binance DEX.
Executives had generated considerable buzz around the move through a concerted publicity campaign prior to the launch, which included a giveaway to promote ONE among prospective investors.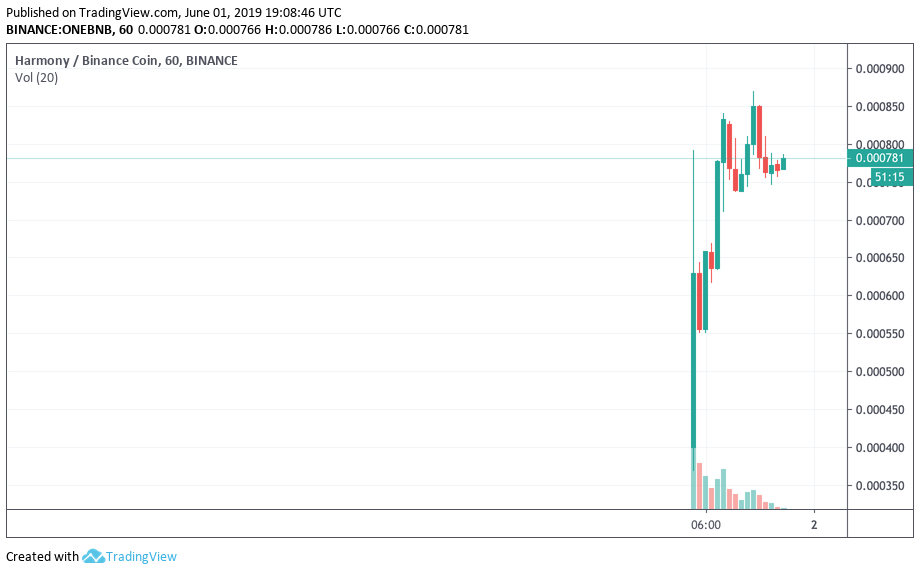 Analyzing the trade figures, however, veteran crypto social media voices appeared less than impressed.
"It's up by 800%+ from (the) IEO. Wouldn't recommend chasing this," the Twitter account known as Squeeze summarized, noting ONE/USD trading at $0.025.
"I've been eyeing this for a while. This has very huge hype. But not gonna buy at this price. Will wait for dips in the coming weeks. If it moons hard, I don't mind missing this. Plenty of other choices."
Binance DEX Whirlwind
Harmony was little known before its Binance hook-up, with the launch of the DEX having already sparked major excitement among traders.
As CoinMarketCap confirms, Binance's decentralized platform saw larger volumes in five hours than its biggest competitor, IDEX, achieved in 24.
"By tomorrow it will have done more volume than all DEX's combined," trader and journalist Dan Clarke forecast Saturday.
As Bitcoinist reported, Binance itself has seen a broad turnaround in its recent fortunes since recovering from a $41 million hack at the start of May.
Following a week of downtime, full functionality resumed May 15, with the platform's in-house token, Binance Coin [coin_price coin=binance-coin], forming the basis of a separate giveaway to reward users who stayed loyal during the platform's difficulties.
BNB subsequently outperformed, reaching new all-time highs against the US dollar this week as it passed $35 for the first time.
The token, which can also be used against discounted trading fees on Binance, is now the seventh-largest cryptocurrency by market cap. 24-hour volume at press time was $560 million – still just short of ONE.
Separately, the exchange's own research this week announced a changing trend in the crypto industry more broadly. After over a year of low appeal, non-crypto lay consumers were finally beginning to pay attention to Bitcoin [coin_price] and altcoins again.
In addition, institutional investor interest was developing much more quickly, analysts said, a phenomenon which itself was contributing to the base of new Binance traders.
What do you think about Binance DEX and Harmony? Let us know in the comments below!
---
Images via Shutterstock, Tradingview.com