Prior to today, Chainlink (LINK) was seemingly on an unstoppable uptrend.
The asset recently hit a new all-time high price of $20, around 1,000% higher than the lows of the March capitulation crash.
Few expected LINK's price action to stop, but it did on Monday.
In the span of around 30 minutes, the price of Chainlink plunged by over 20% from the $18.80 range to $14.50 in dramatic fashion.
Analysts are attempting to react with this drop.
Some remain optimistic but more are bearish, as they note how notable this flash crash really was for Chainlink.
LINK trades at $17 as of this article's writing, sliding below Bitcoin Cash to become the sixth-largest crypto once again.
What Analysts Think Comes Next for Chainlink After Flash Dump
When Chainlink crashed from $18.80 to the $14.50 region in the span of 30 minutes, analysts were shocked. After rallying hundreds of percent, the asset falling so far and so fast was shocking.
Analysts remain bearish despite a bounce.
One trader shared the chart below in the wake of the plunge lower, arguing that Chainlink and Bitcoin moving lower in tandem is a "bad omen" :
"LINKUSD and BTCUSD moved together on this wipe out. Behavior has markedly changed from prior negative correl, where capital was sloshing around – when BTC would leg down LINK would rip up and vice versa. Can't put my finger on why but think this is a bad omen."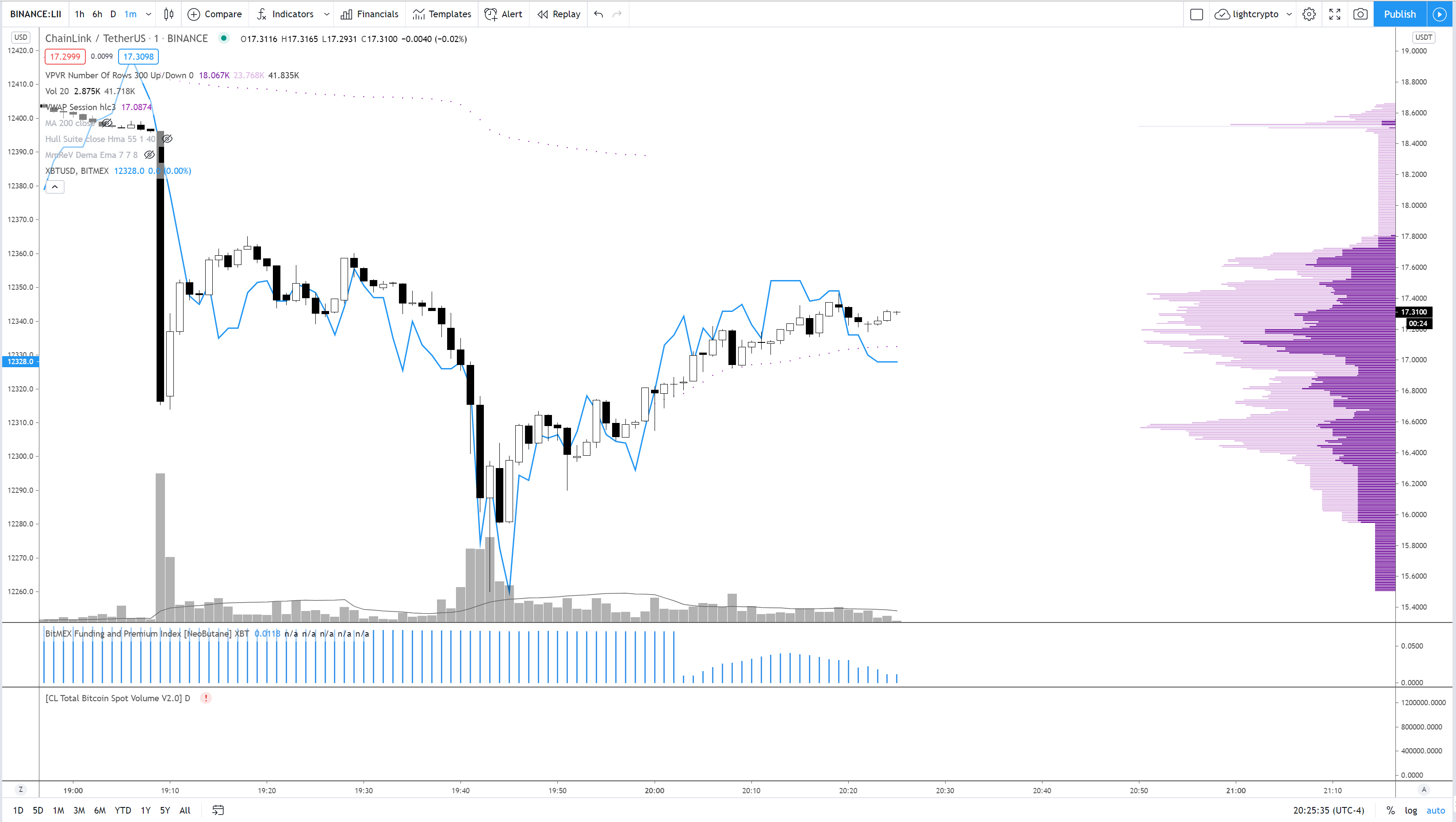 Chart of LINK's price action by trader Light. Chart from TradingView.com
This skepticism was echoed by Blockfyre, a crypto research firm. The firm noted that LINK's price action is getting progressively weaker, suggesting a potential high is forming:
"Each subsequent rally getting weaker and weaker in price discovery during a parabola where no supports have been built will likely have to find buyers lower. This run looks like it's at an end temporarily with how that daily candle formed."
Supported by Dave Portnoy
What may unexpectedly boost Chainlink, though, is the involvement of Dave Portnoy in the project.
The Barstool Sports founder, who has become a celebrity day trader, purchased LINK last week with the help of the Winklevoss Twins. In a semi-viral video published to his Twitter, Portnoy bought $50,000 worth of LINK after he was about to buy around $125,000 worth.
While his stake in LINK is relatively small compared to his stake in Bitcoin, Portnoy has since become a loud proponent of the altcoin.
The celebrity day trader shared this chart below on the evening of August 17th. It shows a video of 'Portnoy' addressing an army of 'LINK Marines', the nickname given to the cryptocurrency's proponents.
Portnoy wields an audience in the millions, who have followed his every investment for the past four months. According to Bloomberg, the Barstool Sports founder has so much influence that he caused the 30-day volume for an ETF to surge exponentially.
Rest assured my fellow #linkmarines we will make whoever dumped $link pay. pic.twitter.com/zqXB7lQBRc

— Dave Portnoy (@stoolpresidente) August 18, 2020
Photo by Ian Schneider on Unsplash
Price tags: linkusd, linkbtc
Charts from TradingView.com
What Analysts Think Comes Next After Chainlink's (LINK) 20% Drop