From the lows made in March, XRP is up by over 50%, trading at $0.18 as of this article's writing.
Yet this bounce has not convinced analysts that the cryptocurrency is back in a bull market. In fact, one trader recently noted that soon enough, the third-largest altcoin will have been in a macro bear market for over 1,000 days.
XRP Is in a Macro Downtrend And Has Been for Almost 1,000 Days
It's been a tough past few years for XRP.
Despite medium-term rallies in the entire cryptocurrency market, the altcoin has been suffering worse than others. As of this article's writing, XRP is down by approximately 94% from its all-time high above $3.00.
The asset's macro performance is so poor that the lead technical analyst at crypto research firm Blockfyre recently said the following:
"901 Days of lower highs. 99 left to hit 1000 sunrises + sunsets. It has been entirely left behind in the markets with each mini "alt season."
That's to say, XRP has been in a macro downtrend for nearly 1,000 days.
Weiss Crypto Ratings, the cryptocurrency arm of market research giant Weiss Ratings, agrees with the analyst's comment. The firm wrote on the matter earlier in June:
"XRP appears to be in a bear market. It keeps making lower highs and lower lows, with the most recent low being as early as May of this year."
Not Done Yet
XRP's dismal performance is far from done, analysts have said.
Peter Brandt, a respected commodities trader and Bitcoin bull, has touched on this over recent months
In the wake of March's crash in global markets, the technical analyst said that XRP looks extremely bearish. Brandt attributed this sentiment to the fact that there is only "white space below" its price, meaning there is little historical support.
I am breaking a promise.

I said I would never again post a chart of $XRP

But, I thought you all might be interested in what it means to have …

"While space below" pic.twitter.com/Pse2DkEXfp

— Peter Brandt (@PeterLBrandt) March 12, 2020
There was not a prediction attached to this tweet. But, Brandt later said that he thinks a 90% drop in XRP's trading pair against Bitcoin may take place.
"In 45 years as a career market speculator, I've come to discern the real deals from the possible scams I've only attempted to warn people that $XRP is a manipulated market & a dead end," the trader once wrote.  
Also, the cryptocurrency recently fell below a crucial monthly support. 
"Looking at it from an investor perspective, [fundamentals are] not an excuse to invest in an asset that has been down-trending for 851 days and lost key monthly support/resistance level," a trader explained in reference to the chart below, trying to rationalize how irrational investing in the asset currently is, at least in his eyes.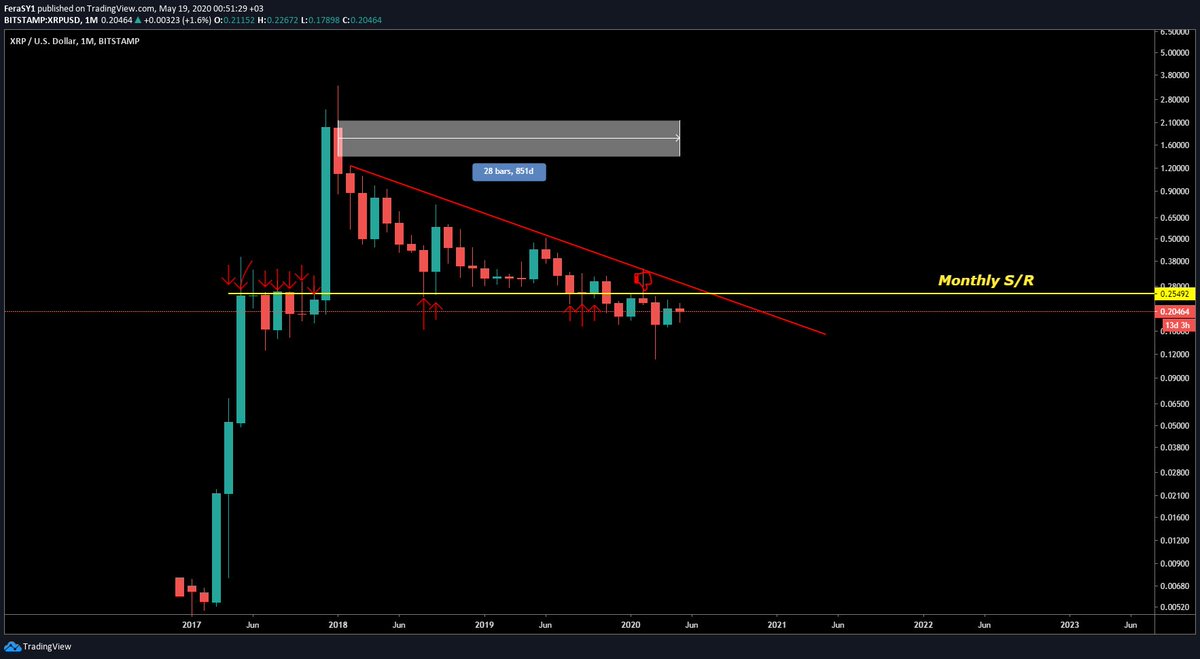 Featured Image from Shutterstock
Price tag: xrpusd, xrpbtc
Charts from TradingView.com
XRP Has Been in a Macro Downtrend For Almost 1,000 Days: Analyst