One of the best-performing cryptocurrencies over the past two years is LINK. The native token of the Chainlink project, the altcoin has rallied by approximately 1,700% against BTC from its 2018 lows.
Chainlink is benefiting from a surge in adoption of its core technology, decentralized oracles, from many established entities. In the past month alone, the Chinese state-sponsored Blockchain Service Network, Huobi, and Nexo have integrated oracles from the project.
These partnerships/integrations, coupled with an uptick in publicity on Crypto Twitter and in the media, have pushed the asset to a new all-time high.
Just the other day, LINK interacted with $9 for the first time ever, making it the 7th or 8th largest crypto.
Unfortunately for holders of the cryptocurrency, there is a growing sentiment that it will see a strong correction. Seeing that the crypto asset rallied hundreds of percent in a few months, it's no surprise people think so.
Chainlink Could Soon Plunge From Its Highs, Analyst Says
According to Brave New Coin analyst Josh Olszewicz, LINK is printing signs that it will soon see a correction against Bitcoin, calling the asset likely overbought at current prices. Olszewicz mentioned four technical signs leading him to this conclusion:
LINK's relative strength index (RSI) reading on the one-day chart is at an all-time high. This high is near 90, suggesting that asset is entering extremely overbought levels.
Chainlink is trading near an "R5" yearly pivot resistance. The asset previously struggled to break past lower yearly pivot levels.
LINK has reached the top of the extension of an upward pitchfork pattern.
A bearish divergence has formed between LINK's price and the relative strength index on the 12-hour chart.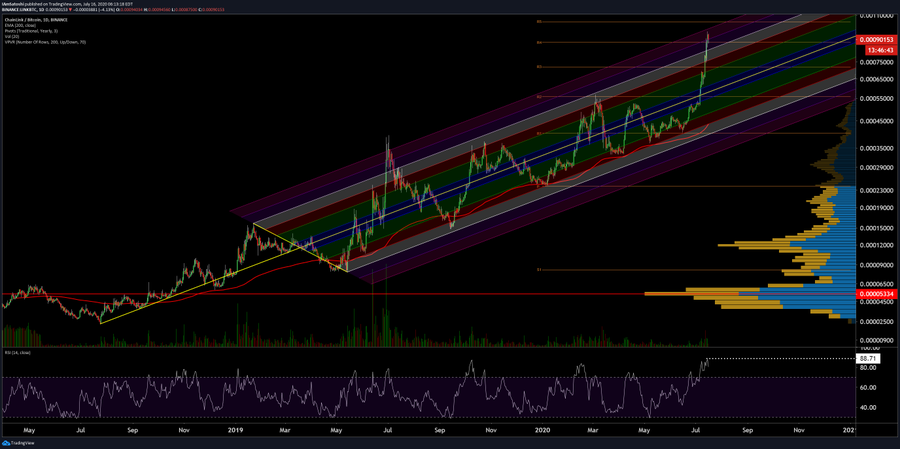 Olszewicz added that the cryptocurrency could soon print two additional signs indicating that it may drop against Bitcoin in the weeks ahead. These are a bearish reversal pattern (such as an extremely large upward wick or double top) and a long-term bearish divergence between Chainlink's price and its RSI.
Not the Only LINK Bear
The analyst who shared the analysis above isn't the first prominent market commentator to have suggested that LINK's rally may peter out.
The pseudonymous Bitfinex Bitcoin whale "Joe007" recently targeted the popular altcoin in a recent tweet.
Responding to a trader that suggested that market forces could soon push Chainlink to over $20 a piece, the investor said:
"Each s**tcoin, no matter how shitty, has FOMO-generating potential. Each instance of s**tcoin FOMO creates concentrated riches for its few peddlers and widespread losses for a new generation of s**tcoin bagholders. And so the Wheel turns…"
Joe007's comment comes as a number of other prominent Bitcoin proponents have come out against altcoins as useless creations that will eventually lose their market value.
Featured Image from Shutterstock
Price tags: linkusd, linkbtc
Charts from TradingView.com
3 Signs Show Chainlink (LINK) May See Strong Reversal After 1,700% Rally