Chainlink has plunged since setting highers in August.
The coin now trades at around $8.50 as of this article's writing, far below the all-time highs set at $20.
The cryptocurrency's correction comes after leading altcoins underwent a strong plunge after Ethereum fell through key supports.
Chainlink could be vulnerable to an even deeper drop as the crypto approaches pivotal technical levels.
One trader noted that if LINK will bounce, it will find some support around now.
This bearish assertion comes as a number of other analysts have said Chainlink is likely bottoming on a macro time frame.
Chainlink Is Poised to Drop Even Further If This Level Is Lost
One crypto trader thinks that if Chainlink (LINK) slips any lower after dropping over 50% from its all-time high, a strong drop could ensue. He shared the chart below just recently, noting that the cryptocurrency is currently running up against a crucial level of support that marked the highs of a rally in July.
The historical importance of that level suggests that if LINK loses it as support, a strong correction will follow.
"Yikes. If there's any short-term saving grace for Chainlink, it's here imo. A bounce towards $9.50-10 is reasonable."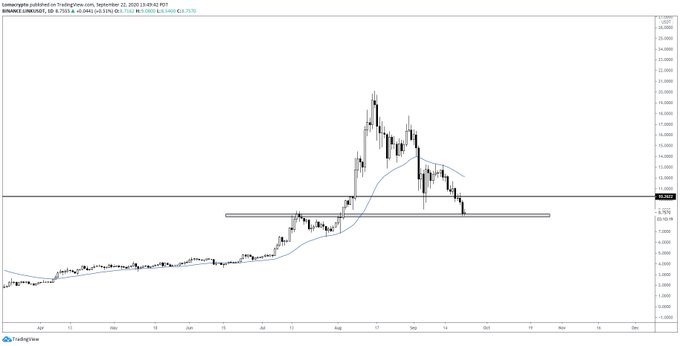 Chart of LINK's price action over the past few months with analysis by crypto trader and chartist Loma (@LomahCrypto on Twitter).
Chart from TradingView.com
This was echoed by another market commentator who noted that the cryptocurrency is coming up against a "giga" support level that should hold or else things will get "ugly" for the coin.
"Chainlink at absolute Gigasupport. Link marines have an opportunity to save LINK from the giga nuking. Below $8.50 would probably get pretty ugly, as everyone from the last month and a half would be underwater…"
Strong Fundamentals
Featured Image from Shutterstock
Price tags: linkusd, linkbtc
Charts from TradingView.com
After 50% Drop, Chainlink (LINK) Is Reaching a Do or Die Technical Level