Last week, Binance announced the launch of Binance Chain, its native Blockchain platform that will facilitate the issuing, exchanging, and usage of digital assets. Apart from the fact that Binance Chain opens a new world of possibilities for cryptocurrency projects, the BEPs protocol on Binance Chain also shows some significant difference Ethereum's ERC-20 protocol that currently dominates the crypto space. 
---
For instance, the BEP2 standard makes it possible to issue crypto tokens that can be pegged to any other altcoin as opposed to the current standards that only pegs tokens against ETH or BTC. The Binance chain also includes other features such as minting, burning, transferring or freezing tokens.
Below is a list of existing projects that have migrated to the Binance Chain since its launch:
Binance Coin (BNB)
It goes without saying or special expectation that Binance Coin (BNB) has been migrated from Ethereum to the Binance chain as the native cryptocurrency on the platform. Binance Coin on Binance Chain will serve the same purpose that Ethereum serves on Ethereum network to pay for network transactions among other things.
BNB tokens, originally an Ethereum-based ERC-20 token is now being migrated to become a BEP2 token powered by the Binance chain. People who currently own ERC20 BNB coins are expected to send the ERC20 tokens to a new Binance Chain deposit address. Binance with then convert their ERC20 tokens to the new BEP tokens automatically.
Last week, Binance announced that it has burned 5 million ERC20 tokens and allocated native BEP2 tokens to wallets on Binance Chain. The old BNB ERC20 tokens were burned to manage supply on both Ethereum and Binance networks. However, trading of BNB on Binance Chain won't start until the first batch of BNB has been converted and there enough liquidity to support trades.
ChangeNow (NOW)
ChangeNow, a cryptocurrency exchange that facilitates the registration-free exchange of tokens has announced that its NOW token will now be issued on Binance Chain and that it will be listed on Binance DEX. ChangeNow choose Binance Chain because it offers a strategic advantage that complements how ChangeNow facilitates token swaps without charging transaction fees.
ChangeNow went for a hybrid arrangement, leaving half of their tokens on the Ethereum blockchain, while moving the other half onto the Binance Chain. ChangeNow will allow its holders to burn their ERC-20 tokens, and exchange them for a BEP2 compliant version for the foreseeable future.
Binance's founder and CEO, Changpeng Zhao has also expressed his support for having the NOW token clinching the title of the first token to be listed on Binance DEX.
CZ also commented on ChangeNOW being the first to issue their token on their chain, the true decentralized way: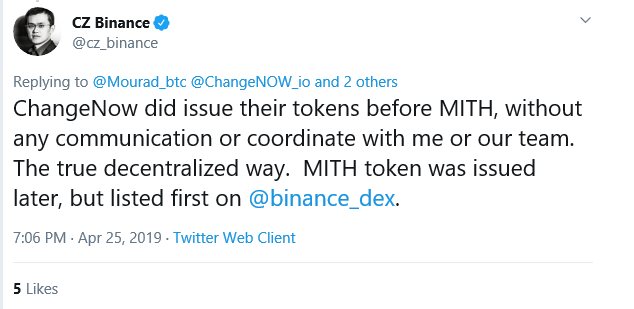 Mithril (MITH)
Mithril (MITH) is also migrating to Binance Chain. Mithril is a decentralized social media platform that rewards people for creating content though an ecosystem where content creators and curators are reward with MITH tokens. In a blog post published last week, Mithril revealed that it is migrating its project to the Binance chain to provide its users with an opportunity to experience the security, intuitive user interface, and speed of the Binance DEX platform.
Mithril notes that "Binance Chain's focus on usability, security, along with the incredible speed of one-second block times, made migrating to the Binance Chain an important strategic initiative for us this quarter."
Deposits and withdrawals of MITH tokens on Binance exchange will be suspended for the 12-hour during which the migration will be initiated. Afterwards, users can withdraw their MITH tokens to BEP2 compliant wallets as a precursor to trading the coins on Binance DEX.
Red Pulse Phoenix [PHX]
Red Pulse Phoenix [PHX] has also announced that it is migrating a major portion of its token ecosystem to the Binance Chain. Red Pulse Phoenix is both a platform that connects researchers with report-consumers as well as a token for managing IP protecting, Proof of creation, and Proof of Ownership among other things.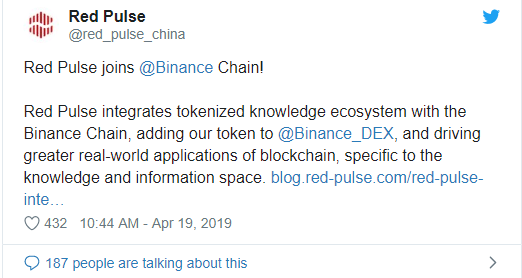 As part of the migration, Red Pulse Phoenix will launch a new BEP2 token with ticker PHB for the Binance Chain ecosystem. It also plans to eventually migrate its NEP-5 PHX tokens to BEP2 PHB tokens. The old PHX tokens will continue to be tradeable on Binance.com pending the migration and the new BEP-2 PHB tokens will be traded on both Binance.com and the Binance DEX.
Binance users who currently hold PHX on Binance.com can expect that their PHX tokens will be migrated to PHB and the total token circulating supply of PHX + PHB will remain the same in line with Red Pulse's original tokenomics for market-driven trading price and market capitalization.
Atomic Wallet (AWC)
Atomic, a multi-asset non-custodial wallet that implements cross-chain Atomic Swaps across 20 Blockchains and tokens has been announced as now of the very first projects that will be migrated to the Binance Chain.
Atomic has revealed that its upcoming Atomic Wallet will provide full support for Binance Chain and BNB Coin while its AWC token will be listed on Binance DEX. However, Atomic will keep its current ERC-20 AWC tokens while maintaining the new AWC token powered by Binance's BEP2 protocol. To manage the tokenomics, Atomic will burn 50 million AWC ERC-20 tokens representing 50% of its current total supply on Ethereum.
Interestingly, users will be able to swap between both the ERC-20 powered AWC tokens and the BEP2 AWC tokens.