Most cryptocurrencies, from Bitcoin to XRP, haven't fared too well since the highs of the last bull market. Even BTC, which is arguably more bullish than ever fundamentally, is down by over 50% from its all-time high.
Bitcoin Cash, however, has done especially poorly, with it only recently getting worse.
Bitcoin Cash Hits Fresh Low Against BTC
There was a time when a single BCH was worth in excess of 0.3 BTC. That's to say, a handful of the former could have bought you one of the latter. Yet those days are long gone.
As noted by Zack Voell, a CoinDesk markets reporter, Bitcoin Cash just hit an all-time low against BTC. One of the cryptocurrency is now worth approximately 0.024 BTC, around 50% of 2020's highs and around 33% 2019's highs.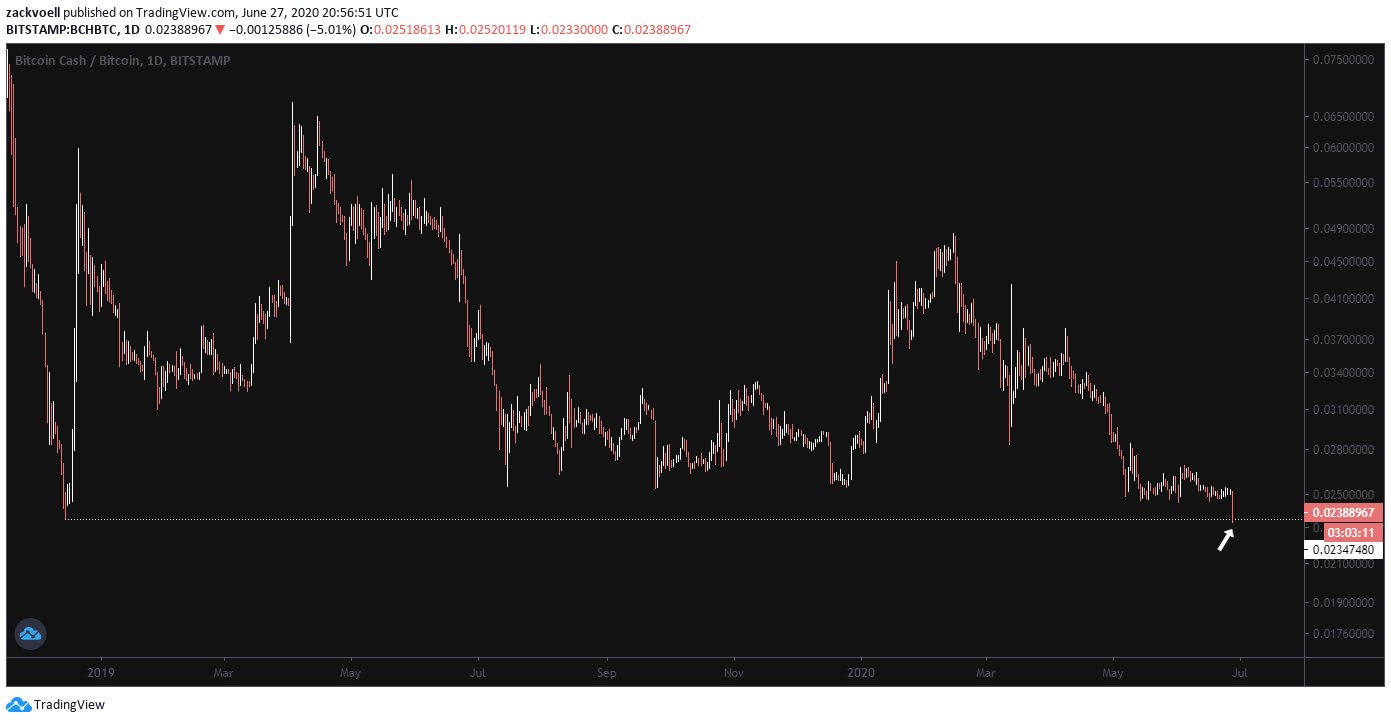 BCH's weakness comes after a strong performance at the start of the year. Back then, the crypto was benefiting from speculation and developments around his claim to the Satoshi title.
Yet after Bitcoin Cash had a block reward halving a month prior to BTC's, a steep decline followed.
BCH's underperformance was seemingly a byproduct of a classic "buy the rumor, sell the news" cycle in an asset. Also, as reported by Bitcoinist previously, the network became fundamentally insecure after the halving.
Yassine Elmandjra, a cryptoasset analyst at ARK Invest, wrote on the matter late last month:
"Bitcoin Cash is not looking healthy: -Hashrate down 30% since halving (& only accounts for ~2% of SHA256 hash) -Economic throughput at all time lows -Fees are .05% of miner rev (<$100/day) -Theoretical 51% attack costs <$10k/hr. Surprised we haven't seen a large scale attack yet."
Unfortunately for BCH holders, not many expect the asset's prospects to get any better.
Prospects Only Getting Worse
Simon Dedic, the co-founder of crypto research firm Blockfyre, says that BCH is likely to fall out of the crypto top-10. The managing partner at Moonrock Capital wrote on June 21st:
"$XRP, $BCH, $BSV, $LTC and $EOS absolutely do NOT deserve belonging to the TOP 10 cryptocurrencies. Actually can't wait until they vanish and clear the way for solid candidates."
Dedic's sentiment went crypto-viral, garnering over 1,000 likes on Twitter. On his sentiment about BCH, many said that it has credence due to the lack of economic value the network provides.
Max Keiser, the co-host of the Keiser Report and one of the earliest public BTC bulls, echoed the skepticism. He wrote in response to Voell's chart (seen above) that Bitcoin Cash is "scarily insecure."
This comes shortly after Keiser said that 99% of the crypto market's capitalization and hash rate will centralize in Bitcoin.
Featured Image from Shutterstock
Price tags: bchusd, bchbtc
Bitcoin Cash Sets All-Time Low Against BTC — and Analysts Are Still Bearish