Since trading as low as $8,180 seven days ago, Bitcoin has mounted a strong recovery that brought it as high as $9,900 on Sunday. It's an impressive recovery that has many convinced the cryptocurrency is set to rally higher.
Data from Bitcoin derivatives markets, however, suggests that the cryptocurrency may be subject to a short-term reversal after a 20% bounce.
Bitcoin Derivatives Market Signals Caution
As derivatives exchanges have become increasingly adopted by Bitcoin traders, the data these markets provide have provided increasingly better insights into which way BTC will trend.
One prominent technician recently shared the chart below, indicating that the funding rate of the Bitcoin futures on OKEx — the fee longs pays shorts — has "suddenly [trended] very high again."
Extreme funding rates indicate that one side of the market is overleveraged. In this case, with the funding rate high, there are more aggressive Bitcoin buyers than sellers.
While logic would suggest that Bitcoin should head higher, extreme funding rates are often seen at the reversal of trends, not in the midst of a trend.
Along with the futures market also suggesting a potential reversal, data from the options market is showing investors are anticipating downside.
The insights team of the cryptocurrency derivatives exchange Deribit recently wrote that "real money flow is buying puts." That's to say, the bullish news narratives aside, there are big investors pouring money into derivative contracts betting that Bitcoin goes lower in the coming months:
"There are a variety of users and narratives for buying puts, not all bearish; protection can be cautiously bullish. But there seem some aggressive buyers still concerned/predicting a retrace," the exchange wrote.
Not the Only Sign of a Trend Reversal
It isn't only derivatives market data that is signaling a potential trend reversal.
According to order book data of Bitfinex's BTC/USD market shared by a popular crypto trader, there's a massive block of orders looking to sell Bitcoin around $10,000 that may be hard to break past.
Bitfinex's order book suggests that from $9,900 to $10,600, there is ~4,200 Bitcoin worth of sell orders, most of which are clustered around $10,000-10,200. That means on one exchange alone, there is over $40 million worth of sell-side pressure if the cryptocurrency attempts to rally past $10,000.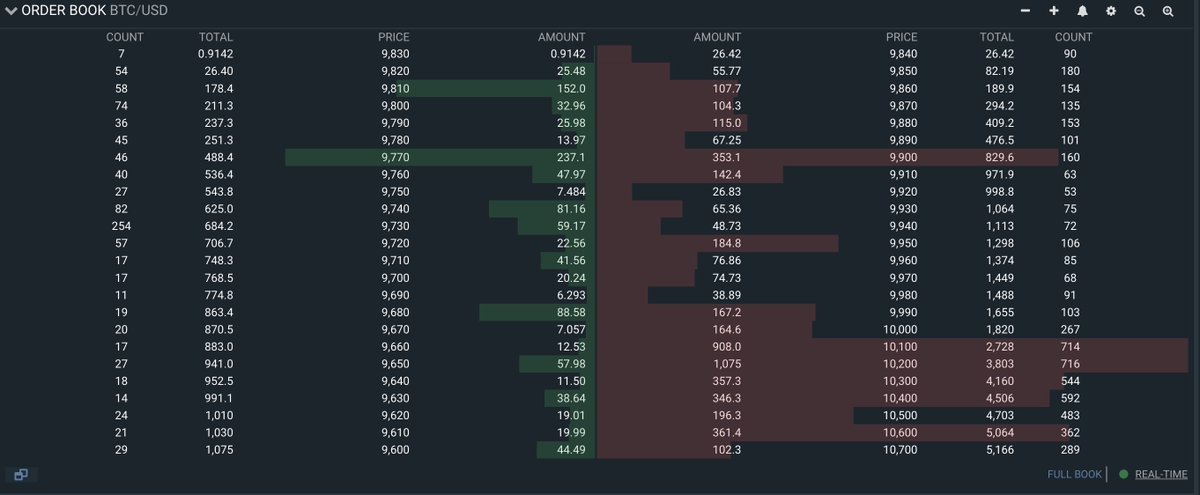 Over $40 million in sell orders may not seem like a lot in a market where dozens of billions of dollars worth of cryptocurrency changes hands each day. But the last time Bitcoin saw a sell wall similar to the current one, it crashed.
Further corroborating this trend, four out of the six proprietary metrics of blockchain intelligence firm IntoTheBlock show that BTC is currently "mostly bearish," with the number of large transactions slowing down, traders slowly becoming unprofitable, and the short-term growth of Bitcoin slowing.
Photo by Aliyah Jamous on Unsplash