While Bitcoin has bounced from the local lows of $11,400, the asset remains below some crucial resistance levels.
This has led some analysts to suggest that BTC is still poised to correct lower.
Many analysts are eyeing $10,500, as that's where the cryptocurrency truly began the rally $12,000.
$10,500 is also a pivotal technical level for Bitcoin from many perspectives, including the historical perspective.
BTC may not fall as low as $10,500, though, with a trader noting that a correction will likely be "front ran."
But should Bitcoin visit the $10,500 region, analysts say that Bitcoin losing that level could spell disaster for bulls.
Bitcoin May Not Fall Below $11,000 if the Dip Continues: Here's Why
Multiple analysts have said over recent days that Bitcoin is primed to fall towards $10,500. One cryptocurrency trader, though, doesn't think that BTC will trace much lower than $11,000, another level that analysts have assigned much importance as of late.
Referencing the chart below, which shows the importance of the support in $11,000-11,500, the analyst said:
"I imagine $BTC holds $11k on a dip. Would be concerning if it didnt but with daily guppy coming up and people expecting $10.5k again (including me) I think it gets front ran. Yes $10.5k is a support but a strong breakout here would be ideal. Usually $BTC wont retest "perfectly"."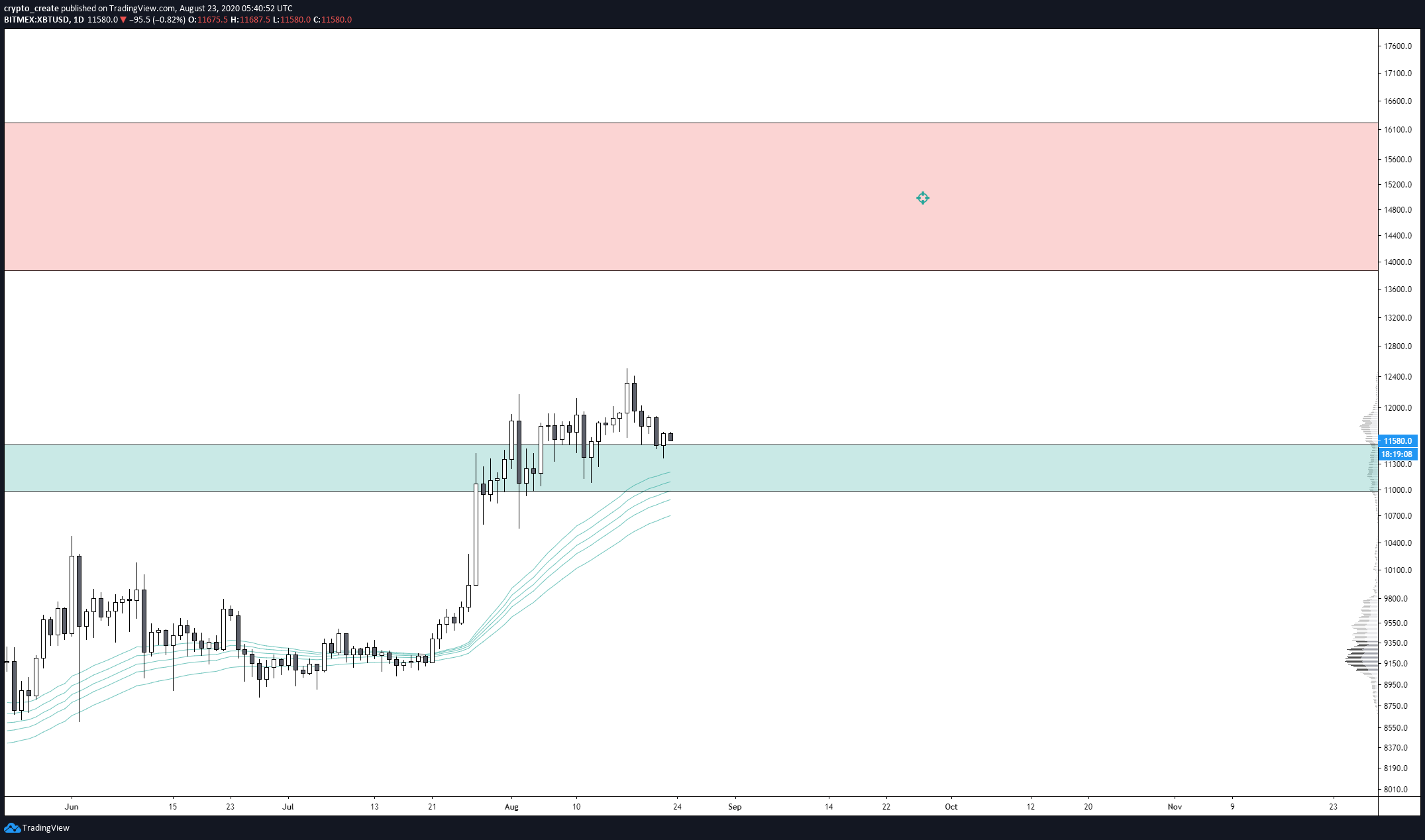 Chart of BTC's price action over the past few months with an analysis by crypto trader "Create" (@Crypto_Create on Twitter). Chart from TradingView.com
He specifically cited the bullish breakout in 2019, noting how Bitcoin formed a similar consolidation pattern to the one it is forming now before moving higher:
"Look back at the 2019 $BTC bottom for example. Nice breakout after sideways accumulation. First point of consolidation didnt retest the breakout level. Instead it ripped again. A lot of people bailed early looking to buy a dip but got left behind. Not much liquidity ran either."
$10,500 Must Hold if Price Revisits That Level
If Bitcoin does fall to $10,500, though, analysts say it must hold that level or else risk a strong correction.
Commenting on the importance of $10,500 and another important technical level, one trader recently remarked:
"Levels to watch on $BTC if we continue dropping: $11.2-11k and $10.6k. Should these two major supports be broken then it could signal a shift in trend in the medium to long term. So far $11,000 hasn't been raided in the past few weeks," one analyst commented on the importance of $10,500.
Chart of BTC's recent price action by crypto trader Flood (@ThinkingUSD on Twitter). Chart from TradingView.com
One reason why $10,500 is important to Bitcoin's price action in the medium term is that three separate Bitcoin rallies topped at over the past 12 months. The most notable of these was in October 2019, when BTC peaked almost exactly at this pivotal price level.
Featured Image from Shutterstock
Price tags: xbtusd, btcusd, btcusdt 
Charts from TradingView.com
Here's Why Bitcoin May Not Fall Much Lower Than $11,000: Analyst Explains