Bitcoin is trading at $10,250 as of this article's writing, reaching the highest price traded since June's highs.
This recent breakout has been met with much excitement from the cryptocurrency industry. Some think it marks the start of a larger bull run that will eclipse the last one (2016-2017).
Data suggests that institutional traders remain short-term bearish on Bitcoin.
Surveys and other indicators, though, suggest that institutions of the "old guard" remain long-term optimistic about cryptocurrency.
Institutional CME Traders Still Have a Big Bitcoin Short
After weeks of consolidation, many investors were happy when Bitcoin surged seriously higher starting a few days ago. Institutional traders via the CME's futures market, though, may not be as pleased.
Data shared with the Commodity Futures Trading Commission (CFTC) indicates that most institutional traders in that market are bearish.
According to Crypto Unfolded, CME accounts deemed "institutional traders" cumulatively held a Bitcoin short position amount to around 1,700 contracts as of July 21st. That's to say, the average institutional investor trading the CME's Bitcoin market expects a retracement.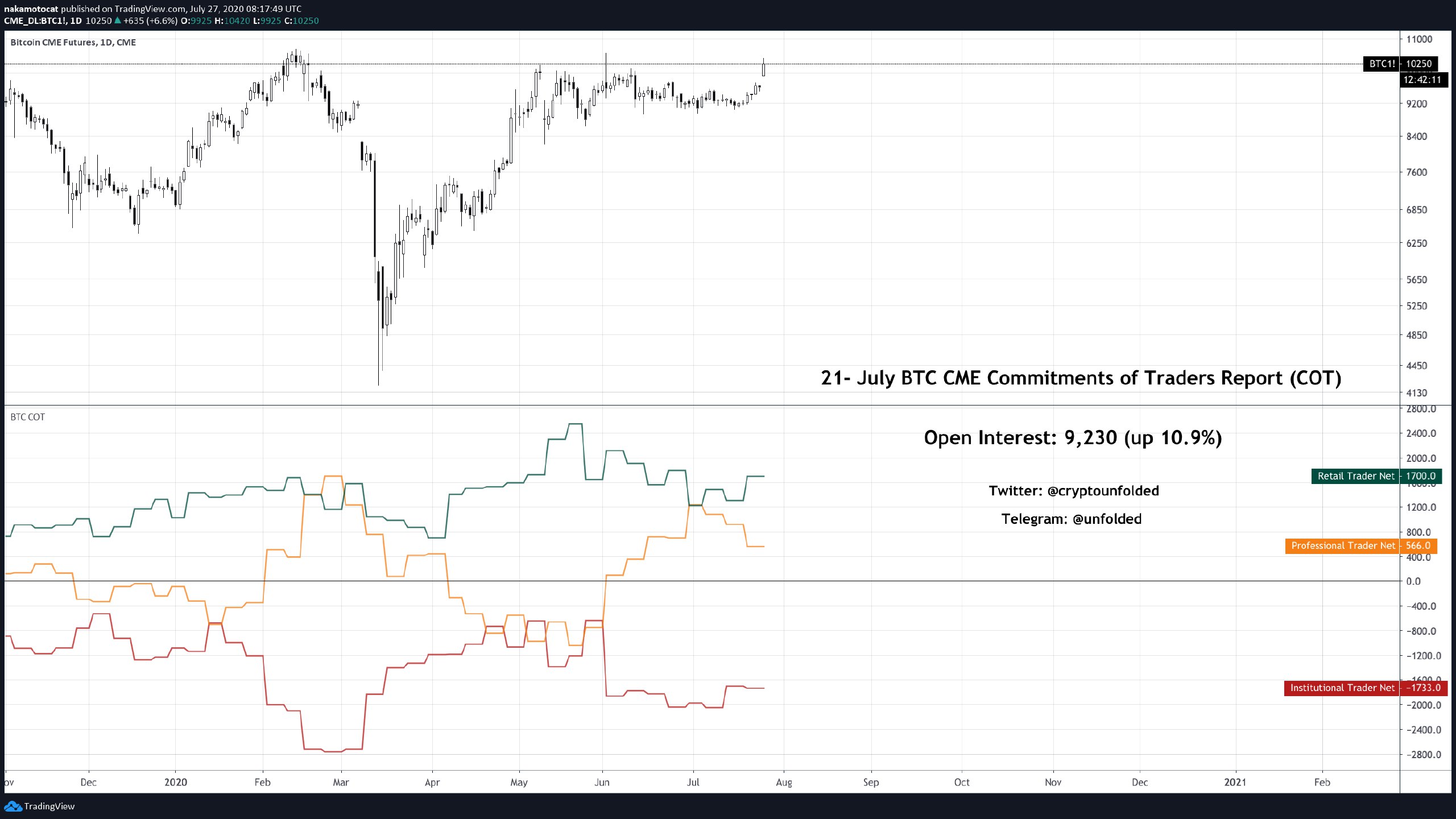 It is important to point out that this "smart money" has historically predicted price action well.
As can be seen in the chart above, institutions built up a large Bitcoin short before the crash to $3,700 in March. And prior to that, at the much-awaited launch of Bakkt's futures, there was also a large short position formed before BTC slipped big time.
Long-Term Bullish on BTC and Cryptocurrency
Despite these short-term positions, institutions seemingly remain long-term optimistic about Bitcoin and crypto narratives.
Grayscale Investments, the New York-based digital asset manager, reported earlier this month that it saw a record quarter of investment. In its Q2 report, the company wrote:
"Grayscale recorded its largest quarterly inflows, $905.8 million in 2Q20, nearly double the previous quarterly high of $503.7 million in 1Q20. For the first time, inflows into Grayscale products over a 6-month period crossed the $1 billion threshold."
Analyses have found that Grayscale has seen such inflows that its products recently were absorbing more Bitcoin than there was being mined. The company mostly services institutional investors like hedge funds.
Fidelity Investments, the $2 trillion Wall Street asset manager, also released a survey in June indicating institutions remain bullish on cryptocurrency.
That survey suggested that a majority of institutions surveyed see at least one reason why cryptocurrencies are attractive in an investment portfolio. These reasons include crypto being uncorrelated, an innovative technology play, or an asset class with a high potential upside.
Featured Image from Shutterstock
Price tags: xbtusd, btcusd, btcusdt
Charts from TradingView.com
Bitcoin Just Exploded Past $10,000 But Data Says Institutions Still Bearish