Over the past couple of days, Bitcoin has retreated by 12 percent from its 2019 high. Many industry observers have called for this correction following a parabolic surge since the beginning of April. Short-term technical indicators are starting to agree with them.
---
Trend Indicator Flashes Red
Over the past 24 hours, bitcoin price [coin_price] has retreated from major support at $8,000 and fallen to an intraday low of $7,450 according to Tradingview.com charts.
During morning Asian trading BTC did manage to recover back to $7,760. But this is shaping up to be another lower low preceding further losses. On the hourly chart, the 50 moving average has crossed the 200 indicating a short-term downtrend formation.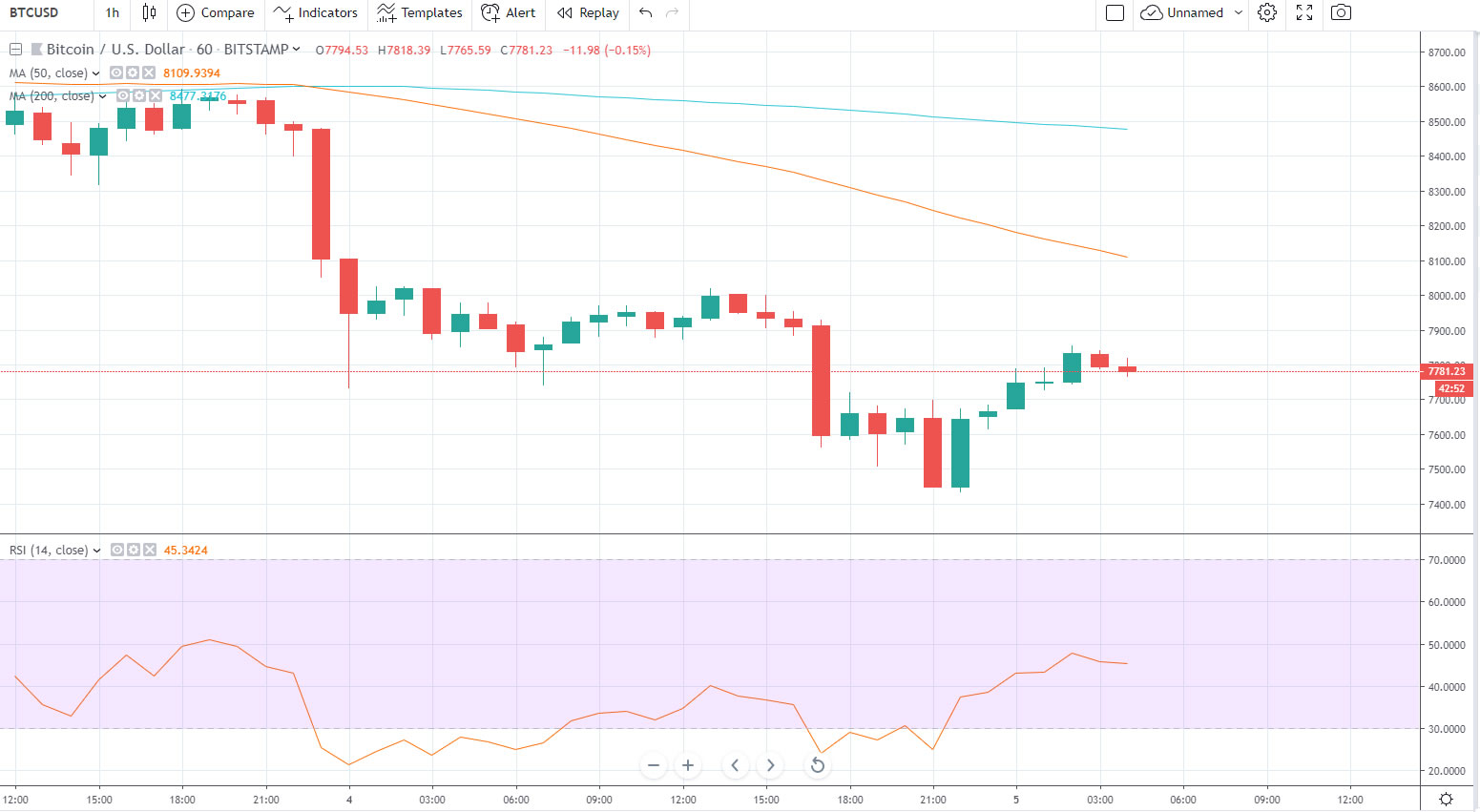 According to Bloomberg, the GTI Vera Convergence-Divergence indicator has flashed 'sell' for the first time since April. The indicator, which measures positive and negative trends, has been showing positive signals for the best part of the year. Jake Stolarski, senior trader at Greenwich, told the outlet:
The market is in an identity crisis, trying to find a place to stabilize. The key technical levels have been creating market volatility, for sure, due to sudden shifts in sentiment.
He added:
People are seeing where the resistance is, where the stops are both up and down. People are trying to find a stabilizing point where they can layer into a core position.
Bloomberg's own Galaxy Crypto Index dropped as much as 10% as altcoins retreated in the shadow of their big brother. The move has initiated the first real correction of the year as Bitcoin and crypto markets have been on the up since February.
A number or twitter based traders and analysts have also called for further losses as the pullback is expected to accelerate. The formation of a descending triangle and the posting of lower highs and lower lows is definitely a sign of weakening in the short term.
The longer-term picture is still pretty healthy, though. In May alone Bitcoin made 62 percent in its largest rally since late 2017. A 12 percent pullback from that now seems pretty insignificant. The expectations of a 30 percent correction are also mounting and from its recent high of just over $9k, this would drop BTC back to the $6,300 level.
Mass retail accumulation here could well see a greater volume of FOMO that the recent rally and push the asset to five figures pretty quickly.
The long-term trend indicators are still bullish so there is no need to panic despite the mainstream media FUD storm that is likely to materialize if crypto markets do correct by this much.
Will you be buying the dip? If so, where? Add your comments below.
---
Images via Shutterstock