Bitcoin's meteoric flight does not take a break. Shrugging off the weekend and Thanksgiving Day, Bitcoin boldly surpassed the $8,700 USD mark, on Saturday morning, November 25, 2017. Similarly, on the same date, Ethereum reached a fresh all-time high of $480 USD.
---
Bitcoin's Unstoppable Spectacular Surge
Investors have been in a bullish mood, setting Bitcoin on a steady trajectory towards the stratosphere since November 17, 2017, when the cryptocurrency touched the $8,000 resistance level. On the same date, a team of developers failed to implement the Segwit2x hard-fork.
Subsequently, for the next few days, Bitcoin moved sidewise, constrained within a channel with a support level of about $8,000 USD and a resistance level of $8,250.
Now, as of this writing, Bitcoin smashed its resistance level in spectacular form, reaching a new all-time high of $8,700, as shown in the chart below.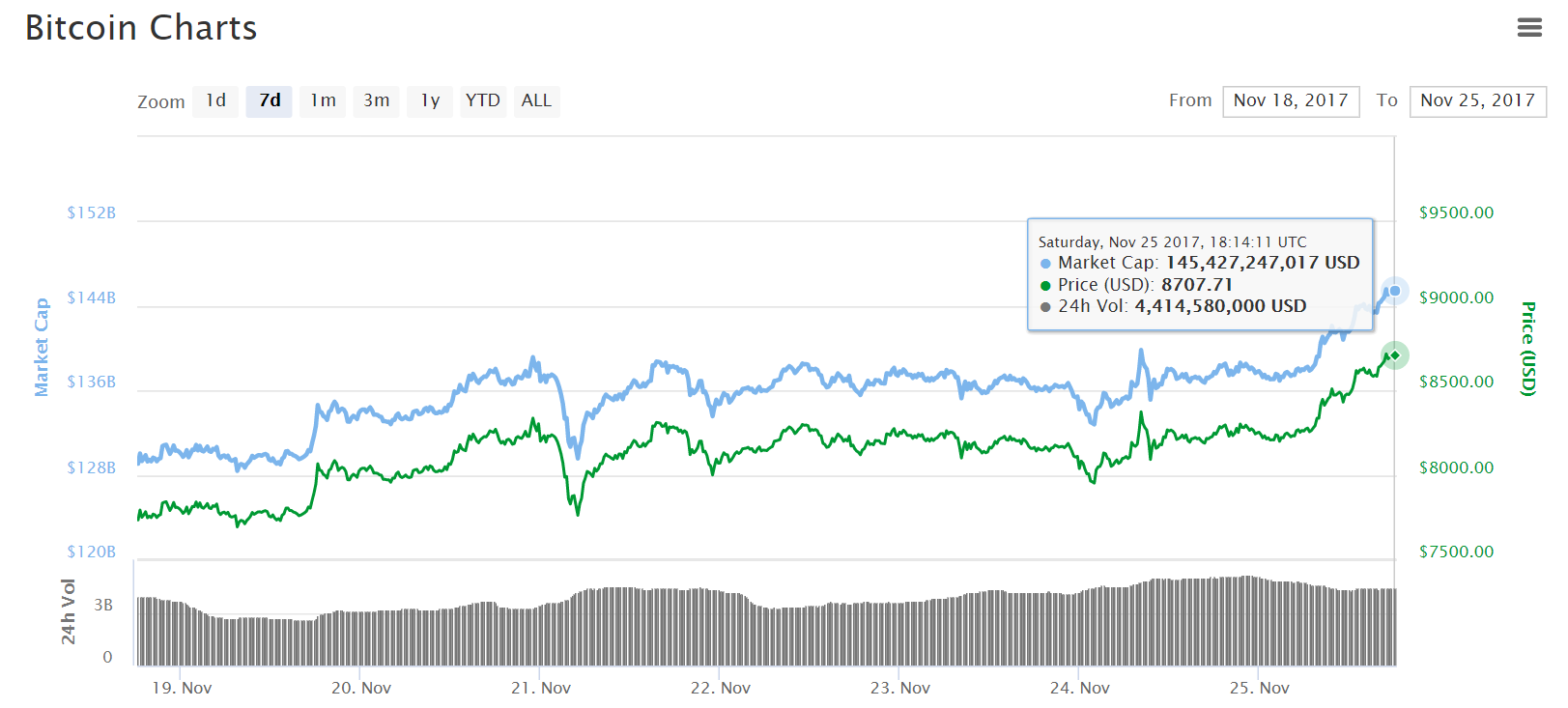 Ether and Other Cryptocurrencies Are Also Hitting New Highs
Recent market data shows that besides Bitcoin, other cryptocurrencies are also reaching all-time high values.
Ether, the currency that supports Ethereum, has also been rising astonishingly. Indeed, Ethereum's value has increased more than 5,000 percent since the beginning of this year.
Ethereum broke its $350 USD resistance level on November 19, 2017. Since then, it has continued steadily on an ascendant trajectory reaching a fresh all-time high of over $480 USD, on November 25, 2017.
Similarly, other currencies have also fared extremely well during the last 12 months, as shown in the table below.

The latest Bitcoin price moves are encouraging some experts to predict that the price of Bitcoin will reach $10,000 USD within the next few weeks.
Do you think Bitcoin will reach the $10,000 USD mark before the end of the year?  Let us know what you think in the comments below.
---
Images courtesy of Coinmarketcap, Shutterstock