Cryptocurrency trading reached a crescendo yesterday with total trade volume reaching an all-time high, topping $835 billion. The world's major cryptocurrency exchanges were forced to shut up shop to new customers as the massive surge swamped their systems.
---
The massive influx in new account applications has caused three of the top four crypto exchanges to suspend new registrations. Many of them are reporting record numbers of signups as crypto mania exponentially increases.
Binance Bolted
The top exchange in the world, Binance, has recorded over a quarter of a million account registrations in a single day, according to founder and CEO Changpeng Zhao, who apologized for the suspension in an official company statement:
Sorry guys, servicing existing members is higher priority at this point. Full team working around the clock. Both tech and support. Just too much demand. Added 250,000 new users in the last 24 hours.
A message regarding an overwhelming surge in popularity and the need to temporarily disable new registrations for an infrastructure upgrade was posted on both the Binance announcements and registration pages yesterday. Hong Kong-based Binance is a big player in the crypto trading world with a daily trade volume of around $6 billion, according to Coinmarketcap. At the time of writing, the top traded coin of the moment on Binance was Tron, followed by Ethereum. After the lock-down, Binance had just reopened to new registrations, albeit in a limited capacity, according to its Twitter feed:
We are pleased to announce that Binance will re-open limited user registrations starting today. To ensure performance for our existing users, only a limited number of new registrations will be allowed each day.  Registration open times will vary from day to day, without prior announcement. Additionally, the Binance Referral Program commission rebate will be adjusted to 20%.
The world's number two exchange by trade volume, Bithumb, remains open for registration at the moment. It is marketed more towards the South Korean market and often has much higher trade prices for cryptocurrencies than other exchanges, which could deter new signups.
Bittrex, Bitfinex Blockade
The third most popular exchange, US-based Bittrex, also came under heavy load and closed its digital doors to new users. A message posted on the exchange's support page explained the situation:
We have received an enormous number of new account registrations over the past few weeks … Unfortunately, we have to make a few upgrades to our support and backend systems to handle the increased traffic and load.  As such, we have halted new user registrations for the time being.
Bitfinex, the fourth largest exchange with over $2 billion in trade volume for the past 24 hours, also denies new user accounts at the time of writing. Those wanting to join the trading frenzy were greeted with disappointment as a popup on the signup page read:
…due to extraordinary demand, new account creation has been temporarily paused. Bitfinex focuses on serving professional traders. The reason we have decided to temporarily stop accepting new accounts is that we cannot undermine the quality of our services for our existing traders by flooding the system with new, small accounts. Please be patient while we expand infrastructure, services, and staff to meet the exponential rise in demand for new Bitfinex accounts.
The message went on to state that new account registration will resume by January 15th at the latest.
US-based Poloniex remained open but warned new users that profile verification may take up to several weeks. Some users have even taken to social media to offer their open and verified exchange accounts for re-sale, with one offering a fully verified Binance account for 10 BTC.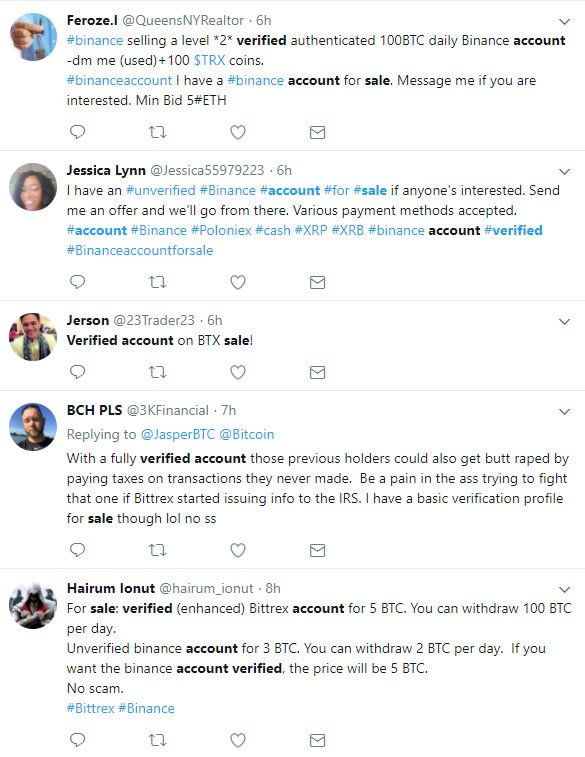 Verified accounts have also started appearing on eBay. Binance has already posted a warning about selling accounts:
We would also like to remind our users again that the selling of Binance accounts is strictly forbidden. For the safety of your funds, we will freeze and disable all Binance accounts that are identified as being bought/sold.
The crypto fever continues, and we are only a week into 2018. At this rate, the total market capacity will soon be at a trillion dollars and a decentralized solution to the exchange problem will be needed more than ever.
Have you tried to register for an account recently? Share your experiences in the comments below. 
---
Images courtesy of Twitter/@mistaCrypt, Twitter/@QueensNYRealtor, Twitter/@Jessica55979223, Twitter/@23Trader23. Twitter/@3KFinancial, Twitter/@hairum_ionut, Pxhere, and Bitcoinist archives.