Just 24 hours ago, Bitcoin surged above $10,000 for the first time in weeks in a move that shocked the market. During the rally, over $100 million worth of short positions were liquidated as the asset jumped nearly $1,000 higher within an hour.
But just as fast as BTC has rallied, it has reversed.
As reported by Bitcoinist previously, the asset was hit with a barrage of sell orders that took the asset as low as $8,600 on BitMEX. The sell orders took Bitcoin more than $1,500 down in three minutes, liquidating another $100 million in derivatives positions in the process.
Bitcoin Uptrend Still Intact, Analyst Says
Bitcoin's drop today was devastating for bulls. The cryptocurrency fell back below the $10,000 psychological support, while the bullish momentum that came from the day earlier was lost.
Yet according to a prominent chartist the uptrend "looks intact."
Nunya Bizniz shared the image below that illustrates this. It shows that today's price drop ended exactly where a technical uptrend formed after the $3,700 March 2020 lows is, suggesting that bulls remain in control from a medium-term perspective.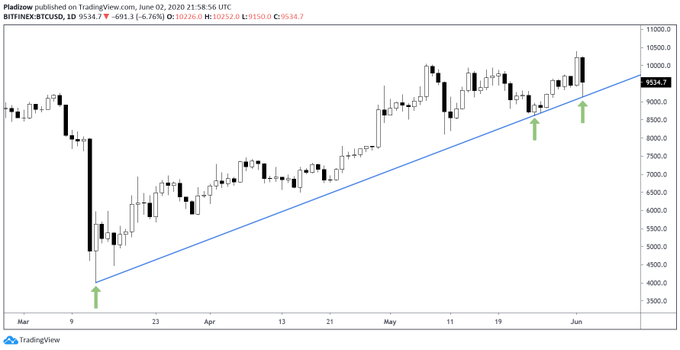 While the uptrend may be intact, Bitcoin is still under a crucial resistance level: $10,500.
The fact that BTC has failed to break this level after successive takes at breaking it shows that the crypto market is not yet out of the woods.
Fundamentals Are Still Leaning Bullish
Whatever the case, the fundamentals of Bitcoin remain bullish.
Financial analyst and author Preston Pysh identified three such fundamental factors that suggest a further rally in the price of Bitcoin is in the works. These factors are as follows:
Through Grayscale's Bitcoin Trust, institutional investors have been stacking a vast amount of Bitcoin since the halving and even prior to that.
The Chinese yuan has started to fall against the U.S. dollar to lows not seen since 2019 due to Hong Kong tensions. The U.S. is looking to impose sanctions on China because a new law threatens the autonomy of Hong Kong, analysts say. BTC may act as a safe haven in this scenario, just as it did when the yuan devalued in 2019.
The U.S. dollar and financial system may be reaching a point where it will "break" due to macro trends, according to Pysh. This would force the creation of a new financial system.
Featured Image from Shutterstock
Tags: XBTUSD, BTCUSD, BTCUSDT