Bitcoin surged past $12,000 on Monday morning, rallying as certain altcoins plunged. The move brought the cryptocurrency as high as $12,100.
Just as fast as BTC rallied, though, it dropped.
Just hours after $12,000 was tapped, Bitcoin plunged around $500 in the span of an hour, forming a "Bart" formation.
The Bart brought the cryptocurrency as low as $11,500 on major exchanges.
Analysts remain bullish on the leading cryptocurrency as BTC is holding pivotal support levels and is still in an uptrend.
Bitcoin Is Still Bullish
Bitcoin remains in a bullish market structure despite the "Bart" drop that took the asset as low as $11,500 on Monday.
One trader shared the chart below after the rapid plunge, noting that Bitcoin remains bullish from a technical standpoint. According to the commentator, the leading cryptocurrency is likely to consolidate in the $11,700-11,800 range before surging to $12,350 or so by Tuesday or Wednesday.
$12,350 purportedly is an important level for Bitcoin to reclaim on a weekly basis, with the trader calling it a "one-week high."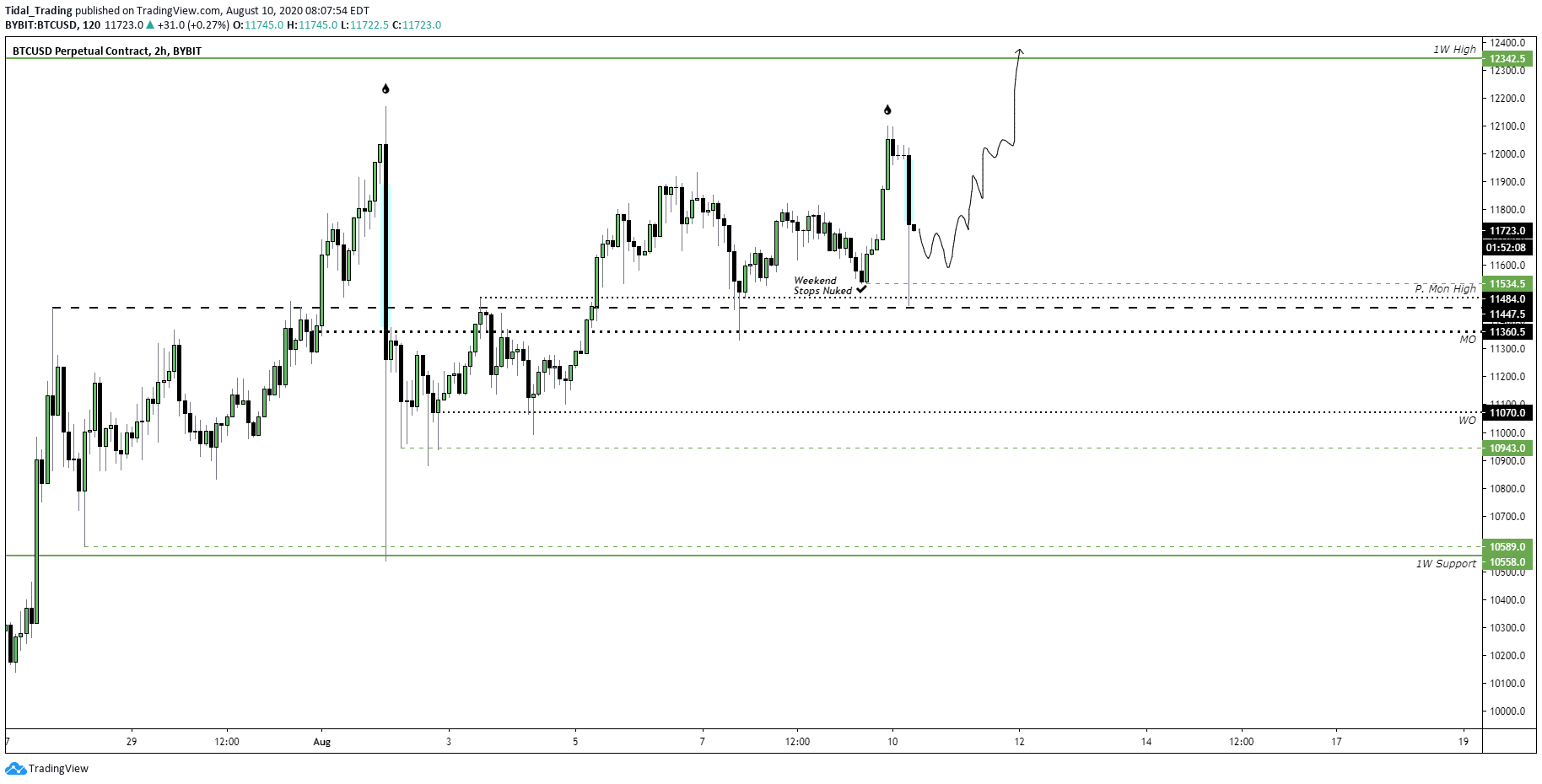 Chart of BTC's price action since the end of July with an analysis by cryptocurrency trader HornHairs (@Cryptohornhairs on Twitter). Chart from TradingView.com
Other analysts are in agreement that Bitcoin is primed to see another leg higher.
As reported by Bitcoinist previously, Eric "Parabolic/King" Thies noted that now that Bitcoin has crossed above $11,500 on a weekly basis, it is primed to move to $13,300:
"$BTC 1M Chart. Current price $12,025. Resistances at $13.3k -> $14.5k -> $17.1k -> $19.5k. Bull run starts at new ATH… $20,000. Lets ride."

Chart of BTC's macro price action with resistance analysis by Eric "Parabolic/King" Thies, a cryptocurrency analyst and indicator creator. Chart from TradingView.com
Long-Term Bull Case Still Abundantly Strong
Even if BTC does not end up moving to new local highs from here, many analysts are convinced that the asset's long-term outlook is more bullish than ever before.
Raoul Pal, the chief executive of Real Vision, says that the fundamentals of Bitcoin are extremely strong. The Wall Street veteran went as far as to say that he is irresponsibly long on the cryptocurrency:
"My conviction levels in bitcoin rise every day. Im already irresponsibly long. I am now thinking it may not be even worth owning any other asset as a long-term asset allocation, but that's a story for another day (I'm still thinking through this)."
The charts indicate that this optimism may be warranted. One analyst noted that since Bitcoin held above $11,500 into Sunday's weekly candle close, bears have little hope.
Featured Image from Shutterstock
Price tags: xbtusd, btcusd, btcusdt
Charts from TradingView.com
Despite $500 "Bart" Pattern, Analysts Are Still Bullish on Bitcoin