Ethereum's price is more than 80% below its all-time high above $1,400. Yet this bearish price performance on a macro scale has not stopped users from flooding to the network.
Data suggests that usage of the network is starting to reach the highs seen at the peak of 2018's bubble. ETH's price is unlikely to follow, though, analysts say.
Number of Active Ethereum Addresses Spikes
The latest blockchain data shows that Ethereum users are shrugging aside the indecisive price action. Blockchain analytics firm Santiment reported on June 29th that the number of addresses interacting with the network has reached two-year highs.
"The number of daily addresses interacting with $ETH has spiked in the past 24 hours to a 2-YEAR SINGLE DAY HIGH of 486,000 addresses! The last time Ethereum's address activity was this high was on May 5th, 2018," Santiment wrote in reference to the data seen below.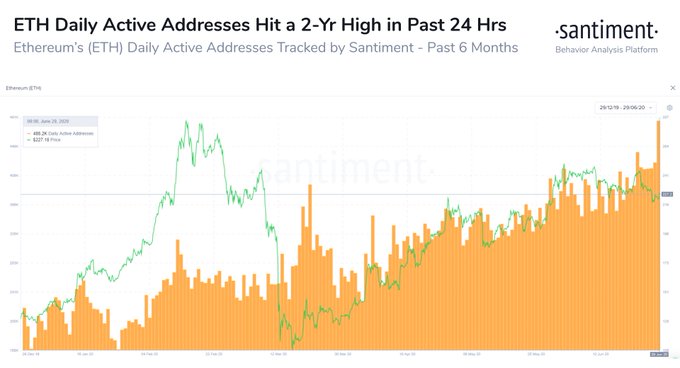 Prominent ETH proponent Anthony Sassano shared data from another firm in Santiment's sector, Glassnode, suggesting the same.
It seems that the growth in the Ethereum network is due to decentralized finance (DeFi).
Due to extremely high yields offered by ETH-based protocols in the finance field, there have been many users wanting to capitalize on these trends.
Coins related to DeFi have also spiked, with analyst Taha Zafar sharing that many altcoins on Ethereum are up hundreds of percent in recent weeks. 
These trends are likely drawing in users from across the crypto space looking to profit while Bitcoin and ETH effectively flatline.
ETH's Price Still Bearish
Despite this on-chain growth, the cryptocurrency is purportedly in a bearish state.
One trader recently shared the chart below, suggesting that if Ethereum slides slightly lower, it could plunge to $120. That would mark a 55% correction from current prices.
Another analyst shared that ETH's four-hour chart is "inches away" from printing a bearish trend signal. Should this take place, this will be the first instance of this happening since March 10th, just days prior to the crash to $85.
There are also some fundamentals that may be threatening the cryptocurrency's price outlook. 
As reported by Bitcoinist, the recent spike in usage of the network has been met with high fees. Former Messari executive Qiao Wang, who is also a notable crypto analyst, said that Ethereum could be "dethroned" by a competitor:
"So long as ETH 2.0 is not fully rolled out, there's an obvious opportunity for a highly scalable blockchain to dethrone Ethereum. Paying $10 transaction fee and waiting 15 seconds for settlement is just bad UX."
I've changed my mind after using a dozen of Defi platforms. So long as ETH 2.0 is not fully rolled out, there's an obvious opportunity for a highly scalable blockchain to dethrone Ethereum. Paying $10 transaction fee and waiting 15 seconds for settlement is just bad UX. https://t.co/vXAAFET3YK

— Qiao Wang (@QWQiao) June 28, 2020
Featured Image from Shutterstock
Price tags: ethusd, ethbtc
Ethereum Active Address Count Hits 2-Year Highs, Yet ETH Is Still Bearish