After attempting a breakout on June 1st, Ethereum saw a brutal rejection on June 2nd that saw it fail to decisively pass the $250 price resistance.
Like Bitcoin, the second-largest cryptocurrency plunged 10%, falling as low as $225 on most spot exchanges.
While Ethereum is still trading at prices higher than that seen just four days ago, the drop marked a strong rejection at a crucial resistance zone. This suggests the market has further to drop.
Ethereum Rejected At Crucial Level
In failing to hold above $250 and beyond, Ethereum failed to pass a key downtrend that has haunted this market for the past year.
One trader shared the chart below that illustrates this point. It shows that ETH has printed a bearish reversal candle right where there is a technical downtrend lies that has constrained price action over the past year.
Due to this rejection and the formation of the bearish candle, the analyst postulated that the asset could retrace to $150 by July. That would mark a 35% drop from current prices.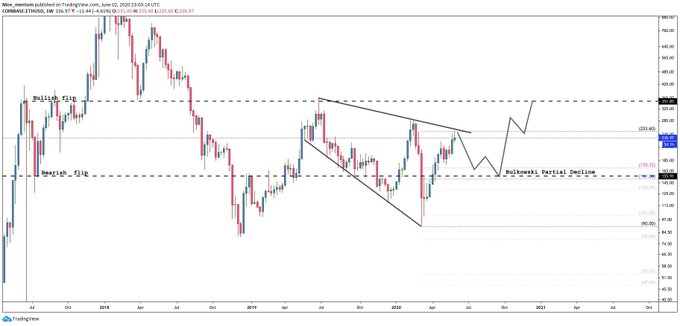 Investors Are Leaning Long on ETH
While analysts may be betting on the downside, the majority seem to be betting that there is long-term upside in ETH's sight.
Crypto derivatives platform Deribit recently released its latest weekly report on the options market. Options are financial contracts that give the buyer the right, but not the obligation to buy or sell an asset "at a specified price within a specific time period."
4) The Call side is very interesting.
Longer-term call buying ETH, and in less size Calls+Call spreads Sep-Dec BTC, holding term structure firm while the fronts collapse.
BTC Call sellers near month still looking for yield but at these vols, having to sell nearer spot than liked.

— Deribit Insights (@DeribitInsights) May 29, 2020
The firm found that there have recently been "structural changes in [the] options market" for Bitcoin and Ethereum. These changes show that there has been an influx in "long-term call buying" with ETH.
That's to say, traders of options are growing optimistic that Ethereum sees price appreciation in the long run. Deribit, however, didn't clarify what contracts they are buying, so it isn't clear exactly how bullish these traders are.
Also, Raoul Pal, the chief executive of Real Vision and former head of Goldman Sachs' hedge fund sales division, seems optimistic as well.
While he noted that he currently does not have an Ethereum position, the prominent macro analyst explained that the asset is primed to see growth in the coming weeks and months.
"It even looks like Ether will outperform Bitcoin at some point (no position yet). Please remember: No tribal attacks about bitcoin vs ethereum. They are two different things and two different ecosystems," he said in reference to the chart below. The breaking of the donwtrend convinced Pal of the bull case. 
Featured Image from Shutterstock 
Price tags: ethusd, ethbtc
Ethereum Prepares to Dive 35% as Price Rejects at Crucial Resistance Level: Analyst