Bitcoin's performance over the past three days has been impressive, but even more so is Ethereum's rally. Coin360.com data shows that the second-largest cryptocurrency is up 23% in the past seven days, while BTC is up 14% in that same time frame.
Investors in ETH believe that this trend will continue, citing the asset's booming fundamentals. Yet a prominent analyst is calling for Ethereum to retrace against Bitcoin.
The analyst in question is one that predicted in the middle of 2018 that BTC would bottom at $3,200. This was an accurate prediction, with the leading digital asset putting in a macro low at $3,150 just six months after the forecast.
Ethereum Could Crash Against Bitcoin?
The analyst recently opined Ethereum still remains trapped in a potentially corrective pattern against Bitcoin. Due to the technical resistances overhead, the asset will soon top out and then fall towards macro lows, he implied in the chart seen below.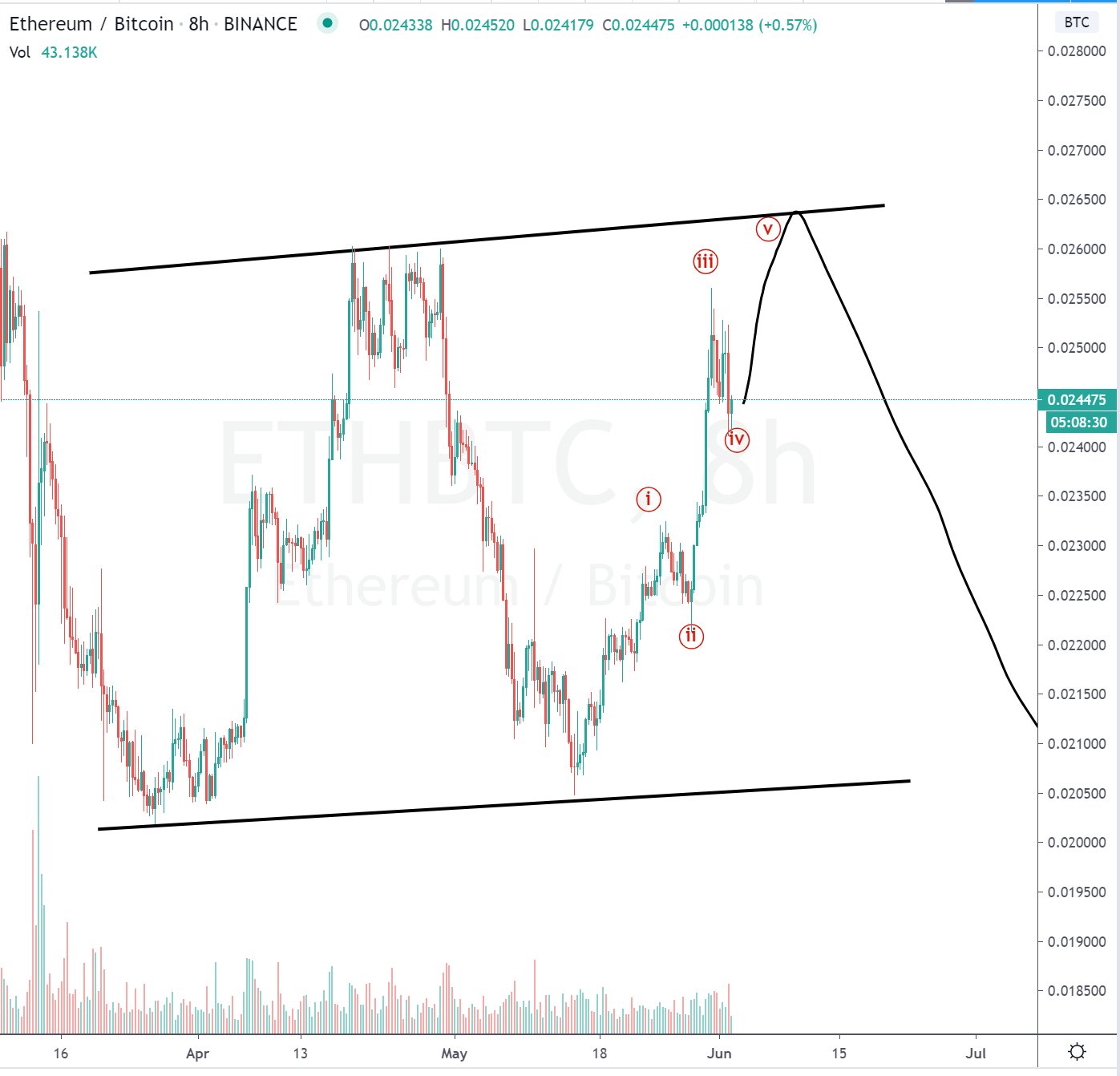 This comes shortly after the same analyst shared a bearish medium-term outlook on the charts of EOS, XRP, Bitcoin Cash, and Litecoin. Per previous reports from Bitcoinist, he said the following on those assets:
"I am very weary on alts here. Very ugly daily candles forming on a lot of the majors. EOS, XRP, BCH, and LTC all look like trash and likely going to have deeper C waves and head lower highs start forming here."
There are fundamental reasons to be bearish on altcoins, not just Ethereum.
The co-host of the "Keiser Report" and one of Bitcoin's earliest public advocates, Max Keiser, said in an interview that there is "no coin out there that can do something that Bitcoin doesn't do already or will be able to do shortly." 
A Top Macro Analyst Begs to Differ
Despite the growing bearish sentiment about altcoins as a whole, a prominent macro analyst thinks Ethereum can outpace Bitcoin.
Raoul Pal, the chief executive of Real Vision and former head of Goldman Sachs' hedge fund sales division, shared the chart below after Monday's rally. The chart shows ETH breaking out past a key resistance level against Bitcoin.
"It even looks like Ether will outperform Bitcoin at some point (no position yet). Please remember: No tribal attacks about bitcoin vs ethereum. They are two different things and two different ecosystems," he said in reference to the chart below. The breaking of the donwtrend convinced Pal of the bull case.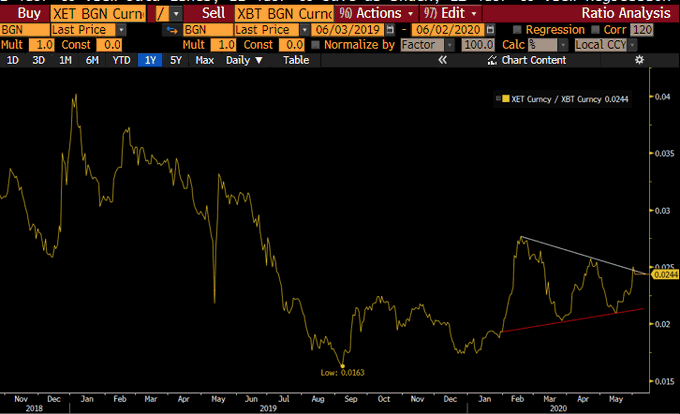 Pal's optimism has been echoed by a few other market participants.
Partner at crypto fund Bitazu Capital, Mohit Sorout, noted in late April that it is "quite possible that ETH has printed a major cycle low [against Bitcoin]." As to why he thinks this is the case, the investor pointed to two favors on ETH/BTC's chart:
ETH/BTC has begun to print consecutive higher lows and higher highs, indicative of a reversal.
And the directional movement index (DMI) indicator has recently crossed bullish.
Quite possible that $ETH/ $BTC has printed a major cycle low.

Weekly market structure is bullish? pic.twitter.com/0lYYK1V7zP

— Mohit Sorout ? (@singhsoro) April 25, 2020
Featured Image from Shutterstock
Tags: ethusd, ethbtc, btcusd