ETH has been consolidating within a sideways range for the last 2-3weeks and looks to finally break to the upside. Ethereum price action has broken out of an asymmetrical triangle and looks poised for a move back up to $300 this week.

---
Ethereum Price 4-Hour Chart Analysis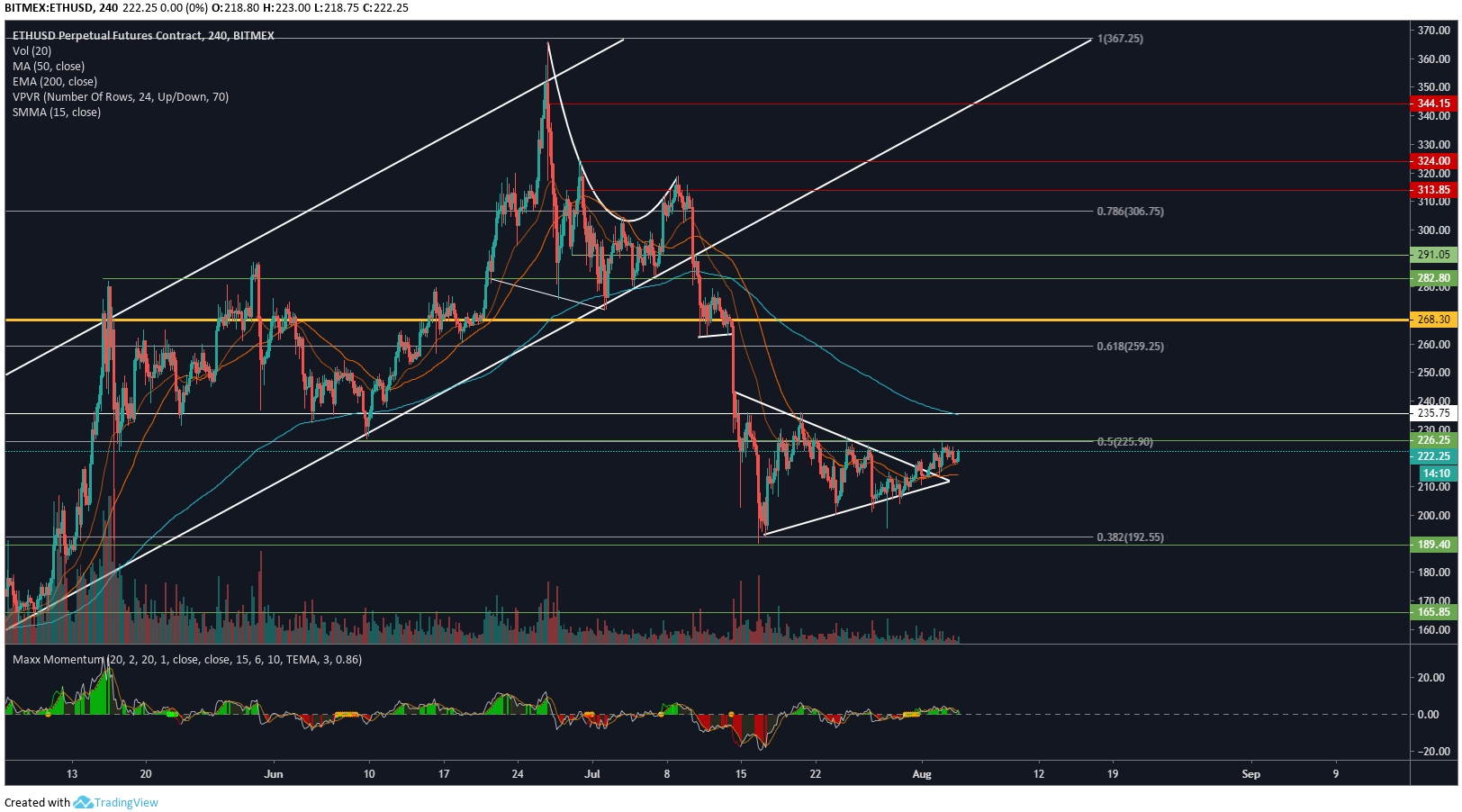 On the 4 Hour chart for ETH/USD, we can see the period of consolidation that has taken place over the last 2-3weeks forming an asymmetrical triangle as mentioned in my previous ETH analysis, which has recently been broken to the upside. I will be watching closely over the coming days to see if price action can break above $235 where the 200 EMA is currently sitting. In order for a sustainable uptrend to form price levels must cross the 200 EMA and hold above it.
Maxx Momentum has flashed a buy signal at the breakout point displayed by orange dots as momentum shifts from red to green. POC (Point of Control) still remains above the key previous break-down point at $270 and will be a sensible short-term target if price action manages to breach the 200 EMA.
Price action has formed a small uptrend as a result of the breakout despite very low volume in comparison to volume levels seen throughout May and June. This is an indication that there is predominantly buyers around market price and selling momentum has come to a halt.
---
ETH/USD 1 Hour Chart Analysis

On the 1 Hour chart for ETH/USD, we can see more clearly the short-term uptrend that has resulted from the recent breakout of the asymmetrical triangle. Price action is approaching a key resistance point at $226. It's likely that if price levels breach this resistance point we will see further upside on ETH over the coming week.  200 EMA running up the support of the newly form ascending channel will act as additional support including POC at the same price point.
It's likely we'll see wicks break the channel and cause traders using high leverage to be stopped out. If you're buying within this channel it's advised to leave ample room with your stop loss to avoid this happening to you.
After $226, the next main resistance points lie at $235, and $260 where the 4 Hour POC sits. Due to the recent breakout, any type of bullish momentum re-entering ETH around current market price levels will likely result in price levels pumping back towards $300 and there's next to no selling happening on ETH as of now.
Do you think ethereum price will return back to $300 over the coming week? Please leave your thoughts in the comments below!
---
Images via Shutterstock, ETH/USD charts by tradingview