Since the blow-off top at $3.30 seen at the start of 2018, XRP has been in a consistent macro downtrend. Even as Bitcoin and other cryptocurrencies roared higher in mini bull markets, the cryptocurrency's price has been muted, trending lower and lower over time with seemingly no bottom to speak of.
XRP remains more than 90% below its all-time high as of the time of this article's writing, despite the more than 100% rally from March's capitulation lows.
XRP Is "Wildly Overpriced"
Despite this harrowing macro performance, a crypto trader thinks the altcoin isn't done bleeding out yet, recently writing:
"Call me crazy but I don't think XRP will ever break $1.00 again, much less $3.00. Even at 23 cents, it's wildly overpriced."
It was an assertion that has been echoed by other crypto traders in recent weeks.
One pseudonymous derivatives trader explained that while the cryptocurrency may have "promising technology," there is no guarantee that the promise of the technology will result in XRP experiencing gains that match those seen in 2017.
Referencing how the charts below look like XRP, the analyst wrote:
"Here are just a few of the hundreds of 10-year charts you can find for 'promising tech'. See a similarity? Many of these same charts have forums of people still talking about the recovery to come."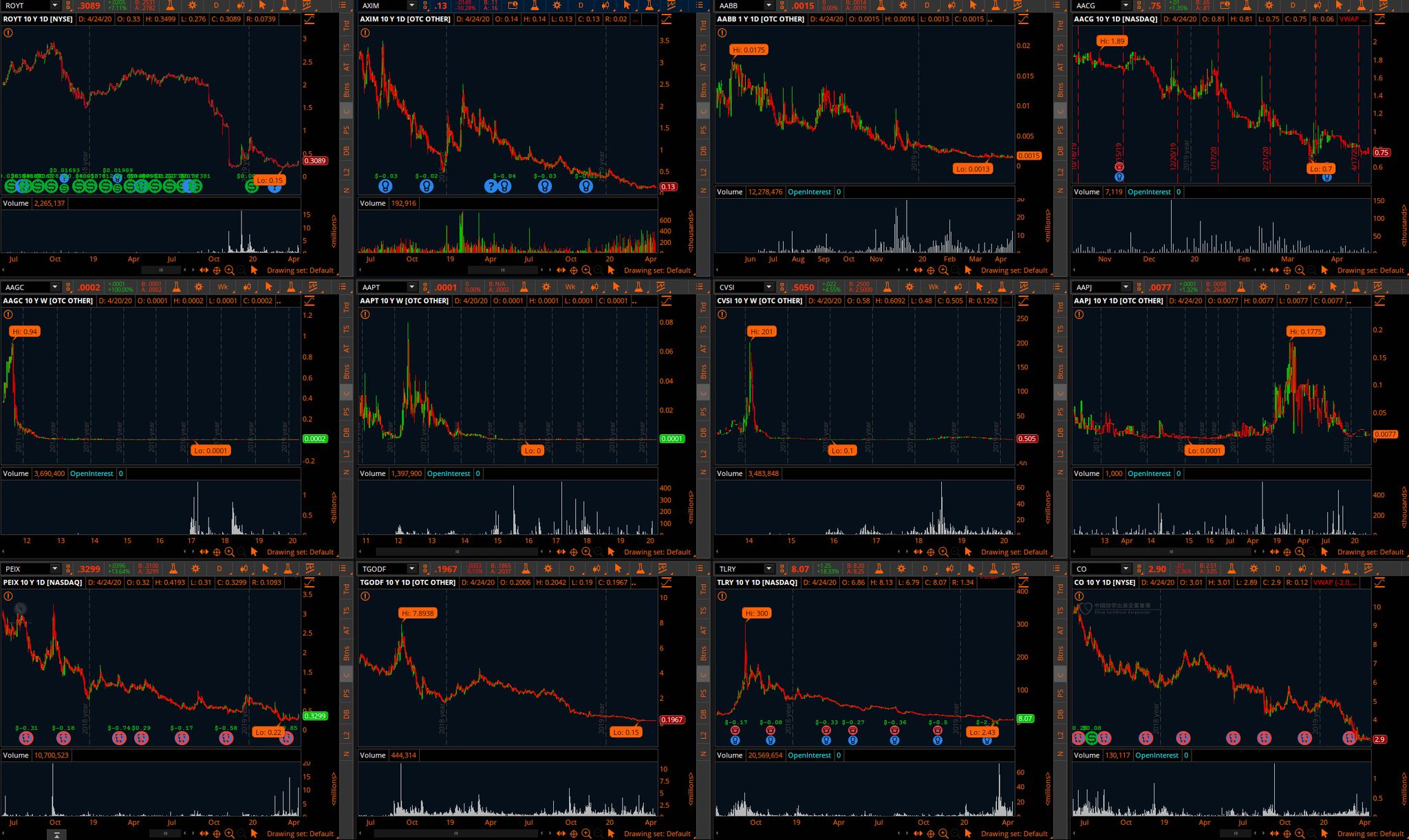 It's Evident in the Technicals
In terms of technicals, a top chartist warned that the cryptocurrency's macro chart is one of the "scariest charts" out there, referencing the lack of historical liquidity on the downside and pointing to how XRP was rejected a key horizontal.
This bearish sentiment was echoed to a "T," so to say, by Peter Brandt, a long-time commodities trader and Bitcoin bull. Brandt explained that the long-term chart of XRP is extremely bearish because there is only "white space below" its price, with little historical support or liquidity.
Brandt didn't convey a prediction for XRP in accompaniment with the chart, but many took this statement as a sign that he sees the cryptocurrency falling to a price in the single-digit cents, and maybe even lower.
It Isn't Only XRP Poised to Underperform
While it may seem like XRP is being singled out, a growing sentiment in the cryptocurrency trading community is that all altcoins are poised to underperform.
An analyst working for crypto research firm Blockfyre shared that he is reducing his exposure to altcoins because he believes Bitcoin's block reward reduction will cause volatility that results in altcoins "getting rekt."
The analyst continued that from how he sees it, altcoins are always a "game of musical chairs" as the reasons they are rallying are all "red flags," not fundamental developments:
"The reason the alt pumps are unconvincing is because they have followed the same patterns. IEO's, Interoperability, privacy coins moving together. It's coordinated as it has been the last 3 years instead of all ships rising together."
Photo by ???? ??? on Unsplash