HitBTC hit the news again, passively this time after its competitor CoinBene made an anarchist announcement against the #7 exchange. Any cryptocurrency that will voluntarily choose to leave HitBTC will be welcomed for free on CoinBene.
---
John McAfee's War Against HitBTC
John McAfee said that he's keeping the pressure on cryptocurrency exchange HitBTC after rival exchange CoinBene announced a new partnership with the McAfee alliance to fight corruption in the cryptocurrency space.
https://twitter.com/coinbene/status/1039557469998120962
The same event announced a new interesting partnership – CoinBene and John McAfee's Alliance – as explained in the tweet above. According to McAfee, the McAfee Alliance works hard to fight against corruption in the crypto space.
John McAfee himself declared war against HitBTC a long while ago, raising a fever against this exchange across the community. To convince yourself, check out the comments left by other users to his tweet from McAfee on June 30, 2018:
I fired the first shot in the war that must be fought. Our exchanges are connected to our banks and our governments. To take down the entire system, we must first take down our exchanges. Distributed exchanges are coming. I have singled out @hitbtc becase they are the worst.
Reddit has seen an equally weighty crowd of traders protesting against HitBTC's fees and, most importantly, against their random freeze of funds and accounts. Here's a screenshot of the hottest announcements on r/HitBTC: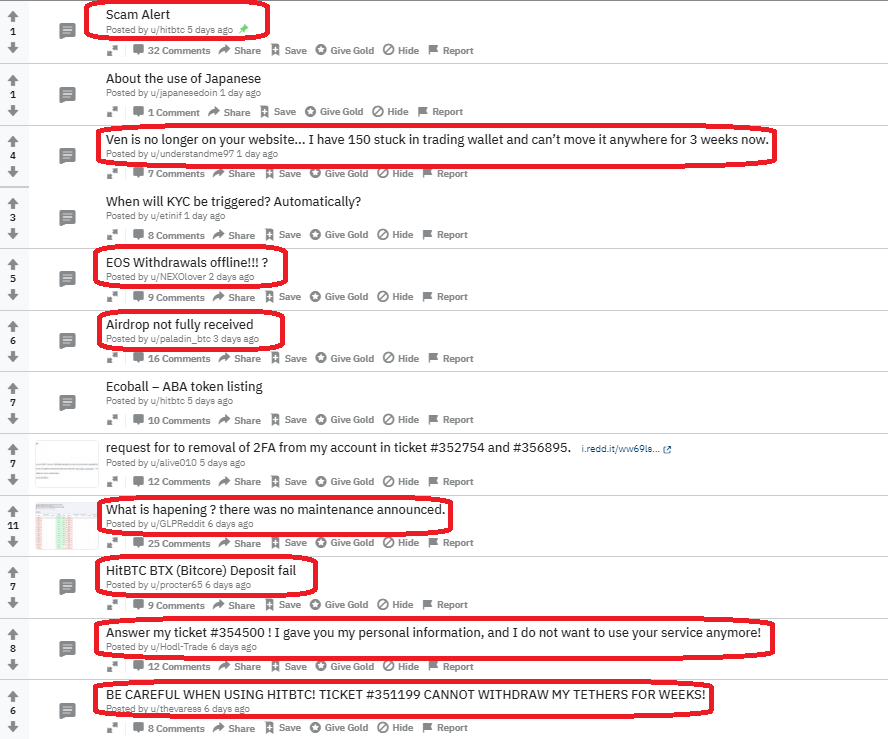 Two out of every three posts on their subreddit bear a negative message about HitBTC's service.
Apollo Sets an Example
A first example forwarded by John McAfee as a role model to other cryptocurrencies is Apollo. Its team announced their decision to refuse listing on HitBTC on September 5th, due to an "overwhelming number of fraud allegations" against the exchange.
On September 7th McAfee's reply read:
Apollo Currency is the first organization to boycott HitBTC at cost of nearly half a million dollars. If awards for supporting ant-corruption in the crypto world were given, they would win top prize. Do I hear a "next"?
Yes, it is expected that Apollo's move created a precedent across the crypto world. Besides, its popularity increased substantially among traders following the decision. According to certain sources, HitBTC does indeed ask for roughly $500,000 for cryptocurrency listings. In case you were wondering, they are currently hosting a total of 783 coins on the platform.
Coinbene to Compete Against HitBTC?
CoinBene is currently rank #34 (already stepped one rank up while writing this) while HitBTC still enjoys #7. However, the volume traded on CoinBene is currently 4.22% up, while HitBTC's is more than -10% down.
McAfee's (presumably) free advertising campaign will certainly help as well, so perhaps CoinBene's perspectives to join at least the Top 20 exchanges, if not the Top 10, soon are not in the far future. With that potential, perhaps the only thing it's missing right now is an additional 600 cryptocurrencies on their platform.
What are your thoughts on the allegations against HitBTC? Don't hesitate to let us know in the comments section below!
---
Images courtesy of Reddit, Shutterstock