Starting off a weekend packed with Major League Soccer action is the match-up of the Portland Timbers vs New York Red Bulls, taking place in Portland, Oregon at the home of the Timbers in Providence Park. Local kick-off time is set to be 10 pm so do lock your coin bets in early to make the best of the available odds.
---
N.Y. Red Bulls vs. Portland Timbers
Following last week's disappointing defeat to Toronto FC, the home side is keener than ever to find redemption with a hopefully credible performance in front of the home fans. Both sides are expected to have their starting 11 well rested prior to the Friday (local time) clash, we are in for a treat. With no suspensions or outstanding duties, the Timbers are still nursing injuries from Chance Myers' supposed hamstring tear, Liam Ridgewell's quadricep as well as Fanendo Adi and Gleeson's hamstrings respectively. Gbenga Arokoyo will be out for a lengthy period due to an unfortunate Achilles tear also.
Who will you call to open with a screamer on the Portland side? Our call will be either Diego Valeri or Jeremy Ebobisse to score with a full-time score of 2-1 in favor of the home team. The odds are equally as charming as the thought of a positive performance. Out of their previous seven matches, New York Red Bulls have come out on top 6 times, however, this might just be the day for a change.
The New York Red Bulls have recently been victorious over FC Cincinnati in their US Open Cup Semi Final with an impressive 3-2. Bearing in mind they failed to reach the win within 90 minutes, we could be in for some extra time against the Timbers likewise. Again, no suspensions lined up for the Red Bulls, however, a long list of injured players include Daniel Royer and Mike Grella with knee injuries, with Grella being out for the rest of the season due to surgery. Overall our pick for this one will be more than 3 goals scored in the game – looking at the past few games it would make absolute sense to see a goal shower approach out of the blue.
Are the New York Red Bulls going to show a Cup Final worthy performance this weekend or are Sporting KC in for a breeze to lift the trophy?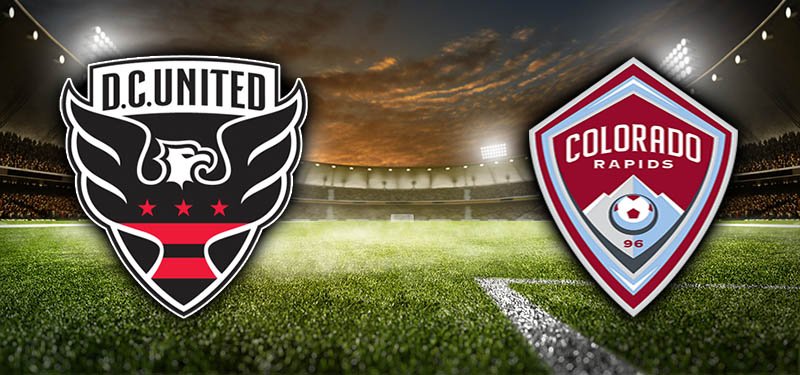 D.C. United vs. Colorado Rapids
On the other hand, D.C. United are paying Colorado Rapids a rapid visit indeed. Following major infrastructural changes at both clubs, the two will go head to head to see who adapted better. D.C. welcomed their new coaching team with open arms and are reportedly ready to go to war.
The absence of Pablo Mastroeni on Saturday evening locally will be rather odd for the fans, considering his fixture-like presence for the Rapids over the years. Both the fans and management are hoping to see a new trend bringing some significant results in as the weeks pass this season.
D.C. United's head coach Ben Olsen is equally seeking redemption following a disappointing 1-0 defeat at home against Real Salt Lake. Bearing in mind that the game was postponed due to weather issues, the players were likely not enjoying the inconvenience but that cannot be used as an excuse for either side – you have to cope with what you have.
Zoltan Stieber is reportedly still waiting on his Visa so he will not be on our favorites list to open with a screamer. Either way, we are rooting for a 1-1 full-time result as we cannot see goal numbers exceed 2 or more. With some saucy odds, Nick DeLeon or Luciano Acosta are a good pairing to put your hard earnt cryptocoins on.
Let us know who your bets are on and suggest some score lines for next week's line ups!
This Weekend's Major League Soccer Match-Ups
The full list of Major League Soccer clashes this weekend are listed below:
Portland Timbers vs. New York Red Bulls
Orlando City vs. Colombus
Montreal vs. Real Salt Lake
Chicago vs. Toronto FC
Sporting KC vs. FC Dallas
Colorado vs D.C. United
Vancouver vs Houston Dynamo
San Jose vs. Philadelphia
New York City FC vs. New England
Think you've got game? For the hands-down best odds in town, visit SportsBet.io. They offer an easy to use interface that is lightning fast and the most flexible Bitcoin betting options. Wager as little as 0.1 mBTC or go big all the way up to 100 BTC. Sign up today for exclusive welcome offers and other bonus promotions.
---
Images courtesy of Wikimedia Commons