This one really threw me for a loop this morning…

Firstly, kudos to the Australian Government for embracing and exploring opportunities in blockchain. But some people are wondering is how blockchain can improve government services.
Blockchain technology's main use is for creating immutable, open source, borderless, censorship-resistant, and trustless data. These are not usually something government services need. Whatever the Australian Government is working on to improve data security and whatever else might surely be done more efficiently with a centralized database.
The more I dug into this story though, the more I found things just not adding up. Buzzwords like blockchain, artificial intelligence, and quantum computing are being thrown around, and it seems like a lot of people don't really understand what they mean.
Both IBM and Australian politicians are claiming this as a win, even though it's not at all clear how this will affect the already murky relations between the two parties.
What is clear is that if Australia would like to meet their goal to be one of the top three digital governments in the world by 2025, they might want to start by fixing the internet, which is reportedly slower than Khasakstan.
If governments around the world want to help foster innovation with blockchain, which they should, the best place to start is by creating the right regulatory environment for companies to start disrupting business activities and sectors that are ripe for change. It's not entirely clear that public services are the right place to start.
@MatiGreenspan
eToro, Senior Market Analyst
Today's Highlights
So it Begins
Is the Bear Coming?
Ripple in Japan and the USA
Please note: All data, figures & graphs are valid as of July 6th. All trading carries risk. Only risk capital you can afford to lose.
Traditional Markets
The trade war has now officially begun!
This morning, the United States has imposed groundbreaking tariffs on $34 billion worth of Chinese goods. China has responded with an equal amount of counter-tariffs.
Looking at the stock markets you wouldn't necessarily notice any reaction to today's updates though.
The China50 and Nikkei 225 are up more than 1% today and the European markets opened notably flat.
It probably makes sense though that the reaction to this specific update has been muted. After all, the markets have had adequate time to prepare for this event and so it wasn't at a surprise or shock.
The bigger question is where do we go from here?
Is this entire trade war thing just a distraction as many seem to think, or will it get worse and affect the entire global supply chains as others have claimed?
Well, unfortunately, nobody can really answer that question so it seems that most are just kind of getting picky about their investments.
A recent report from Goldman Sachs indicated that more than 100% of the S&P500's returns so far this year have come from just 10 stocks.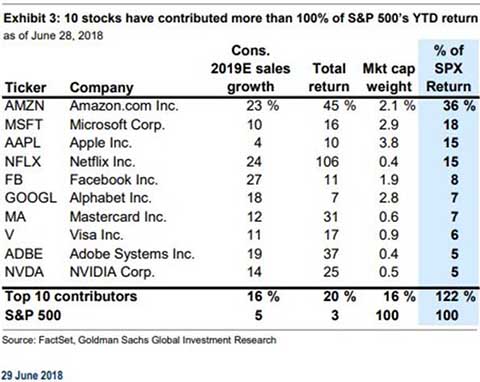 Also, look out for the US Jobs report today at 8:30 AM New York time. All evidence suggests that it should go smoothly. However, if there are any surprises in the data it definitely has the potential to shake things up, especially with many traders still on holiday there.
Ripple in Japan
Yesterday a new cryptocurrency exchange came online in Japan, which is backed by the powerhouse financial firm SBI Holdings.
The new service is currently doing a gradual rollout that will only be available for 20,000 of their 4 million customers to get started and will only offer a single digital asset… XRP.
Speculations are running high on Reddit as to what this might mean for the price of the tokens.
Meanwhile, in the United States, things don't seem to be going so great for Ripple.
Ripple Labs and its founders have been slapped with a third lawsuit from investors claiming that the XRP tokens should actually be considered as unregistered securities.
The US government has already come clean and indicated that Bitcoin and Ethereum are not considered securities. However, the jury is still out on Ripple's XRP token. We'll be watching this one very closely going forward.
Wishing you an amazing weekend!
This content is provided for information and educational purposes only and should not be considered to be investment advice or recommendation. 
The outlook presented is a personal opinion of the analyst and does not represent an official position of eToro.
Past performance is not an indication of future results. All trading involves risk; only risk capital you are prepared to lose.
Cryptocurrencies can widely fluctuate in prices and are not appropriate for all investors. Trading cryptocurrencies is not supervised by any EU regulatory framework.
Best regards,
Mati Greenspan
Senior Market Analyst
Connect with me on….
eToro: http://etoro.tw/Mati
Twitter: https://twitter.com/matigreenspan
LinkedIn: https://www.linkedin.com/in/matisyahu/
Telegram: https://t.me/MatiGreenspan
---
Images courtesy of eToro, PxHere