Bitcoin price now appears to be shrugging off politics that have split the community as it looks to test the critical $1,300 mark yet again.
---
Key Resistance Level at $1,300
BTC price is again coming within striking distance of the critical $1,300 mark, currently sitting at $1,250 at press time. 
Back on March 6, Bitcoin set the all-time closing high of $1,277 with a record-high spike of around $1,330 a few days later fueled by ETF hype before crashing more than 25% after the rejection by the Securities and Exchange Commission.
But the world's first decentralized cryptocurrency has rallied since its March 24 low of $960 when divisive politics and heightened fears of a hard fork put downward pressure on the price. 
What's more, the resurgence also comes at a time when Chinese exchanges have still not resumed their Bitcoin withdrawals.
In addition to being up 30% so far in 2017, Bitcoin's market capitalization is now looking to break its all-time high of about $20.6 billion as it climbs towards the critical $1,300 resistance level.
"$1300 is a significant psychological price point," Civic CEO, Vinny Lingham, wrote back in February. "This is the point that arguably no one who had previously bought coins during the last 'bubble' is under water."
7 Positive Trends Driving BTC Price
With Litecoin coming closer to SegWit activation, many hope that the 'silver to Bitcoin's gold' will become a testbed for this promising technology. This has made Litecoin price rise significantly in recent weeks while also raising hopes for SegWit activation on Bitcoin while allaying fears of a contentious hardfork.
However, this is only one positive factor in what has been a string of good news for Bitcoin in recent weeks.
First, Japanese businesses and several major retailers already seem enthusiastic about experimenting with Bitcoin payments following their legalization in the country on April 1st.
Second, Bitcoin adoption appears to be growing everywhere in the world from P2P trading to remittances to the amount of people actually using it for payments, according to a recent Cambridge University study, which noted:
[T]he number of people using cryptocurrency today has seen significant growth and rivals the population of small countries.
Third, following increasing regulatory clarity from China, Russia may also be planning to 'legalize' Bitcoin by as early as 2018. Meanwhile, another major economy, India, is seeing major growth with people increasingly using Bitcoin as a store-of-value and for online purchases in the wake of the demonetization disaster.
Fourth, the traditional global banking system including SWIFT appears to be under constant attack from hackers, not to mention the NSA. As a rule, any weakness and uncertainty in the traditional financial spells good for a potentially better alternative that's more secure due to its decentralized, pseudonymous natures and immutability aspect.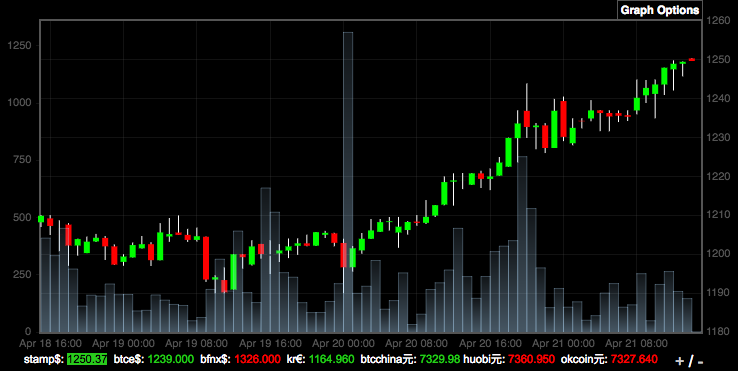 Fifth, major companies such as Microsoft are beginning to actually use the Bitcoin blockchain for other things besides money such as record time-stamping and document verification. This could introduce more use cases for the Bitcoin network, boosting its development, growth, and overall value as a result. 
Bitfinex Sticking Out Like a Sore Thumb
Another major factor in the upward pressure on BTC price is Bitcoin exchange Bitfinex, which seems to be experiencing problems on the fiat side due to recent complications with partner banks. There also seem to be problems with liquidating the USDT (Tether) cryptocurrency token that replaces the USD currency on the Poloniex exchange.
A perfect storm may be forming on Bitfinex. ~half of all BTC in custody are borrowed (sold for fiat / another crypto). If Bitcoin goes up…

— Alistair Milne (@alistairmilne) April 21, 2017
Therefore, it comes as no surprise that Bitcoin on Bitfinex is trading at nearly $1,330 or $80 above market price as traders seek safety. Of course, the solvency of the Bitfinex exchange is also coming increasingly under question despite official statements to the contrary.
[Editor's note: It remains to be seen whether this is a positive or a negative factor for the BTC price in the short term. However, shaking out insolvent businesses should be a healthy step for the Bitcoin economy moving forward.] 
In any case, Bitcoin should continue to chug along as its overall growth since 2014 has made it more resilient and much more capable of withstanding another 'Mt.Gox' scenario if it arises.
Will Bitcoin finally break the $1300 psychological barrier? Share your thoughts below!
---
Images courtesy of coinmarketcap.com, shutterstock