It is time for Super Bowl LI in Houston, Texas. The New England Patriots face the Atlanta Falcons. The Super Bowl is expected to attract an estimated $4.7 billion USD in bets. Bitcoin is growing as an easy way for bettors to send funds to offshore sportsbooks. It is unclear how much bitcoin is used to bet on the super bowl, but what is clear is that the number is going up. Let's have a look at the game and some possible bets.
---
Super Bowl LI: Expected to be an Offensive Shootout
Sportsbooks opened the total score at 60 which was a record high. Currently, the total score line is 58 which is still very high for any NFL game. The Atlanta Falcons are known for their explosive offense led by Matt Ryan who threw for 4,944 yards in the regular season, and the Patriots are known for veteran Tom Brady who threw for 3,554 yards missing a few games due to injury.
Both teams have explosive running backs: Freeman (ATL) 1,079 yards and Blount (NE) 1,161 yards as well as top performing receivers Jones (ATL) 1,409 yards and Edelman (NE) 1,106 yards. With both teams having these offensive players it could come down to whether the defense can get a stop.
Defense Overlooked
The Patriots allowed an average of 15 points per game in the regular season while the Falcons only ranked 25, allowing 24 points per game. In the playoffs, the Atlanta defense has improved and shown that they can stop a strong offense as they did against Seattle and Green Bay.
What still goes to be seen is if the Atlanta defense will be able to stop the Patriot running game. Atlanta has trouble stopping the Seattle running game. Seattle had mostly abandoned the running game because they were so far behind. I am sure that the Patriots saw this and will do their best to slow the game down and eat up the clock running the ball and trying to tire out the Atlanta defense.
The Patriots defense is going to likely do a lot to stop any Atlanta big plays. With some wide receivers being double teamed and safeties concentrating on the long ball there could be a lot of throws to Freeman out of the backfield. Freeman can be very explosive once he gets the ball. It will be interesting to see if the Patriots give up the short distance runs and pass to cover deep to prevent a big play.
What is a point spread and what do -3 and +3  and ML mean?
"I want to bet, but it is confusing."
A point spread is a margin that a team must win by or a margin that a team can lose by for your bet to win. In the Super Bowl, the favorites are the New England Patriots, and the point spread is -3. This means for your -3 bet to win they must win by more than 3 points.
If they win by exactly three points, your bet is a "push," which means you get your money back. If they win by only one or two points, then your bet would be a loss. Atlanta is the underdog at +3. That means that Atlanta can lose by one or two points and your bet still wins. If they lose by three it is a "push" and you get your money back.
Of course, if they lose by more than three your bet is a loss. ML stands for "Moneyline" – it just is a bet on who will win without any handicap.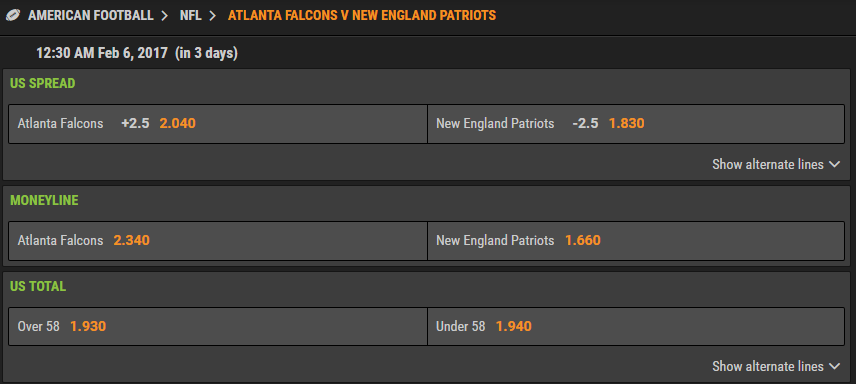 What Does Total Score Over-Under Mean?
With this bet, you are betting on the total score of both teams together. If Atlanta has 21 and New England has 28, then the total score is 49. You can bet if the total score will be over or under 58 for the Super Bowl. You can also bet the over-under for the first half or first quarter. This is a way to bet on the game that does not include betting on who wins.
My Picks
There are a lot of bets for the Super Bowl. In fact, some places have up to 900 prop bets. We are not going to over complicate things here, though. Instead of betting on a team in what should be a close game you can look elsewhere for value. Since most recreational bettors like to see high scoring games, there is an inclination to bet the over on the over under total score.
I am going to go the other way here and bet under 58 game and 29 for the Half. This is going to be a close game. The point spread is only three points and I like the momentum that Atlanta has coming into this game. They have so many offensive weapons that I think it will be hard to stop them. Although the Atlanta defense did not look great when you look at the whole season, they have improved a lot and looked good in the playoffs.
Here are my picks:
Under 58 points Game 1.93
Under 29.5 points First Half 1.79
Atlanta Falcons ML 2.34
All odds are from CloudBet.com
Note: I went 3-3 in the playoffs and you can review my picks here and here.
This is going to be a good game with two closely matched teams. I do not expect a blowout. Make sure to check out CloudBet for the best odds. If you have any questions about how to bet on the Super Bowl, you can put them in the comments below and you can also head over to the Telegram sports betting channel and ask your questions there.  Remember that the Super Bowl is just one game out of many to bet on. Do not forget good bankroll management; there is no need to go all in just because it is a big event.
[Full disclosure: Bitcoinist is a partner of CloudBet]
[Disclaimer: Bitcoinist is not responsible for any gains or losses incurred from gambling.]
What are your picks for the super bowl? Put your picks in the comments below
---
Images courtesy of newsday.com nfl.com, Shutterstock